A look at KKR's recession warning
February 15, 2018
Financial markets are still reeling from the chaos seen earlier this month, with the Dow Jones Industrial Average suffering two 1,000-point drops for a decline of 10% from its recent high. The catalyst? Worries that higher inflation would force the Federal Reserve to quicken its rate hike pace, snuff out the economy's vitality, boost long-term yields and decimate bond prices, and increase the risk of a fresh recession.
While equities have recovered nicely, the same can't be said of other asset classes. Treasury bonds remain weak, with the 10-year yield inching toward the 3% threshold widely seen as marking the start of a secular bear market. The dollar is falling to test its late January lows. And volatility, as measured by the Cboe Volatility Index, remains elevated.
Private markets remain somewhat insulated by the vagaries of the public markets. But they are not immune: Eventually, risk aversion and higher yields will have a wet-blanket effect on everything from fundraising to the performance of portfolio companies. Attention on the issue was raised after KKR unveiled its latest economic projections, showing
100% odds of a recession
within the next two years.
Trying to make heads or tails of the situation? Here are three things to watch:
Recession risk
According to KKR, the economy is looking good over the next 12 months, thanks to tailwinds including high interest coverage ratio (earnings vs. debt payments), tight high-yield debt spreads, low credit delinquencies and relatively healthy consumer interest-to-income obligations.
But over the horizon, the picture darkens as "the risk of recession increases materially." This is driven by factors such as a weakening U.S. dollar, a flattening yield curve (difference between short-term and long-term rates), higher unit labor costs, and an expected cooling of consumer confidence and home building confidence.
Probability of recession in 24 months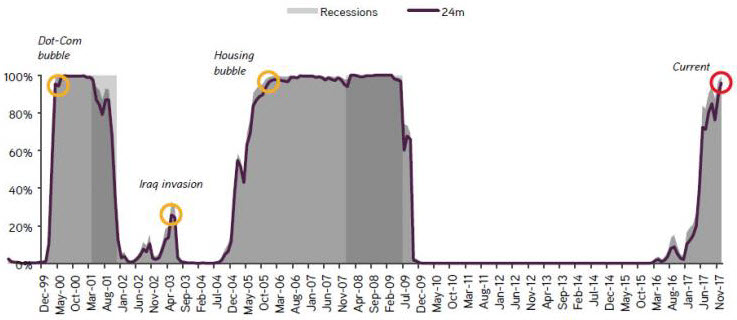 This shouldn't come as a surprise: At 103 months through January, the current economic expansion is already the longest in history.
Inflation
Markets have been hit with a duo of inflation reports in recent days—and the results were pretty tepid. PPI core inflation, less food and energy, rising at just a 2.2% annual rate (down from 2.3% last month).
But buried in the details, there's evidence of higher prices that could well rattle markets again. This, along with fiscal largesse in Washington and weakness in the US dollar, has contributed to an upward push in the 10-year Treasury yield, which now stands at 2.91%, up from a low of 2.05% in September.
A downside of a weaker dollar is an upward lift to import prices. Capital Economics notes that producer prices are near a six-year high reflecting this dynamic, "which should soon start to feed into consumer prices, too," lest retailers run the risk of pinched profit margins.
Also, a weaker dollar contributes to inflation pressure via higher energy prices. It's not coincidental that as the dollar weakened in recent months, crude oil has pushed from below $50 a barrel to hit a high of more than $66 earlier this month.
On a YoY basis, prices are up about 11%, with comparisons growing easier as we lap the energy price swoon seen last summer.
The market was spooked by the rise in average hourly earnings on February 2, which increased to 2.9% YoY vs. the 2.6% rise expected and the 2.5% rise reported last month. This number is somewhat "dirty" though, given a drop in the average workweek, on a scale that has been seen only seven times since March 2006.
Philippa Dunne at the Liscio Report believes some seasonal factors are in play that overestimated seasonal layoffs in the retail sector and could thus be masking underlying strength. In addition, economists at Commonwealth believe that "signs indicate that wage growth is headed even higher later this year," per a post on the company's blog.
Fed hikes
While inflation will have a dampening effect on both corporate profits and real wages, it's a more critical consideration in terms of the Federal Reserve policy tightening campaign. Currently, three years into the tightening cycle that started in December 2015, the Fed remains behind the curve: Real, inflation-adjusted policy rates remain in negative territory.
Moreover, over this time, financial conditions broadly measured have actually grown easier. A consequence of high stock prices, low bond yields and widespread investor confidence.
Currently, the market and the Federal Reserve have penciled in about three quarter-point hikes for 2018. But Bank of America Merrill Lynch analysts note rate hike expectations over the next two years are muted, with less than a single hike expected in 2020. They worry markets are underestimating the potential for inflation to accelerate, among other factors, forcing the Fed to push rates higher than is widely believed.
Add it all up, and a rough outline materializes: A tighter labor market, US Treasury borrowing, and a weaker dollar resulting in higher yields and higher inflation, eventually dragging the economy into a recession sometime in 2020.
Related read: Markets reel from volatility supernova
Join the more than 1.5 million industry professionals who get our daily newsletter!