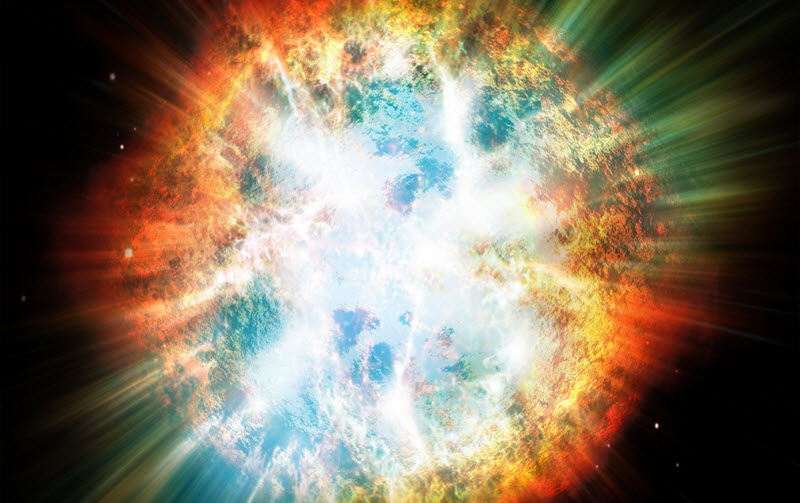 While the situation has calmed somewhat as I write this on Tuesday, the ears of millions of investors are still ringing from the carpet bombing the markets have suffered in recent days. The Dow Jones Industrial Average dropped 1,175 points on Monday for its largest-ever points decline in a single day, and it's now down more than 6% from the closing high set on January 26, a recovery from the intra-day low, when the decline was near 11%.
What caused the carnage? Mainly, worries over higher yields/lower bond prices driven by inflation concerns after Friday's non-farm payrolls report featured a faster-than-expected pace of wage growth. Add in the fact that Friday was Janet Yellen's last day as Federal Reserve Board chair, that there was an air of complacency and over-leverage at work, and that "short volatility" strategies left untold millions vulnerable to a pullback—and the situation was primed for a shocking selloff.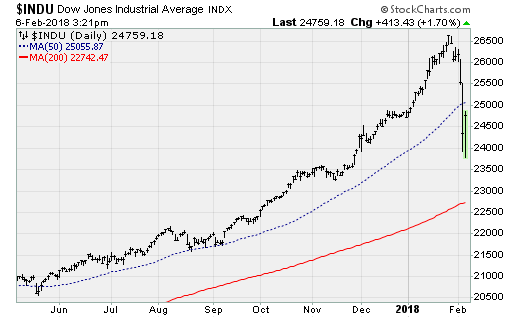 And shocking it was. The Velocity Shares Inverse VIX ETN (XIV) has imploded, with Credit Suisse accelerating its wind-down after the CBOE Volatility Index, which approximates a short position on VIX futures, gained more than 115% on Monday. This is a fund that held more than a billion in assets.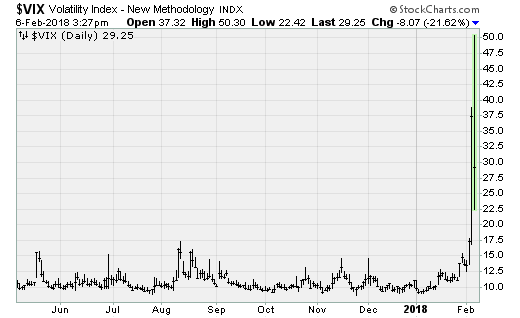 Now, it's gone. This is the fruition of the warnings
I highlighted recently
on the dangers of the implicit and explicit bets on calm market conditions.
Will the chaos continue?
Fundamentals remain strong, with US 1Q GDP growth expected to clock in at greater than 5%, according to the Atlanta Fed; the GOP's tax cut legislation just beginning to work into the economy; and corporate profits set to lift not only on lower taxes, but also higher energy prices and higher interest rates (which boosts bank earnings via higher net interest margins, or the difference between short-term deposit rates and long-term lending rates).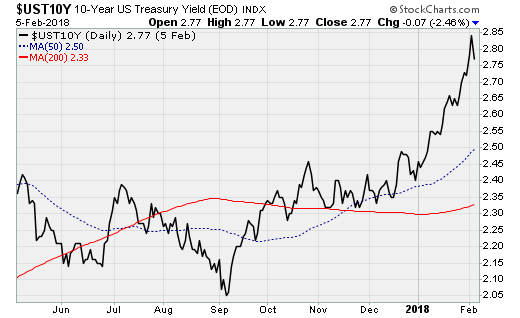 Yet much depends on whether the upward push in interest rates continues—with the 10-year Treasury yield pushing toward the 2.85% level this week—and how well markets tolerate pricier credit. As a reminder, the US Treasury's Office of Financial Research recently warned that a 1% rise in interest rates could generate $1.2 trillion in losses for the Barclays US Aggregate Bond Index, with further losses for "junk" high-yield bonds, fixed-rate mortgages and related derivatives.
Already, based on the recent market unease, futures traders have lowered their estimates of the number of expected Federal Reserve policy hikes this year.
My guess: A multiweek reprieve amid a short-covering rally. Then more fireworks that will eventually impact private markets
as the cost of credit keeps rising
.
Related read: Has the world gone mad? A look at the low volatility regime