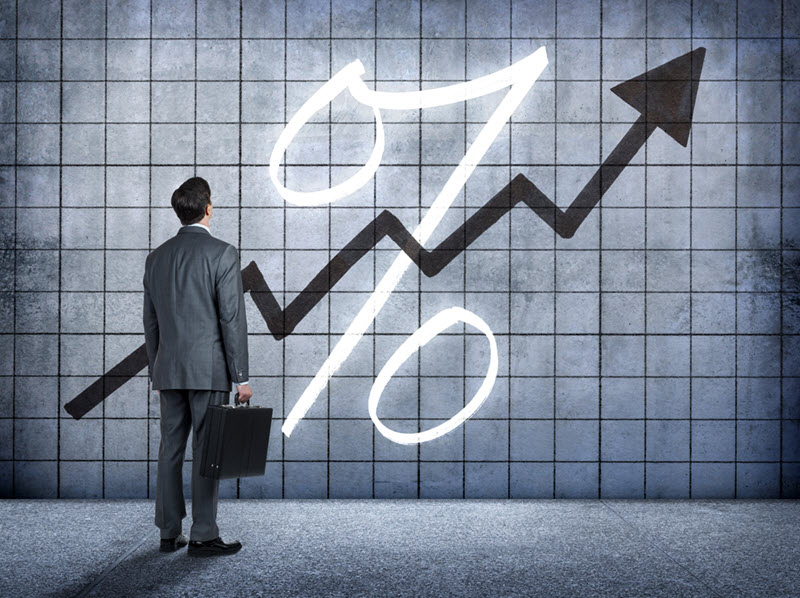 The halcyon days in private markets—the lofty valuation multiples, the reserves of dry powder, the intense deal activity—have the same source as the unprecedented rally underway in public markets: historically cheap and ample credit.
Cheap debt covers a multitude of sins. Poor earnings growth? Engage in debt-fueled stock buybacks, and boost per-share metrics. Need to raise capital to satisfy a ravenous cash burn rate, like Netflix or Tesla? Just raise debt. A high-cost shale oil producer that struggled during the 2014-2016 energy bear market? The leveraged loan market was happy to oblige.
But those days could now be at an end.
The 10-year Treasury yield has broken out of a decade-plus downtrend pattern in what could be the beginning of the end for the 25-year bull market in bonds. Catalysts include a looming debt ceiling/budget/immigration fight in February, a weakening US dollar boosting inflation dynamics, concerns about wage-push inflation as the labor market grows ever tighter, and trade war provocations between President Trump and China.
There's also a creeping realization that the economic cycle is now quite mature and prone to the increase in default rates that mark this stage of the business cycle as revenue growth stalls, costs balloon and profitability suffers.
It's an understatement to say the markets are ill-prepared for this. William White, the former chief economist for the Bank for International Settlements and the head of the OECD's review board, told The Telegraph that "all the market indicators right now look very similar to what we saw before the Lehman crisis, but the lesson has somehow been forgotten" amid growing evidence of degradation in credit.
The combination of massive debt levels with the "duration" risk inherent to ultra-low yields and a shift toward longer maturities is a toxic brew. Each percentage point rise in interest rates has a much larger impact on the price of underlying bonds. And there are a lot of bonds out there: According to data from the Institute of International Finance, global debt levels have hit a record 327% of GDP, up 51% since the 2008 collapse of Lehman Brothers.
No less than the US Treasury's Office of Financial Research is sounding the alarm: Just a 1% rise in interest rates would result in $1.2 trillion in losses from the Barclays US Aggregate Bond Index–with even larger losses when one includes "junk" high-yield bonds, fixed-rate mortgages, and interest rate and bond derivatives.
Market value impact of 1% rate shock (in billions)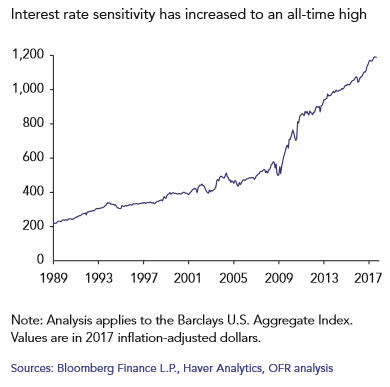 The OFR warns that the risk of a turnaround in interest rates are now higher than the "bond massacre" in 1994 that drove Orange County, California, into bankruptcy and ignited Mexico's peso crisis. Very early indications of trouble could be coming from the slight uptick in institutional leveraged loan defaults, which have returned to early 2015 levels, according to
Thomson Reuters data
.
Yet the crowd seems to be barreling headlong into these risks. Leveraged lending jumped 60% to $1.4 trillion in 2017, a new record, per Thomson Reuters. Research by PitchBook shows
private debt funds raised a record $118.7 billion in commitments in 2017
, representing a CAGR of 20.5% since 2009 and more than 2.5 times the 8.1% CAGR of private equity buyout funds.
In the report, PitchBook analysts Dylan Cox and Bryan Hanson noted that the "proliferation of private debt means that more lenders are competing on price and terms, leading to unprecedented levels of cov-lite loans and the use of add-backs," which increase the default risk borne by buyers.
An undeniable indication of froth, in my view, at a time when the downside risks have never been higher.
Related reads:

Private markets take notice: Wall Street issues bond warning

Has the world gone mad? A look at the low volatility regime