Capital has rarely, if ever,
been cheaper
. Valuations are lofty. Sentiment is red hot. And some of it, at least unicorn valuations, could be built on
little besides hype and hope
.
The epicenter for this—benefiting both the historic surge in public equity prices as well as the surge in private markets investment—is what's happening in the credit market. Capping a 30-plus-year bull market in bonds, facilitated by trillions in bond purchase stimulus from the US Federal Reserve, both absolute yields and corporate bond spreads are ultra-low.
These record lows, in many cases, are powering everything from aggressive debt-funded stock buybacks to a
"reach-for-yield" dynamic
by limited partners, increasingly funneling capital into alternative strategies like private equity in a desperate bid to
close asset-liability mismatches
.
But none other than Wall Street strategists are sounding an alarm, warning that the new year could bring many new headwinds, including a downturn in global "cheap money" quantitative easing flows and an uptick in asset price volatility.
Deutsche Bank wonders if 2017 was the most boring year ever for the markets. Morgan Stanley worries 2018 could be the year "when the levee breaks," with a team of analysts led by Adam S. Richmond citing three areas of concern:
Complacency
Morgan Stanley believes there is "way too much complacency" regarding the shift in the
monetary policy stance globally
—a dynamic that has been "massive in this cycle, and extremely supportive for credit markets."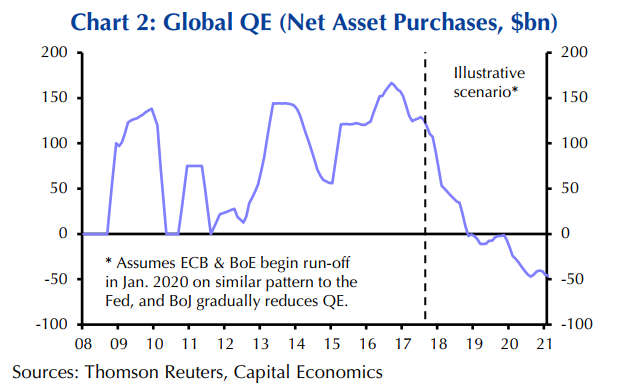 With the Federal Reserve expected to hike interest rates again this month, Richmond is looking for another three hikes in 2018, taking short-term policy rates near his estimate of where the "neutral" interest rate is. Translation: Monetary policy could be tightening a lot quicker than many realize, given the economy's fragile post-crisis condition.
Indeed, using the Atlanta Fed's "Shadow Federal Funds Rate" metric, interest rates have been raised more aggressively than is commonly believed.
Late-cycle dynamics
Already, this economic expansion and bull market is one of the longest in history. No surprise then that classic "late-cycle dynamics" are kicking, from central bank tightening to a slowing of corporate profits growth. Richmond believes there's a good chance markets hit a cyclical peak in the first half of 2018 as credit market pricing in rising default rates.
He sees excesses everywhere, which don't even require an outright economic recession to see reversals:
Credit markets have grown 116% this cycle, pushing leverage to unprecedented levels.
Low-quality BBB issuances were 44% of total investment-grade supply in 2017, a record for as far back as Morgan Stanley's data goes.
Evidence of deteriorating underwriting quality outside of corporate credit, particularly in auto lending.
Substantial debt-funded stock buyback activity.
There are already signs of a shift, with high-yield bonds badly underperforming large-cap equities in recent months—something that is typically a very late-stage warning signal. Since August 1, the Dow Jones Industrial Average is up nearly 12% while the iShares High Yield Corporate Bond ETF (NYSE: HYG) is basically unchanged.
Cracks are appearing in the façade. Consumer delinquencies are rising in areas like autos loans, credit cards and student loans. Companies in key industries like telecom, retail and healthcare are under pressure with net income stagnating. The US Treasury bond yield curve is flattening markedly, a signal ill winds are approaching.
And the recent passage of the Senate GOP's tax cut plan could actually accelerate these trends, fueling an increase in inflation and thus bringing forth a more aggressive pace of Fed policy tightening.
Rich valuations
Equity market valuations have only been higher heading into the dot-com bubble peak. High-yield bond spreads, adjusted for leverage, are back to 2007 highs. Richmond warns: High valuations have, in the past, ushered in periods of poor long-term returns.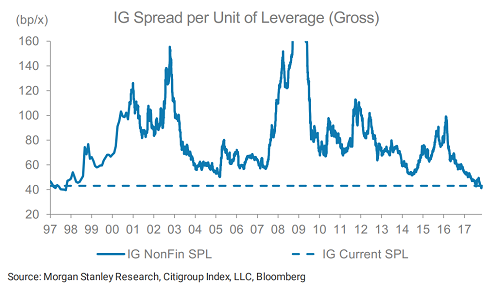 How does private equity fit into all of this?
History suggests that a downturn in public equity or credit markets will have a dampening effect on fund performance going forward. This runs counter to popular perceptions that PE, as an "alternative" asset class, is largely uncorrelated with cyclical dynamics; during the last credit cycle, the Yale endowment fund (one of the largest investors in private equity)
believed PE funds
can "generate incremental returns independent of how the broader markets were performing."
While it's true that a portion of the total return structure is indeed idiosyncratic, PE isn't inoculated from broad market and economic risks. "Beta" still has a bite.
Research by Ludovic Phalippou at the University of Amsterdam and Maurizio Zollo at INSEAD find that the "performance of private equity funds is pro-cyclical as it positively co-varies with both the business cycles and public stock-markets," with a particularly strong connection to the vagaries of high-yield bond spreads—no doubt related to the PE industry's exposure to credit costs to fund buyout activity.
The takeaway is clear: Change is coming to the credit market with consequences for private market participants.
We could already be seeing a sea change in private equity activity, with our latest
US PE Breakdown Report
showing a clear decline in the number of deals closed and exit activity despite record fundraising and more than half-a-trillion in dry powder. Deal multiples are expensive. And with a rise in the cost of debt on the horizon, activity could slow further in 2018.
Consider yourself forewarned.
Related reads:

'Reach for yield' dynamic driving private capital deluge

Private markets brace for Fed's balance sheet unwind

Private markets drowning in cheap cash

Higher interest rates threaten private market utopia