PE Fundraising
Against expectations, private debt fundraising saw a decline in 2019
November 27, 2019
Late last year, we published PitchBook's
2019 Private Equity Outlook
, our crystal ball analyst note where we took a crack at predicting trends in the year ahead. With 2019 wrapping up, it's time to review our predictions. When it comes to private debt fundraising, were were a bit off in anticipating levels to rebound off of a slower 2018. Relatively slow, that is, since 2018 still represents one of the highest years on record, just not as high as record-breaking 2017 was.
Through mid-November, we can't call 2019 a rebound for fundraising, as fund counts and combined commitments were both below 2018 levels. Fund counts in particular were lower than we expected, with only 73 closes compared to 107 last year and 149 in 2017. Fund sizes evidently remained healthy, with $88.3 billion committed across this year's funds versus $109 billion across 2018's vehicles. That would put this year's average at around $1.2 billion, a touch higher than a roughly $1 billion average in 2018.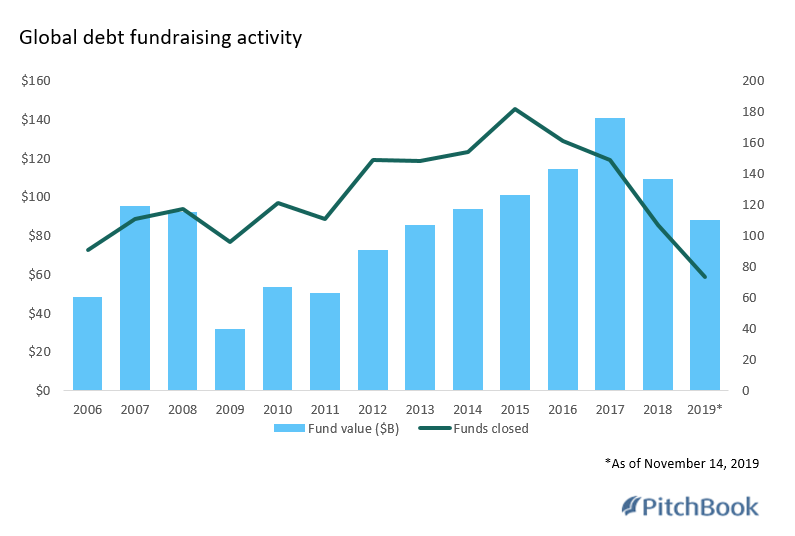 Nonetheless, fundraising hasn't been as good this year as we expected. We noted in our prediction last December that there were, at the time, 40 open or announced private debt funds in the market seeking at least $1 billion each. That proved to be not a solid enough floor to leap past 2018 levels, which makes us wonder if private debt fundraising has normalized following an exuberant 2017.
Capital availability is at a strong point. If we add up the past three years instead of comparing them, the market has been inundated to the tune of some $338 billion. Perhaps LP appetite has waned, though we've highlighted the strong returns for the private debt asset class in past notes. Compared to the Bloomberg Barclays US Corporate High Yield Index, private debt funds have outperformed in 10 of the 15 years between 2001 and 2015. If anything, the past several years have only increased LP interest in the asset class.
One asset manager told the Financial Times in 2017 that "if you can breathe fog in a mirror" you could have qualified for loans out of these funds. Industry leaders warned last year of possible "bubble status," not only because of the amount of capital floating around, but also because of recent cov-lite worries. 2019's poor showing may have to do with broader market concerns as well.
This column originally appeared in The Lead Left.



Featured image via nito100/iStock/Getty Images Plus