Video games are far from just children's playthings, growing into an increasingly powerful force at a time when other areas of the entertainment world are struggling. The gaming industry pulled in $36 billion in revenue in 2017, according to the Entertainment Software Association, up 18% from the previous year.
Meanwhile, Hollywood has become scandal-ridden and suffered its worst summer box office take in a decade last year. Traditional television is under assault from over-the-top competitors, resulting in lost subscribers and rising production costs. And the NFL is battling blowback from the kneel-or-not fiasco, which damaged viewership and game attendance.
But the growth in video games looks set to keep accelerating, as the industry evolves and takes on elements traditionally associated with other forms of entertainment, thanks in no small part to the rising viewership for e-sports on platforms like Amazon's streaming service Twitch. It's no longer just about leveling up alone in front of your television or computer screen, but competing for victory—and often monetary prizes—with a gaming clan, or watching your favorite streamer play "Fortnite: Battle Royale," which is the hottest property in gaming right now, mixing elements of crafting, third-person combat and cooperative play.
Thanks to Twitch, Amazon is well-positioned to dominate this new channel, with an impressive and growing lead over YouTube Gaming, and the ecommerce giant is eager to continue the trend. This week, the company is encouraging Amazon Prime members to link their Twitch accounts and become a Twitch Prime member in exchange for free "Fortnite" loot.
New Twitch prime swag dance gives NO SCOPE powers pic.twitter.com/JP0iBRhA2y

— Ninja (@Ninja) May 9, 2018
Amazon's move here highlights just how savvy its acquisition of Twitch was at the moment when this dynamic between gameplay and viewership started to accelerate in 2014. As Credit Suisse analysts remarked of the $970 million transaction at the time, it fell outside the boundaries of investor expectations, considering Amazon's then-track record of purchasing complementary ecommerce platforms like Zappos, Quidsi and Abebooks. In hindsight, the deal reflects the kind of forward thinking associated with last year's $13.7 billion purchase of Whole Foods, rather than the image of a company more comfortable being late to the party (music and streaming services) or bungling things entirely (the Fire Phone).
Indeed, fast-forward some four years, and Amazon's purchase of Twitch looks downright prescient, with 2014 marking the beginning of an impressive rise in global VC activity in the e-sports space as deal activity surged to more than $700 million invested last year with 2018's year-to-date figure nearly matching that: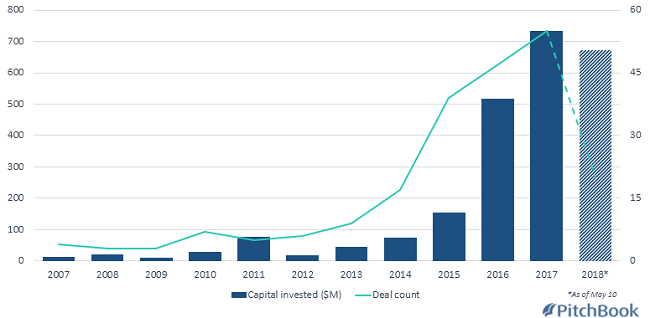 At the time Amazon bought Twitch, social networks like Facebook had already demonstrated that app install advertising presented a viable revenue model. But what "Fortnite" does to draw viewership to Twitch goes way beyond banner ads—because what game streaming represents goes way beyond the neat little categories of entertainment, like watching live sports or scripted dramas, as we currently understand them. On one hand, Twitch operates just like a live video feed or a Netflix stream. On the other, it's more like watching a live event such as a sports game, mixed with the personality of a radio host or comedian along with an interactive element for viewers.
For Amazon, it provides a source of cheaply acquired video content. It encourages purchases of games being played or of Twitch's in-community currency, known as "Bits" and used to buy "Cheers." And it provides yet another reason to encourage Amazon Prime subscriptions.
A world all its own
Streaming personalities mix playing skill with verbal dexterity and humor to attract thousands of followers, potentially earn
well over six figures
a year, and receive tips and donations from their fans, in addition to a share of subscription revenue. Stream chats hosted on Twitch have a communal element not unlike the crowds around Pac-Man arcade games in the 1980s, watching someone make a run at the high score. But the relationship is symbiotic, with streamers polling their chat for gameplay decisions and responding to viewers in real time.
And each community develops its own lingua franca and custom "emotes" to express emotion like "Baby Rage" and "Kappa," which is a tiny picture of Josh DeSano (a former employee of Justin.tv, the outfit that spawned Twitch) posted around 400 times a minute on the streaming platform.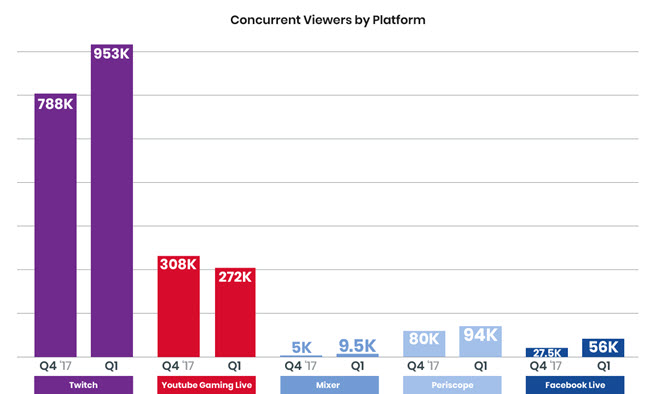 According to Streamlabs, more than 1.1 million streamers were active on Twitch last quarter as the industry enjoyed a 39% lift in activity. Fortnite was the most streamed game, with more than 8.3 million hours played live. At any given time, nearly a million people are watching a stream on Twitch (up 21% from the fourth quarter of 2017). The big event was when Fortnite's most popular player, Tyler "Ninja" Blevins, joined with hip-hop star Drake for a stream that hit 628,000 concurrent viewers at its peak on March 14.
Newzoo estimates that through the first quarter of 2018, Twitch and competitor YouTube Gaming had accumulated 2.5 billion hours of view time. At the time of Amazon's purchase of Twitch in 2014, the platform had accumulated a total of 250 million hours of view time overall, and growth in this area is showing no signs of slowing.
Still skeptical? Wondering how millions would be interested in watching someone play video games? If the youth are a barometer of what's cool, this is no flash in the pan: PitchBook writer Anthony Mirhaydari's two oldest (aged 13 and 8) begged and pleaded for tickets to their first live show. It wasn't a play. It wasn't the ballet. It was a live appearance by their
favorite video game streamer
. Who played video games on stage.
Related read: Bezos is coming: Mapping Amazon's growing reach