Bezos is coming: Mapping Amazon's growing reach
September 15, 2017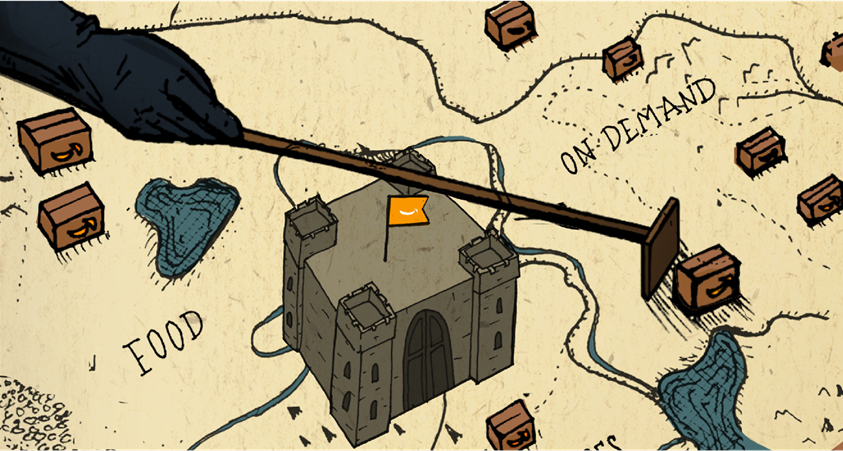 This story was included in the September 2017 edition of PitchBook's

Private Market PlayBook

, a collection of our most popular reports, original
datagraphics
and feature articles covering the key trends in VC,
PE
and M&A.
Amazon seems to be on everyone's minds.
Toward the end of July and in the middle of earnings season, Reuters pointed out that Amazon had been mentioned in about 10% of all 2Q earnings calls.
All earnings calls
, not just tech or consumer. For the first time, executives at McDonald's, Johnson & Johnson and 3M fielded questions related to Amazon. No topic, even Donald Trump, was broached as often. Startups, understandably, are feeling the pressure as well. No doubt hundreds of pitches to venture firms have been re-worked to answer the question: How will you compete with Amazon?
Recent history suggests Amazon doesn't get every industry right. Amazon Destinations was supposed to make waves in the hotel booking market, until it didn't. Amazon WebPay was introduced as a free online money-transfer service before it was scuttled altogether in 2014. Amazon PayPhrase and Fire Phone didn't launch as expected, either. Just because Amazon wants to gain market share in new sectors doesn't mean it can; many current or potential competitors may yet thrive in the Age of Bezos.
But much has changed for Amazon over the past few years, and two deals in particular, the $970 million Twitch acquisition in 2014 and this year's $13.7 billion purchase of Whole Foods, are setting the stage for a number of new Amazon initiatives. Public and private companies alike do have reason to worry. Amazon's new business lines aren't random, and they're following in the footsteps of proven business models and proven consumer demand. In many of the cases to follow, Amazon is making tweaks to existing solutions (often through deep product integration), offering them for free or low cost through Amazon Prime, and watching each market roil once the services are announced. The Amazon Prime ecosystem is growing in terms of subscribers and offerings, and the company's loyal customer base appears strong enough for Amazon to wage dozens of battles at once. We selected five of the biggest markets Amazon has entered in recent years—food, fashion, entertainment, web services and on-demand services—and mapped out their private and public competitors that appear vulnerable to Amazon's efforts. Each competitor now has to ask themselves a new question: If we can't compete with Amazon, can we even survive?
Amazon Meal Kits
had an immediate impact on Blue Apron, which went public earlier this year. A number of startups offer essentially the same product with little differentiation, giving Amazon an opportunity to steal a large chunk of market share. The acquisition of Whole Foods may have a big impact on the future of Amazon Meal Kits: Whole Foods provides a proven supply of high-quality dinner ingredients, and Amazon likely wouldn't need much additional investment to swipe a significant piece of the market.
Grocery shopping remains stubbornly offline, with most shoppers preferring to inspect food in-person. Still, for those comfortable enough to click and ship,
AmazonFresh
is one of many options, but it excels at same-day and early morning delivery. Costs are fairly consistent among private and public providers, and differentiation is most easily found in delivery times and coverage area. Amazon's acquisition of Whole Foods will likely gobble up market share from Instacart, Wal-Mart and Google Express.
Online ordering and restaurant delivery have taken off in recent years.
Amazon Restaurants
has gotten in the mix, recognizing the trend that consumers want more than pizza delivered to their doorsteps. One of the lesser known aspects of the Whole Foods deal is that the grocery chain, pre-Amazon takeover, established about 30 full-services restaurants (with waitstaff) and 250 quick-service concepts inside or adjacent to its stores. Amazon's Whole Foods deal can provide a big boost in this tightly competitive space, which has already seen several high-profile startups (SpoonRocket and Sprig among them) fall by the wayside.
An analyst report from Cowen & Co. projected Amazon will become the largest fashion retailer in the US by 2020, despite its newcomer status. Following in the footsteps of companies like Trunk Club and StitchFix,
Amazon Prime Wardrobe
's push into retail is taking cues from proven VC-backed, "try-before-you-buy" business models. Prime Wardrobe allows Amazon members to choose what they're trying themselves, while most VC-backed models offer curated packages selected by their stylists. Add Amazon's new in-house clothing brands—as well as Amazon Spark, a new product discovery feature that acts as a hybrid between Pinterest and Instagram—and consumers can seemingly dress themselves from head to toe without leaving Amazon's ecosystem.
Amazon has been publicly bullish about its music streaming service,
Amazon Music Unlimited
, with one executive predicting faster growth relative to competition and eventually seeing Amazon "as one of the top global streaming services" available. Part of Amazon's optimism comes back to Alexa, which makes the listening experience (via voice recognition) much simpler and intuitive than others. Amazon Music Unlimited is also very competitively priced. While the starting monthly fee of $9.99 mirrors the core service of nearly every other music streaming platform, Amazon Prime members can pay a discounted monthly fee of $7.99, and owners of the Amazon Echo get a huge bargain at $3.99 per month.
Amazon Prime Video
squares off directly with Netflix, Hulu and HBO NOW. Consumer loyalty for these streaming services often hinges on specific exclusive content, of which Amazon has its fair share. Prime Video separates itself with sheer volume; a 2016 study found Amazon's movie library was more than twice as big as Hulu's and four times as big as Netflix's. This past August, Apple reportedly set aside a budget of $1 billion to create original content, though that's a fraction of the $4.5 billion Amazon is expected to budget for Prime Video in 2017.
Amazon Tickets
was launched in the UK in 2015 and appears to be rapidly expanding to the US, Asia and the rest of Europe. Its global ticketing business is still a work in progress, though Amazon does provide tea leaves to decipher through Amazon Tickets job descriptions. "Our vision goes beyond just selling tickets, as we aim to disrupt the entire live entertainment experience, including what happens before, during, and after the show." The company's stated goals put a target on a wide swath of the current market.
Amazon created its
Amazon Game Studios
unit in 2012 before acquiring both Double Helix, a gaming studio, and Twitch, a popular gaming streaming service, in 2014. In early 2016, Amazon announced its creation of a cloud-based gaming engine known as Lumberyard, which provides cost-saving infrastructure to game developers. Industry observers expect Amazon to compete across several gaming verticals in the coming years, including mobile gaming, cloud gaming, virtual reality and even eSports, a nascent industry with a very loyal fanbase.
Soon after launching in 2015,
Amazon Home Services
, a marketplace where customers can hire contractors for professional help around the house, started very strong, growing around 20%
per month
in its first year. The number of contractors offering their services through Amazon ballooned quickly. The home services industry is thought to be a $500 billion market in the US alone, and Amazon's penetration remains small given the company's scale. One analysis estimated that Amazon could eventually command a 5% share of the market, and every 1% of the market Amazon captures would add 5% to Amazon's overall business.
Amazon Web Services
, Amazon's cloud computing platform, is the company's most profitable unit. What began as an experiment in 2006 has steadily grown into a revenue stream that topped $12 billion last year. Its rivals, specifically Microsoft Azure and Google Cloud Platform, are racing to catch up to Amazon's head start, and competition is expected to tighten in a market estimated to double in size between 2016 and 2018.
Amazon Echo
, the centerpiece of Amazon's voice assistance platform, faces ambitious challenges from the rest of Big Tech, including Google Home, Microsoft Cortana and Apple HomePod. Given how integrated the platform is with the majority of Amazon's new business lines, it's hard to imagine the Echo will be dethroned any time soon. Amazon seems to have thought of every possible way it can help its customers through simple voice commands. Soon, it might be hard to think of anything, voice-activated or not, that Amazon can't help you with.
Check out more from the PlayBook:

PE grapples with the decline of brick-and-mortar retail

A decade of venture capital: An era of excess [datagraphic]

A decade of PE: The rise, fall and rise again of private equity [datagraphic]

Unlocking residual value: Venture capital fund performance [datagraphic]

The turning of the cycle: Private equity fund performance [datagraphic]