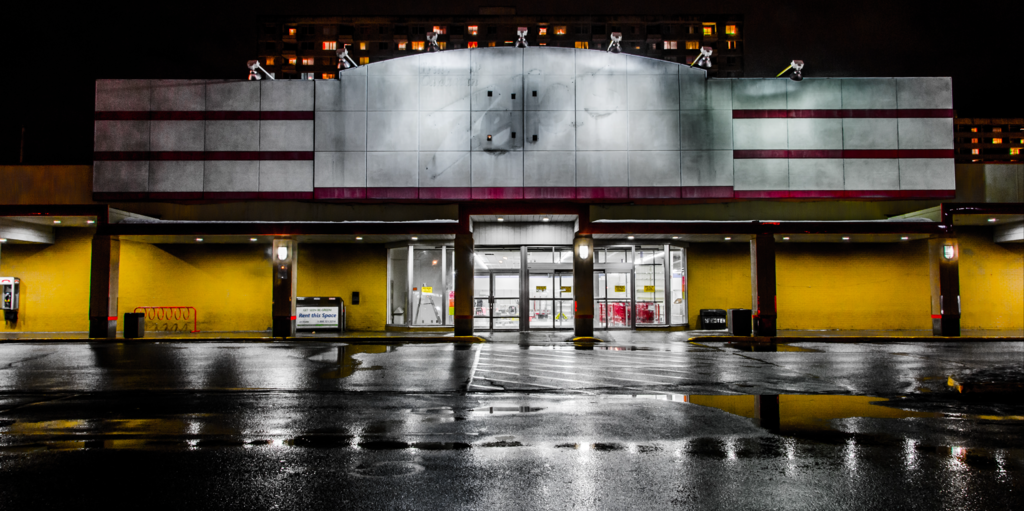 This story was included in the September 2017 edition of PitchBook's

Private Market PlayBook

, a collection of our most popular reports, original datagraphics and feature articles covering the key trends in VC, PE and M&A.
From the beginning of civilization until, oh, 20 years ago, if you wanted to buy something—a loaf of bread, a new shirt, a television—you usually had to leave the house. Then came Amazon.
For many traditional brick-and-mortar retailers like
Sports Authority
, RadioShack and Aeropostale, the change wrought by the rise of online shopping was gradual. But in recent years, the impact seemingly arrived all at once. Dozens of companies across the industry have shuttered stores or entered bankruptcy in the past year-and-a-half—a trend that strikes particularly close to home for private equity. PE firms experienced 32 exits via distress during 2016, according to PitchBook data, the highest annual figure since 2009, when bankruptcies spiked in the wake of the financial crisis.
In some ways, the transformation of the industry was foreseen. In others, not at all.
"I think a lot of people saw it coming," said John Nicolopoulus, the national retail and restaurant leader for accounting firm RSM US and a longtime follower of the industry. "But they didn't think it would come as fast as it did."
Now, private equity shops around the world are left to grapple with what comes next.
So far in 2017, that means decreased interest in new deals. Globally, investors had completed 75 investments in the space this year as of August 4, per PitchBook data, on pace for a major decrease from the totals of the past two years: 185 transactions in 2016 and 183 in 2015. The value of those investments is also dropping. While global retail deal value reached a new peak of $55.2 billion, that figure sits at a mere $11.7 billion more than seven months into 2017.
"I think a lot of people saw it coming ... but they didn't think it would come as fast as it did."
The most attractive retail targets are still drawing attention. But companies with slightly shakier financials are finding it tougher to attract private equity backing.
"I think [firms] are being pickier." Nicolopoulos said. "The A opportunities are getting a boatload of attention, and the B and C opportunities are being scrutinized much more."
There are several causes for the ongoing spate of retail bankruptcies. The rise of Amazon and other avenues for online shopping is one. A change in consumer preferences is likely another, with research showing that consumers today are more likely to spend their money on experiences rather than products when compared to generations past. But in some cases, there could also be a third cause: a rash pursuit of profits by PE owners.
That was the allegation of the creditors of Payless, a discount shoe retailer, earlier this year, shortly after the company filed for Chapter 11 bankruptcy protection in April. The company investigated whether its private equity backers, Golden Gate Capital and Blum Capital, had acted irresponsibly in extracting dividends from the business— more than $400 million worth, in fact, despite Payless carrying more than $800 million in debt. The company and its creditors won a minor victory in June, settling the dispute for $25 million in cash.
One firm that's been particularly exposed to the industry's struggles is Sun Capital Partners. Dating back to the start of 2001, the shop has completed 42 investments in the retail sector, nearly twice as many as any other PE firm. And so far this year, four of the firm's retail portfolio companies have entered bankruptcy proceedings, including department store operator Gordmans and women's apparel seller
The Limited
.
"I think it's a wholesale change, but I don't personally believe brick-and-mortar retail is dead."
For large legacy businesses like those two—weighed down by a combination of debt, real estate holdings and a pre-internet business model—there's little end in sight. For a different sort of company, however, disruption breeds opportunity.
While many retailers are closing locations, a selection of ecommerce startups are doing the opposite, making the move from online-only into the physical world by opening showrooms and stores. Warby Parker,
Bonobos
and
Untuckit
are among the businesses to already make the move, while others—like trendy fashion seller
Everlane
—seem to be following suit with surprising regularity.
But success of young ecommerce startups doesn't necessarily make the current process any less painful for traditional retailers and their backers. While private equity firms will always invest in companies that sell things to consumers, the way those companies look and operate may never quite be the same.
"I think it's a wholesale change, but I don't personally believe brick-and-mortar retail is dead," Nicolopoulos said. "I think brick-and-mortar will continue to be a major part of the US economy. I just don't think it's going to own it the way it has."
Check out more from the PlayBook:

Bezos is coming: Mapping Amazon's growing reach

A decade of venture capital: An era of excess [datagraphic]

A decade of PE: The rise, fall and rise again of private equity [datagraphic]

Unlocking residual value: Venture capital fund performance [datagraphic]

The turning of the cycle: Private equity fund performance [datagraphic]
Join the more than 1.5 million industry professionals who get our daily newsletter!