Billionaires, buyouts and basketball: The Gores brothers take on private equity
June 19, 2018
This story was originally published in the 2Q issue of PitchBook's Private Market PlayBook magazine.
Who's the most interesting person in private equity? That's open to debate. Who are the most interesting brothers? To that question, we have an answer.
Alec and Tom Gores are both the founders of their own firms: Alec leads The Gores Group, while Tom is the CEO of Platinum Equity. The pair are also the owners of two of the largest homes in Los Angeles: Alec has an 11-bedroom mansion on 2.2 acres in Beverly Hills, while Tom bought a palatial estate in Holmby Hills in 2016 as part of a reported $100 million deal.
In his spare time, Tom's activity of choice is basketball. He's been the owner of the NBA's Detroit Pistons for the past seven years and has become a major presence within the franchise, often sitting courtside at its shiny new arena in downtown Detroit. Alec, meanwhile, is said to prefer a different game. In 2012, The Daily Beast reported he lost $17.4 million to an Irish gambler in a "serious backgammon match" that spanned three days. With a net worth of $2.1 billion, per the latest Forbes estimate, he can afford it. Forbes assigns Tom a net worth of $3.9 billion, giving the brothers a combined value of an even $6 billion.
And did we mention the wiretapping? A dozen years ago, Alec and Tom were at the center of a federal investigation of a private investigator in Hollywood, when reports emerged that Alec had hired the PI in 2000 to determine whether his wife at the time was having an affair with Tom. The detective had proceeded to install listening devices on the pair's phones, and Alec's suspicions were reportedly confirmed.
Neither Gores Group nor Platinum responded to interview requests, and neither brother is known for being an open book with the media when it comes to their private equity activities. But the Alec and Tom still manage to make their share of headlines. And lately, so have their firms.
* * *
The Goreses were born in Israel— Alec in 1953 and Tom in 1964— and moved as kids to Michigan. (A middle brother, Sam, is the chairman of Paradigm Talent Agency. The Gores genes aren't effective only in private equity.)
Growing up in the Rust Belt was a far cry from the brothers' future positions in Hollywood's upper crust. And it wasn't long before they began showing a desire to transcend their humble beginnings. Alec founded his first company in 1978, dealing computers out of their parents' basement, and sold the business eight years later for some $2 million. A career had begun. The next year, in 1987, he founded The Gores Group, making the move from selling products to selling companies.
His younger brother followed suit eight years later, launching Platinum Equity in 1995. These days, Platinum is the larger firm—it boasts $13 billion in AUM compared to about $2 billion for Gores Group—and generally pursues larger deals.
But both firms are operationally focused, seeking out investments that allow in-house teams to use their expertise to create value.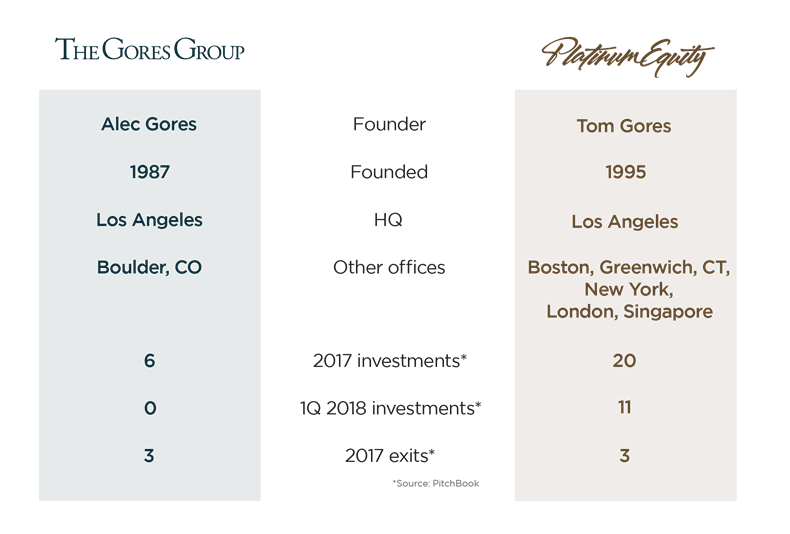 Tom Gores and Platinum completed 20 new investments last year, their most since at least 2006, according to PitchBook data. The firm continued its buyout spree during the early months of 2018, executing 11 transactions during 1Q alone. That ranked in the global top 20 for activity during 1Q and put Platinum on pace to more than double last year's firm record. The biggest price tag from those 2018 deals was the takeover of Husky Injection Molding Systems from Berkshire Partners and OMERS Private Equity in an SBO worth $3.85 billion.
To finance that increase in activity, Platinum is ascending to new fundraising heights. The firm closed its fourth flagship fund on a $6.5 billion hard cap last March, representing a 73% step-up in size from its $3.75 billion predecessor, a rare increase for a firm that's already raising billions.
Things have been a bit slower on the investment front at Gores Group. Alec's shop completed six new deals last year, per PitchBook data, down from a recent high of 14 in 2014.
But the firm has been active in other ways. Reports emerged in February that Gores Group planned to forgo raising a new fund, opting instead to gather cash and invest on a deal-by-deal basis. Not long before that, the firm was involved in an unconventional deal that departed from the normal paradigm of private equity—and that played a role in the revitalization of one of America's most iconic brands.
* * *
In 2012, Hostess Brands was on its deathbed. Weighed down by debt from a buyout gone bad, the company shut down its operations entirely and auctioned off its assets. The next year, though, an investor group bought several of the company's major brands—including Twinkies and Ding Dongs—for a reported $410 million. And three years after that, Gores Group lent a hand for the next stage of the rebirth.
In November 2016, a special purpose acquisition company sponsored by Gores Group acquired Hostess and took the company public through a reverse merger. Coming with a reported valuation of $2.3 billion, the move allowed Hostess to reap the benefits of being a public company without having to navigate a tough market for IPOs. And in the months since, Hostess' stock price has trended generally up. Gores Group, in any event, seemed pleased with the deal: In January 2017, the company took a second blank-check company public in the hope of pursuing a similar deal in the future.
Other instances of Gores Group's recent activity involve some brotherly love. Back in 2002, a feature in The Wall Street Journal on Alec and Tom Gores highlighted that the two brothers were at the time bidding for the same business, telecom company Global Crossing. In the years since, though, their firms have become less inclined to compete with one another—and more interested in teaming up.
In September 2010, Platinum and Gores Group acquired Alliance Entertainment, a wholesale distributor of music, movies and other media that worked with retail giants like Barnes & Noble and Amazon. The firms exited the business three years later to fellow wholesaler Super D after conducting a pair of add-ons.
Tom and Alec next partnered on a deal in June 2016, when they recapitalized Data Blue, a supplier of various IT services for enterprise clients in North America. Once again they pursued inorganic growth, as Data Blue added on cloud specialists LPS Integration and Williams & Garcia last year.
* * *
Despite all those buyouts for companies in the IT, media and plastics industries, it's possible that Tom Gores and Platinum's best investment this decade involves sneakers and hoops. In 2011, Tom paid a reported $325 million to take a 51% stake in the Detroit Pistons franchise, with Platinum's second flagship fund buying the other 49%. Four years later, Gores bought out the stake owned by his firm to take 100% ownership.
At the time of the original 2011 purchase, an industry source described it as a "shocking" bargain to business publication Crain's. Several years later, it only looks better: Forbes' latest estimate pegs the Pistons' enterprise value at $1.1 billion.
And there are other, indirect benefits. Like the fact that the Platinum Equity logo now occupies a prominent place on the Pistons' home floor, the firm name written in script on either side of midcourt— the kind of prime brand-building real estate most private equity firms could only dream about.
It's the sort of thing that would make an older brother proud. Even, perhaps, if that older brother is also a part-time rival.
Check out more articles from the 2Q 2018 PlayBook:

The evolution of liquidity: Shifting exit strategies for private market investors

Private vs. public market investors: Who's reaping the gains from the rise of unicorns?

Barbarians left behind: How predictive analytics are upgrading PE's playbook