GP Stakes
Changing tides mean GP stakes investing could be here to stay
September 10, 2018
TPG Capital
, one of the largest PE firms to retain its partnership structure, flirted with the idea of going public this year. Many of its peers are already publicly traded—
Blackstone
,
KKR
and
Apollo Global Management
, to name a few. But since going public, those firms' shares haven't performed very well, reportedly prompting TPG to scuttle its IPO plans altogether. And the firm has reason to. The lesson that Blackstone, Apollo and KKR have learned is that the public markets don't value the private equity business the way that they do. That may change over time, but up until now, equity analysts haven't seen eye to eye on PE stock valuations, perhaps because they cover PE as a subset of the broader financial services industry, where different rules apply.
TPG is staying private for now, but with the additional possibility of raising outside capital through a stake sale instead, per reports. Quietly, GP stake sales have become one of the most intriguing developments to hit the global PE industry in recent years. Our
latest analyst note
dives into the subject, which deserves more attention if and when the fundraising boom dies down. In years past, GP stake sales were interpreted as a way for PE executives to cash out of their firms, where a large chunk of their wealth was tied. Whether that cynical take was true or not, the motivations to sell GP stakes—the biggest motivation being strategy diversification—have changed. Proceeds from recent stake sales have been used as seed funding for new credit and real estate strategies. On the other side of the coin, some large managers are purchasing stakes in smaller GPs to buy diversification of their own. TPG recently made a minority investment in
NewQuest Capital
, an Asia-based secondaries firm.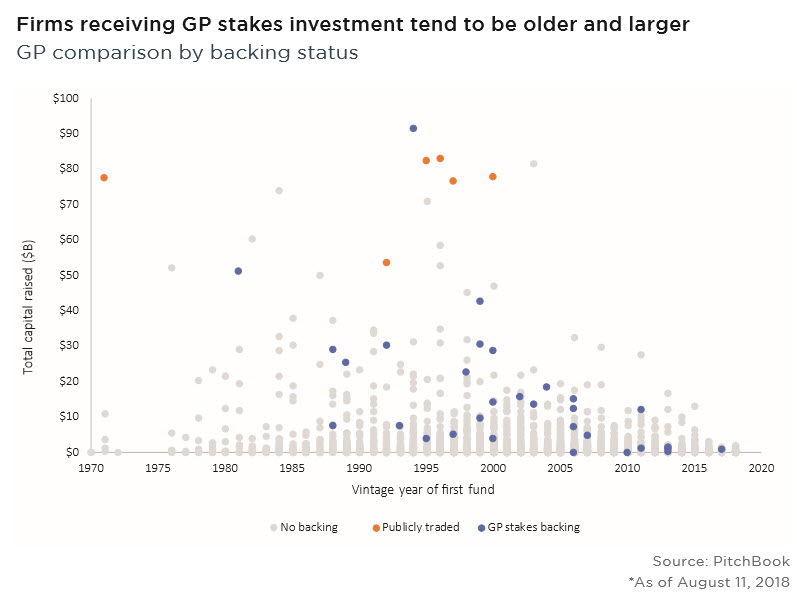 Still in its early stages, GP stakes investing is confined to well-known firms for now, but it's already hitting record levels. "Nobody ever got fired for investing in Blackstone," goes the old saying. Taking that to heart, most GP stakes investments throughout the globe have involved older and larger firms with long and successful track records, as the accompanying chart shows. Those same firms are also the ones that typically have the least trouble raising funds. That prompts the question of whether outside investors will have an effect on future fund performance, since investing in the GPs themselves hinges on fee generation.
This column originally appeared in The Lead Left.
Read more about GP stakes in our recent analyst note.