China
China's VC industry bounces back after coronavirus-induced winter
April 2, 2020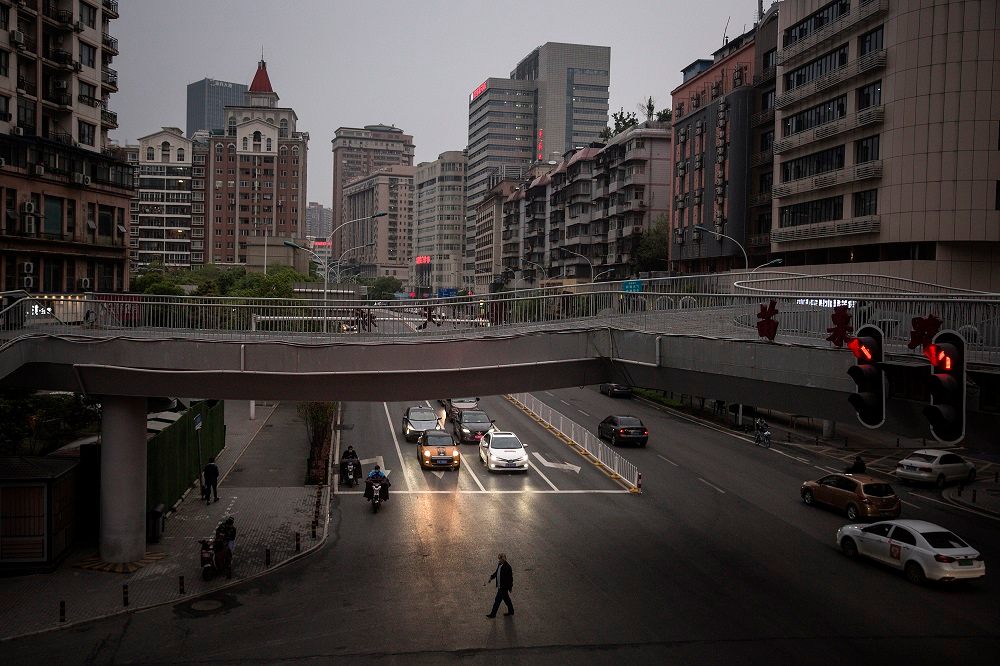 Dealmaking in China is mounting a comeback following a slowdown prompted by the coronavirus outbreak.
Chinese firms recorded 66 venture capital deals for the week ended March 28, the most of any week in 2020 and just below figures from the same time last year.
It's a sign that the VC industry in the rest of the world could also mount a quick recovery from travel restrictions and other measures that have made investing more challenging. In the first six weeks of the year, deal volume and capital raised in China had fallen more than 60% compared with the same period last year, according to PitchBook data.
But any optimism should be tempered with a note of caution. If a second wave of the virus were to hit China, stringent lockdown measures would be reinstated and deal activity would most likely dive again, said Alex Frederick, an emerging tech analyst at PitchBook.
VC deals in China by week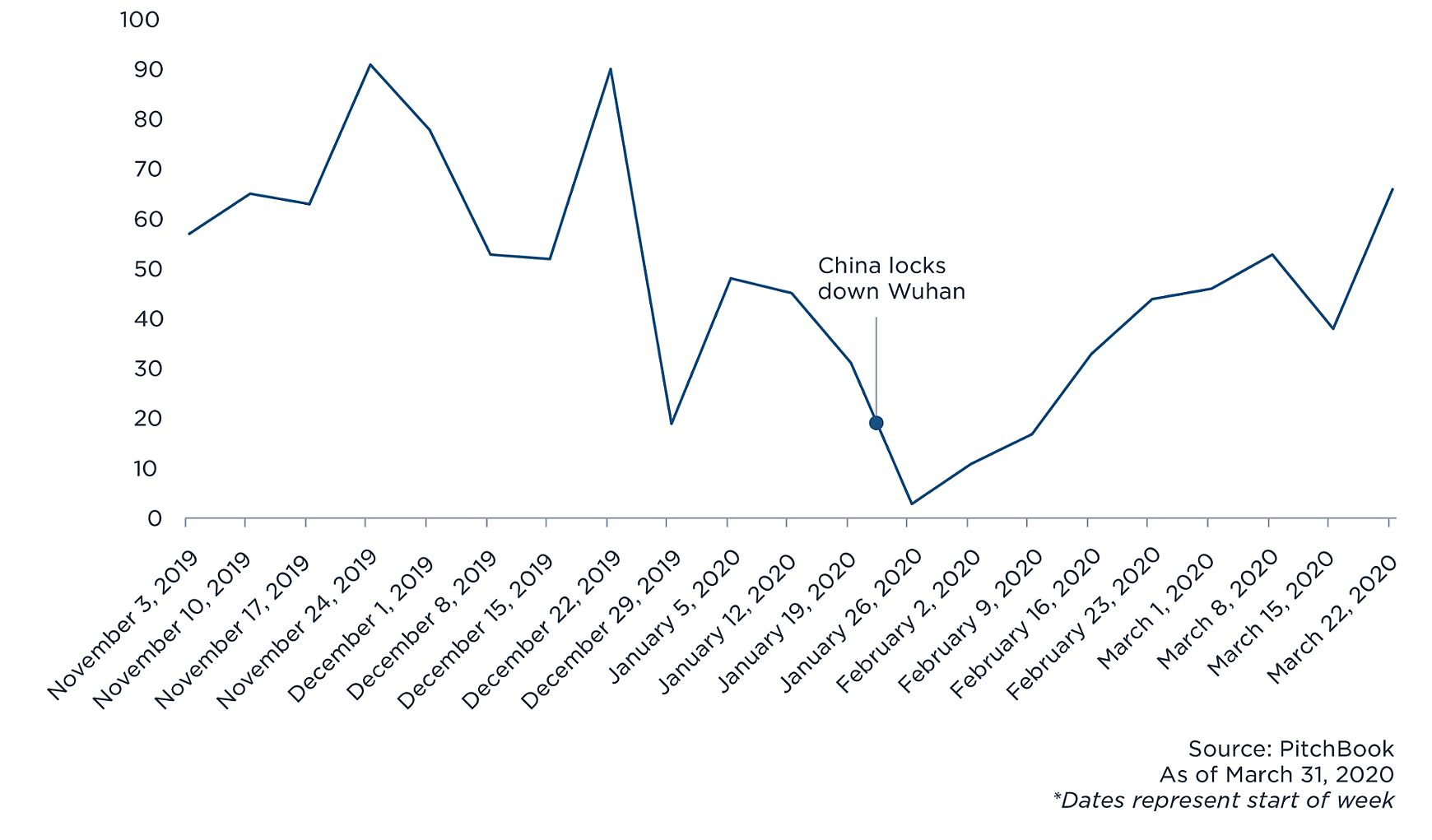 Containment measures intended to slow the outbreak sharply curtailed many of China's hallmark industries, notably manufacturing and logistics. But it has also drawn attention to new opportunities.
Two sectors that have seen an uptick in VC deals include advanced manufacturing and edtech, Frederick said. Last week, Chinese online education startup
Yuanfudao
hauled in $1 billion at a $7.8 billion valuation, according to Reuters, at a time when the world is rethinking the merits of remote teaching. And Chinese software companies have fared particularly well in recent weeks, with the industry claiming nearly a third of all deals in the country.
The rebound is a welcome sign for startups and investors in the US and Europe, who are now seeing investment activity begin to slide. In the last week of March, the number of deals in the US was down some 26% compared to February's weekly average, according to PitchBook data.
That activity is likely to slow much more in the coming weeks as the US grapples with more official cases of COVID-19 than any other country. There is a natural lag time between when deals are made and when they are announced publicly.

VC deals in the US and Europe by week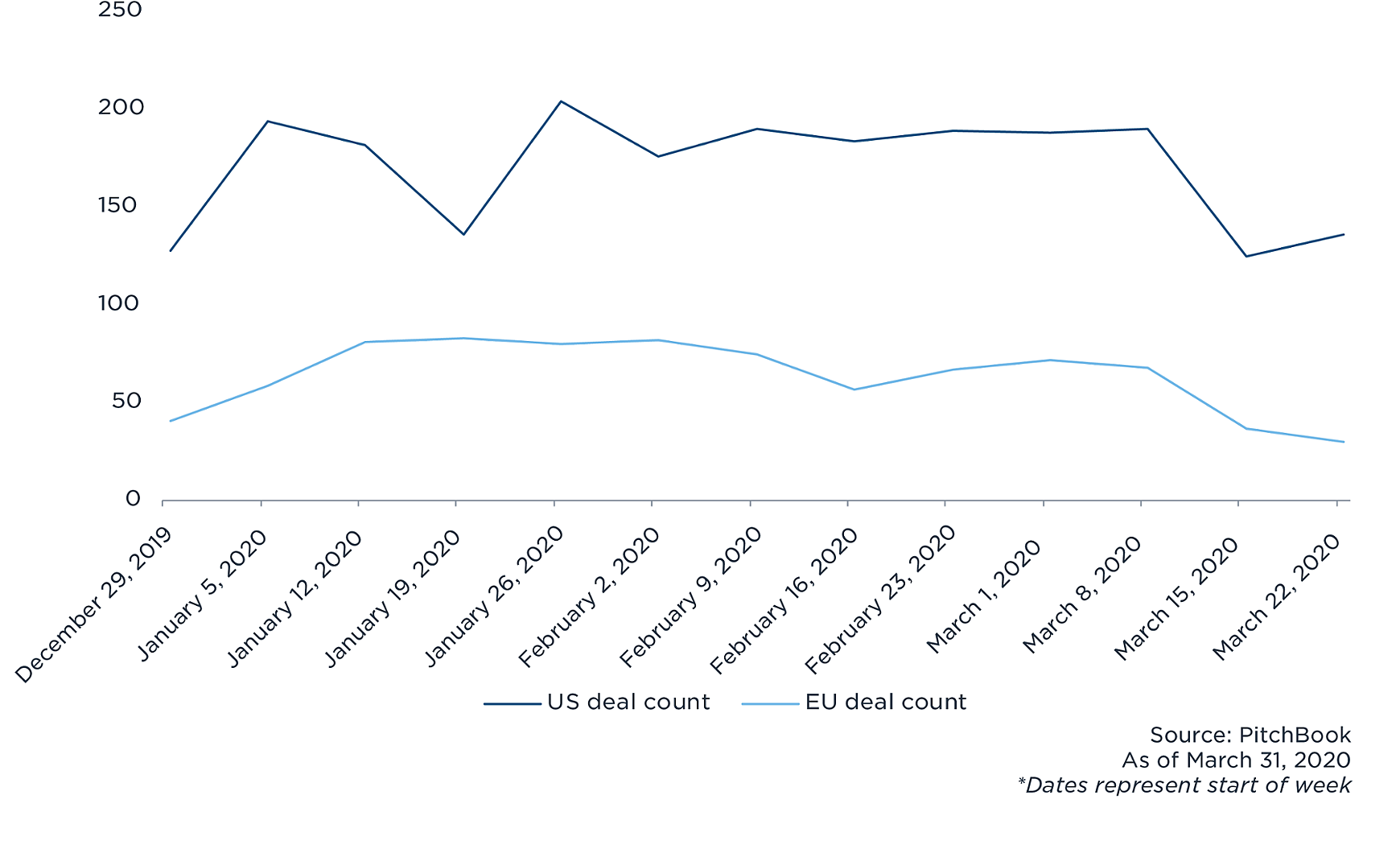 If investors are able to find deals, there's money to fund them. Globally, venture capitalists had around $188.7 billion in dry powder as of mid-year 2019, according to a recent PitchBook analyst note on COVID-19's Influence on the US VC Market. That works out to more than two-and-a-half years of capital on hand.

Investors may also find that the market turmoil will make for new opportunities. During the Great Recession, the share of companies raising money at lowered valuations grew sharply, according to the analyst note. Investors also tend to demand more protection in deals during downturns, such as liquidation preferences and dividend rights.

Related read: Coronavirus deals latest blow to China's struggling VC landscape
Join the more than 1.5 million industry professionals who get our daily newsletter!