In 2016, 87.6% of private equity funds closed in North America and Europe hit or exceeded their targets. Even compared to the heights of 2014 and 2015, that figure represents a clear high for the decade and also the extent to which limited partners are eager for exposure to the asset class.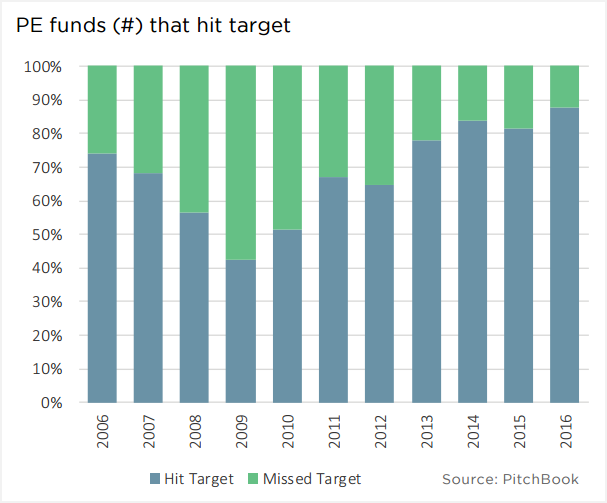 A four-year low of 356 funds closed in 2016, but the average fund size soared to nearly $765 million, demonstrating that fundraising strategies are growing more targeted, with LPs also favoring more experienced managers. The macro conditions that have encouraged substantial PE fundraising success are well known by now, especially as volatility remains persistent and fund investors are hard-pressed to find worthwhile parking spots for significant sums.
What must be reiterated, however, is it's nigh inevitable that in the face of sustained lofty capital overhang and continued demand, LPs and general partners alike would do well to anticipate lower returns overall. All that capital will exert an upward pressure on valuations via demand-boosting mechanisms for viable assets in the marketplace. PE fund managers can be relied upon to devise ever-more ingenious solutions of putting money to work, as evidenced by the growing incidence of lower-middle-market platform roll-ups and minority stakes in fast-growing businesses, however, anticipations are best set at the outset. Moreover, if interest rates ratchet up even slowly, the pressure to source debt somewhat more sparingly and shrewdly will become at least a bit more apparent.
The biggest factor, though, is simply that future returns will be more dependent on operating-margins improvement than anything else. And that's simply a difficult arena in which to contend, contingent as it is on highly engaged ownership and ample resources in terms of both talent and (often) headcount.
If such expectations were baked into LPs' assessments last year, and fundraising success rates were still that high, then similar proportions of funds hitting their targets is probable. However, as that may well not be fully the case, the fundraising environment in future is unlikely to be quite as amenable.
Note: This column was previously published in The Lead Left.
For more data and analysis, be sure to download our free 2016 Annual PE & VC Fundraising Report.