At this point, it's firmly established: The worldwide private equity industry is in the midst of a swale, with activity dropping substantially during the past 12 months. The steady stream of boom years that played out in the immediate aftermath of the financial crisis was never going to last forever.
The downturn in deal count has affected every industry, with some proving more resilient and others going through steeper-than-average declines. To provide a better idea of how different sectors are responding to the current ebb in the buyout cycle, we used the PitchBook Platform to calculate YoY changes in deal flow from the past two years. The left column of the below chart represents the increase or decrease in deal count within a sector from 2014 to 2015, and the right column displays the drop in each sector from 2015 to 2016.
YoY change in global PE deal count by sector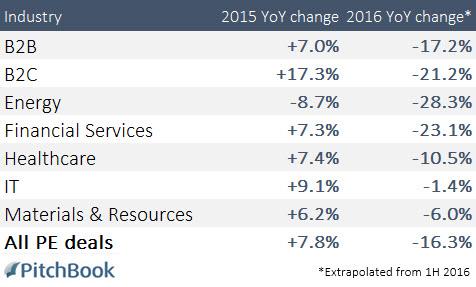 As you can see, different industries have been affected by the overall decline in PE activity in very different ways. Investment in the energy sector was already falling off last year and has continued to tank this year; B2C deals, meanwhile, were flying high last year only to plummet during 2016, the starkest drop experienced by any industry. For different sectors, the fall-off began at different times.
While activity in every industry has lessened this year, IT (at just a 1.4% decline) is one busy quarter away from getting back into the black. It seems likely that PE's increasing interest in software companies is helping to offset the general downward trend.
Global PE deal count by sector

The materials & resources sectors has also held relatively steady, but that makes some sense considering it's seen less PE investment since the start of 2014 than any other sector, by a substantial margin. B2B and B2C, meanwhile, the two busiest sectors for PE investment, have each seen deal count drop by at least 17% so far in 2016.
But the theory that busier sectors would be undergoing larger declines in investment only holds up on the extreme ends of the spectrum. IT ranks as third-busiest and has seen the smallest decline, while energy carries the second-lightest investment load but has experienced the steepest drop.
Global PE activity since the start of 2014
So perhaps the biggest single takeaway is this: global PE activity is declining in every sector. The scope of that decline is only a matter of degrees.
Want to see how the PitchBook Platform can boost your business? Contact us today to get started.