Hydrocarbons are hot again.
Gasoline prices are rising fast, with a Hell's Kitchen station asking
$5.35 a gallon for super premium.
What's driving the increase? A combination of solid global economic growth, OPEC's ongoing production cap, dwindling inventories and the specter that President Donald Trump will impose new economic sanctions against Iran.
Along with some evidence American drivers are itching to ditch their green cred, with Ford announcing it will focus on trucks and SUVs as the classic sedan is increasingly being replaced by tough-looking, tall wagons with big engines. Trump is also looking to roll back Obama-era fuel economy requirements for the auto industry.
The result has been a steady drawdown of oil inventories and a steady rise in crude prices: Brent touched the $80-a-barrel threshold last week for the first time since November 2014 and posted the 11th-largest YoY spike in history, according to UBS.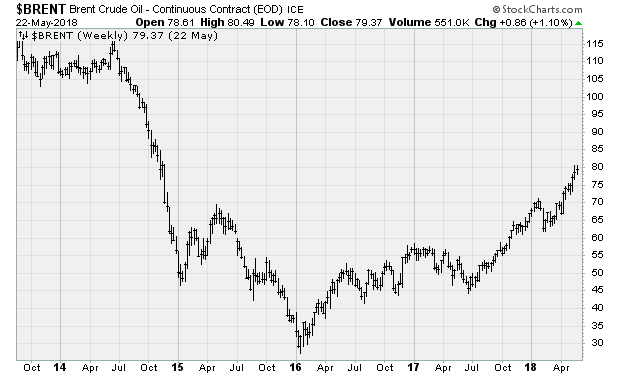 American energy companies are poised to benefit in a big way. As are their private equity backers, who are likely to enjoy a surge in new fundraising.
The inventory drop—and accompanying price rise—comes despite an aggressive ramp in US oil output, with Yardeni Research noting a rise from a low of 8.4 million barrels per day during the week of July 22, 2016, to a record high of 10.5 mbpd at the end of April.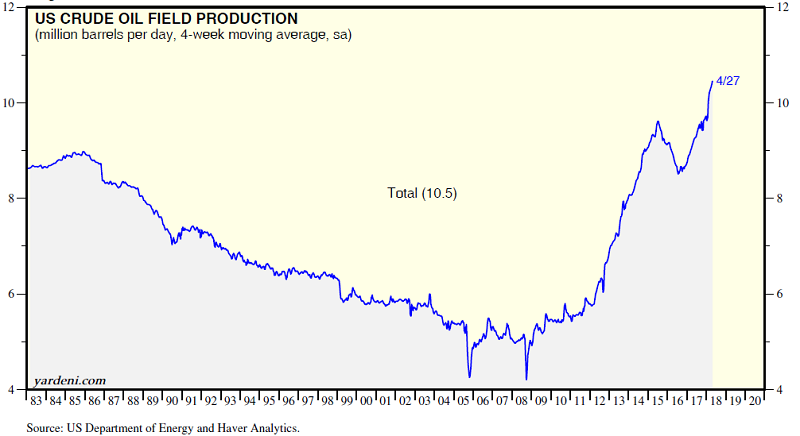 US oil and petroleum exports recently hit 7.1 mbpd, twice as much as in July 2014, when Saudi Arabia and OPEC first unleashed their oil price war in a bid to recapture market share from the Americans by squeezing them with low prices.
Things didn't exactly work out as planned, as American energy companies adapted by cutting costs, becoming dramatically more efficient with each dollar invested in drilling or completing a wellhead.
The dynamic of higher prices and tight inventories looks set to continue as the 2014-2016 bout of falling prices slammed the brakes on high-cost long-term projects like ultra-deep-water drilling as energy companies pulled back on capital expenditures in a desperate bid to slash spending to match falling revenues. The chart below from Goldman Sachs shows the industry Capex decline and how investment has lagged behind the rapid rebound in cash flow as prices have rebounded.
Energy Capex has lagged cash flow recovery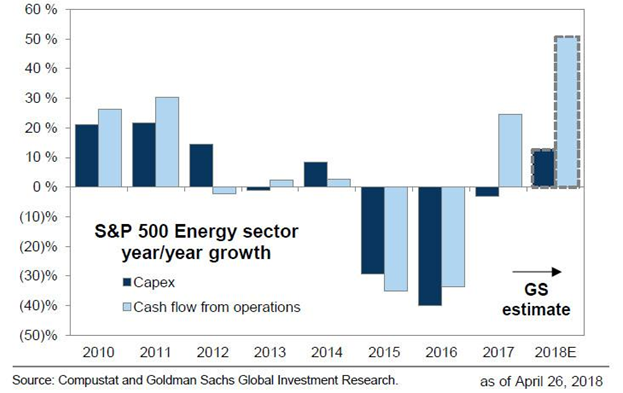 All those foregone investments mean future supply will be constrained, especially with the oil futures curve in "backwardation," with Brent crude for delivery in 2021 trading at just $66 a barrel, compared with nearly $80 for cash delivery. And it will make the relatively cheaper and less risky US shale investments all the more attractive.
No surprise, then, that the latest forecast from the International Energy Agency shows the United States will satiate most of the world's growing oil demand (around 60%) over the next five years and that, without a turnaround in investment, inventories will remain tight and prices high.
Morgan Stanley is targeting $90 a barrel for Brent crude in 2020, up from a previous forecast of $65. The problem, in their view, is that global oil output would need to rise by 5.7 mbpd by then—something that isn't likely as production growth of this magnitude has only happened once before since 1984. Thus, prices will need to keep rising from current levels to incentivize the needed investment spending.
Another facet of the supply-side problem is the lack of new oil discoveries to be tapped. According to Norwegian consultancy Rystad Energy, discovered resources fell to an all-time low of around 7 billion barrels of oil equivalent in 2017. At current oil and gas consumption rates, that's a replacement rate of just around 11%, versus 50% back in 2012. Not only are discoveries fewer, but the sites found are holding less oil than prior discoveries.
"We haven't seen anything like this since the 1940s," Rystad senior analyst Sonia Passos said in a press release, in what she believes represents a serious threat to supply levels down the road.
As the old adage goes, when it comes to commodities, the cure for higher prices is higher prices. Since it will motivate the investments necessary to extract more oil from the Earth. Investments that Deloitte estimates must total $3 trillion between 2016 and 2020.
10 most active global PE firms in energy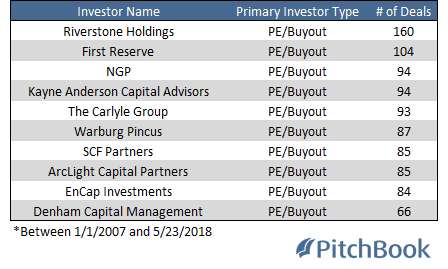 In a follow-up piece, I will explore what all this means for private investment in the US energy industry. Spoiler alert: Increased fundraising as LPs chase the historical connection between higher oil prices and higher investment returns—benefiting top investors in the space including
Riverstone Holdings
,
Kayne Anderson Capital Advisors
and NGP Energy Capital Management.