The Nordic VC ecosystem has evolved during the last few years, with household names such as
Spotify
and
iZettle
coming from the region and gaining global traction. When it comes to investors, one name in particular tends to stand out—
EQT Ventures
.
Founded in 2016, the young multi-stage investor's recognition stems partly from its approach to investing, the way it utilizes technology in order to source new deals, and its relationship with its parent company, global private equity investor
EQT
. Despite its relative youth, the fund has already executed its first exit—the sale of
Small Giant Games
, which was sold to
Zynga
with a valuation of $700 million in December. The investor takes a multi-stage strategy, with investments typically ranging between €3 million and €75 million and focusing on Europe and the US.
Early days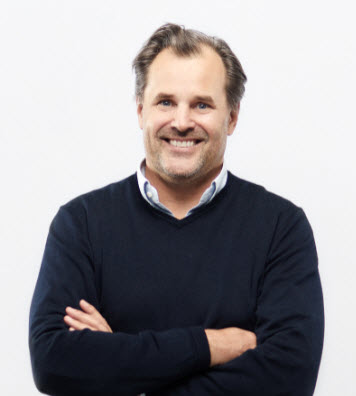 EQT Ventures was co-founded by seven-time entrepreneur Hjalmar Winbladh (pictured), who launched companies including Sendit AB, which was acquired by
Microsoft
in 1999, and telecom provider
Rebtel
, where he still serves as chairman. In 2009, he also co-founded
Epidemic Sound
, which buys and licenses music from composers.
"I wanted to start a purely European investor, with a global outlook, which is led by people who have been through the process many times themselves," Winbladh told PitchBook. "Simply because they have a much better understanding than a management consultant or an investment banker of the roller coaster ride of building a venture-backed company."
Building on heritage
In 2014, Thomas von Koch was appointed managing partner and CEO of EQT. Two years later, he announced a €566 million fund with a vision to invest in fast-growing European technology companies throughout all stages, with the backing of a global investor base, including the European Investment Fund and
HarbourVest Partners
. The fund was to be managed by a new unit: EQT Ventures.
"After Thomas took on the role of managing partner, he and the rest of the team were keen for me to create a multi-stage investor with a global outlook, which harnessed the knowledge and connections of the EQT platform. The simple goal was to build global winners," Winbladh said. In April, the VC led the £25 million Series B for
Cytora
, the creator of an API platform for insurance underwriters. In the same month, it also backed the €3.3 million round in Irish augmented and virtual reality game studio
WarDucks
.
The investments illustrate how EQT Ventures is utilizing an AI platform to source the next big startup. Dubbed Motherbrain, the in-house-developed platform analyzes data from around 8 million startups across Europe and the US and helps the VC firm find the right company to invest in. Explained Winbladh: "We have now created the foundation which can now take us to the next level, leveraging technology to optimize our decision-making process and validate some of our ideas and assumptions. Technology also allows a more proactive approach to investing—finding the right companies to back rather than just sitting in Mayfair or Stockholm and waiting for people to come and visit us."
Nordics, Europe and beyond
EQT Ventures was founded in Stockholm but now has teams in London, Amsterdam, Luxembourg, Berlin and San Francisco, with an outpost in Paris set to open soon. And while the firm invests globally, it still has a strong focus on its Swedish home market and Europe in general. Winbladh believes that European venture investing has undergone a radical transformation during the last 12 years and it now possesses all the building blocks of a burgeoning ecosystem. "We really have come a long way since the early 2000s and going forward I think we are looking towards a golden age for Europe. There is a great pool of tech talent and we have a broad and growing base of serial entrepreneurs with deep expertise gathered from some of the most successful European tech stories of the last couple of years," he explained.
Looking at the Nordic region specifically, Winbladh cited some traits he believes have been key drivers behind its development: "There has always been an outward-looking mentality in the region and we have always been strongly influenced by Anglo-Saxon influences and things coming from the US in particular. The ecosystem is more advanced than some other parts of Europe and it has an international outlook based on the generations of looking beyond our own borders. Obviously, Spotify and deals such as PayPal's acquisition of iZettle all play into this. This is creating liquidity and talent which feeds back into the ecosystem."
The breadth of the European, and the Nordic ecosystem in particular, has widened over the last decade. Though still lagging the sophistication of some US-based hubs or cities such as London, the region is now supporting the creation of startups that are setting out to disrupt their verticals. Crucially, it is increasingly seeing the emergence of investors who have the ambition and firing power to close the Series B/C and D gap that has been holding back some of these companies that rely on late-stage investments to fuel their global growth ambitions.
Image courtesy of EQT Ventures
Check out our analyst note: Venture Capital in the great recession.