Middle Market
Fundraising is flat in the US PE middle market, but it's not time to panic
January 28, 2019
It's not a bad time to be raising money if you're a private equity firm in the US middle market. But the environment isn't growing like it was earlier this decade, according to
PitchBook's 2018 US PE Middle Market Report
.
Investors closed 130 middle-market private equity funds (between $100 million and $5 billion) in the US on roughly $110 billion in 2018, marking YoY decreases of 21.7% and 5.5%, respectively. The fundraising figure still compares favorably to annual totals over the past decade. Specifically, 2018 marked the fourth highest annual total of private equity capital raised from US middle-market PE funds since the start of 2008 and the fourth time in the past five years it eclipsed the $100 billion mark. And don't expect that trend to change. On average, LPs expected to increase allocations to private market strategies from 30.9% to 32.5% over the next 24 months, per
PitchBook's 2018 Annual Institution Investors Survey
, while dialing back exposure to hedge funds and fixed income strategies.
Here's a breakdown of US PE middle-market fundraising over the past decade: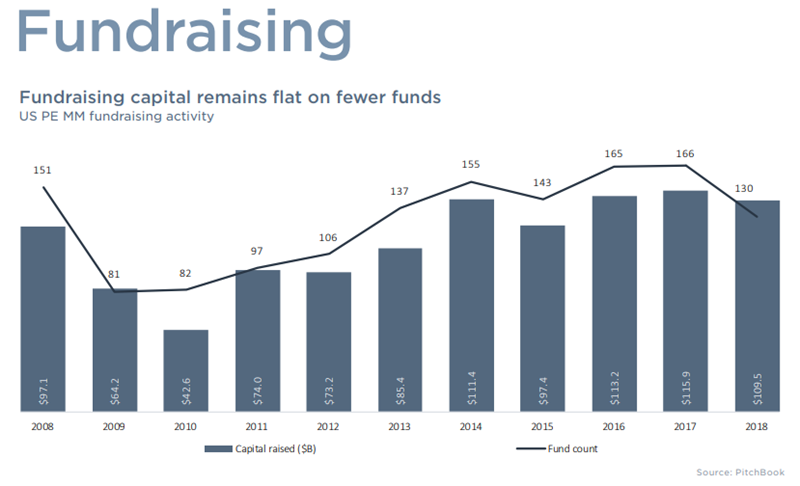 As LPs continue to search for ways to allocate large sums of money, upper-middle-market PE funds (between $1 billion and $5 billion) are becoming increasingly appealing. In 2018, a record 36 such vehicles accounted for nearly 28% of all middle-market PE funds, the highest proportion PitchBook has ever recorded.
Clearlake Capital Group
closed its fifth flagship fund on more than $3.6 billion in March, the Santa Monica-based shop's largest fund to date.
Thoma Bravo
closed its Discover Fund II on $2.4 billion in April, with plans to focus on middle-market software and tech buyouts.
Sycamore Partners
raised $4.75 billion for its third flagship vehicle in July. Not to be outdone,
HIG Capital
closed three funds in or near the $1 billion to $5 billion range, bringing in $3 billion for its latest buyout fund focused on stable, higher-quality targets; $1.3 billion for a strategic partners fund (e.g., a fund-of-funds type of approach); and another $970 million for a pool dedicated to growth deals.
For more on the US PE middle market, download our 2018 annual report.