This robot's creator wants you to love it as much as a Disney character (and other highlights from CES)
January 9, 2018
LAS VEGAS—Dressed in a suave black blouse, Sophia the robot took to the stage during the digital money forum at CES.
She is an invention of David Hanson, the founder of Hanson Robotics—a company backed by AngelVest and the Disney Accelerator—and a former sculptor and technical consultant at Walt Disney Imagineering, the entertainment conglomerate's creative and technical division. Sophia is technologically advanced and looks surprisingly human. She's appeared on "The Tonight Show Starring Jimmy Fallon," made her own short film and has reportedly even become
the first robot to be granted citizenship
. With some
70,000 Twitter followers
, she's a celebrity robot, if you will.
Sophia, who can make 62 different facial expressions, was initially designed by Hanson to be an aide at Disney parks and major events, per reports. Today, she attends events around the world as a sort of symbol of the upcoming robo-revolution. At CES, she
took her first steps
, then Tweeted, "One small step for me, one giant leap for robotkind."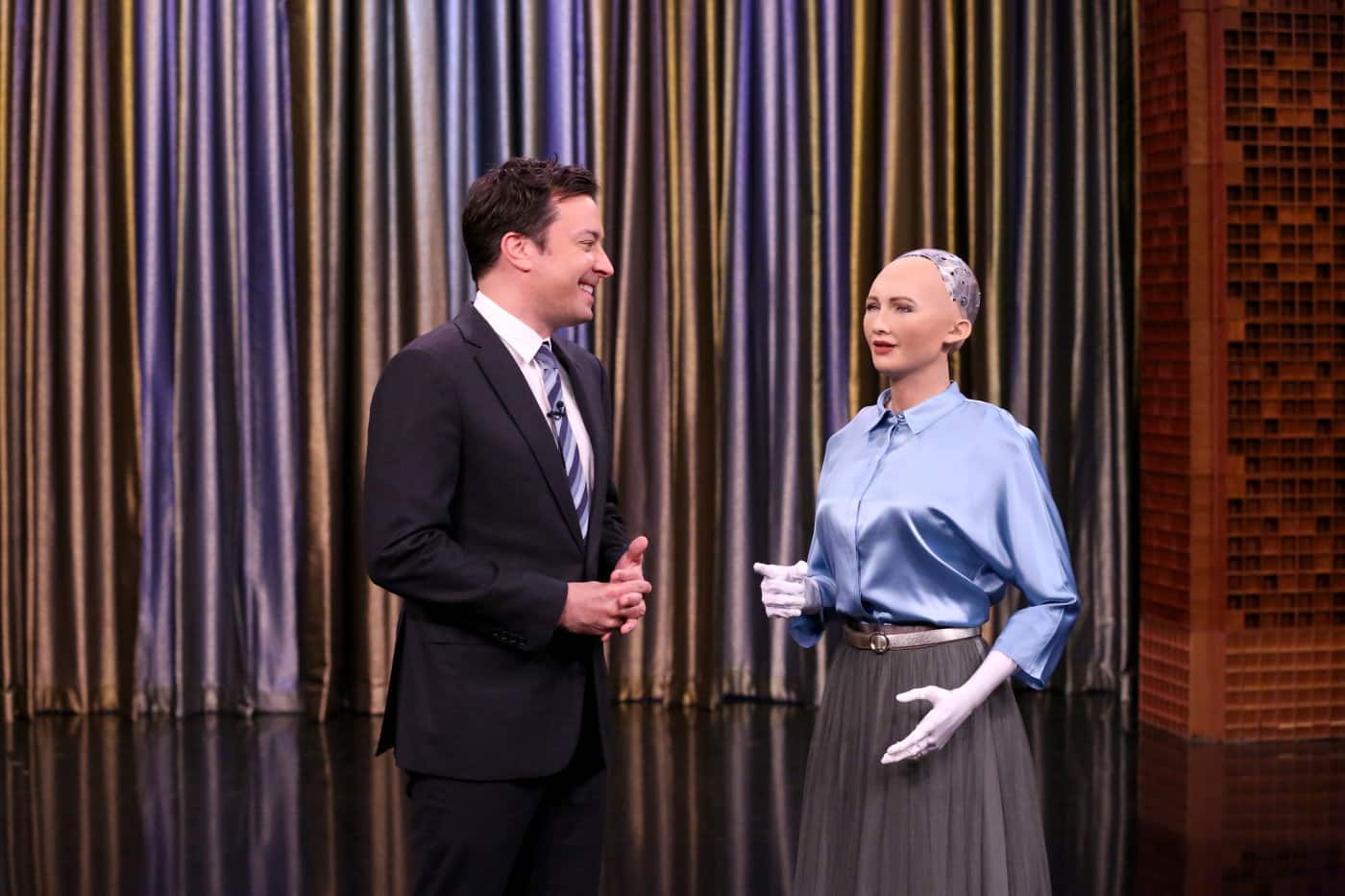 Following an intro from author and MIT Media Lab senior advisor Michael Casey, Sophia hit the stage with Hanson for a scripted Q&A—she's not so great with surprise open-ended questions just yet. However, there was a bit of a hiccup at first. Maybe it was stage-fright, or maybe Sophia wasn't quite ready for Casey's hard-hitting questions.
The awkward moment when the robot doesn't work on stage #CES2018 pic.twitter.com/oCuSHeII1y

— Kate @ CES (@KateClarkTweets) January 9, 2018
But she redeemed herself, spending several minutes advertising her recently announced token sale before being whisked offstage by her handlers. Casey and Hanson then went on to discuss robo-ethics, human-robot love and empathy, and the importance of "autonomous creativity."
"Can we give machines the right level of imagination so they can imagine the future and really care, really care about humans?" Hanson said. "I don't want to develop them as aliens. ... I want to develop them among us and teach them the values that we most cherish."
Hanson added that if we can love Disney characters, then we can likewise love robots.
3 predictions on the future of payments
Before Sophia stole the show, leaders in the digital payments sector—Nana Murugesan, VP and general manager at Samsung Electronics; Edward Glassman, president of US commercial issuers & partnerships at MasterCard; and Sih Lee, SVP of payments technology & innovation at Synchrony Financial—were asked what the payment experience will look like in five years.
Here's what they had to say:
Robo-assistance:
"We'll see more self-service in the retail space. Brick and mortar isn't going away, but the way it looks, the shape, the accessibility to customers will change. Customers will have more options as to how they access, how they pay for and how they receive products. Maybe robot assistance [or] 24/7 drive-through retail spaces [where] you can come in and grab the products you ordered and paid for online, no matter what time of day." -Lee
(Toyota recently announced its e-Palette concept vehicle, a self-driving store that comes to you.)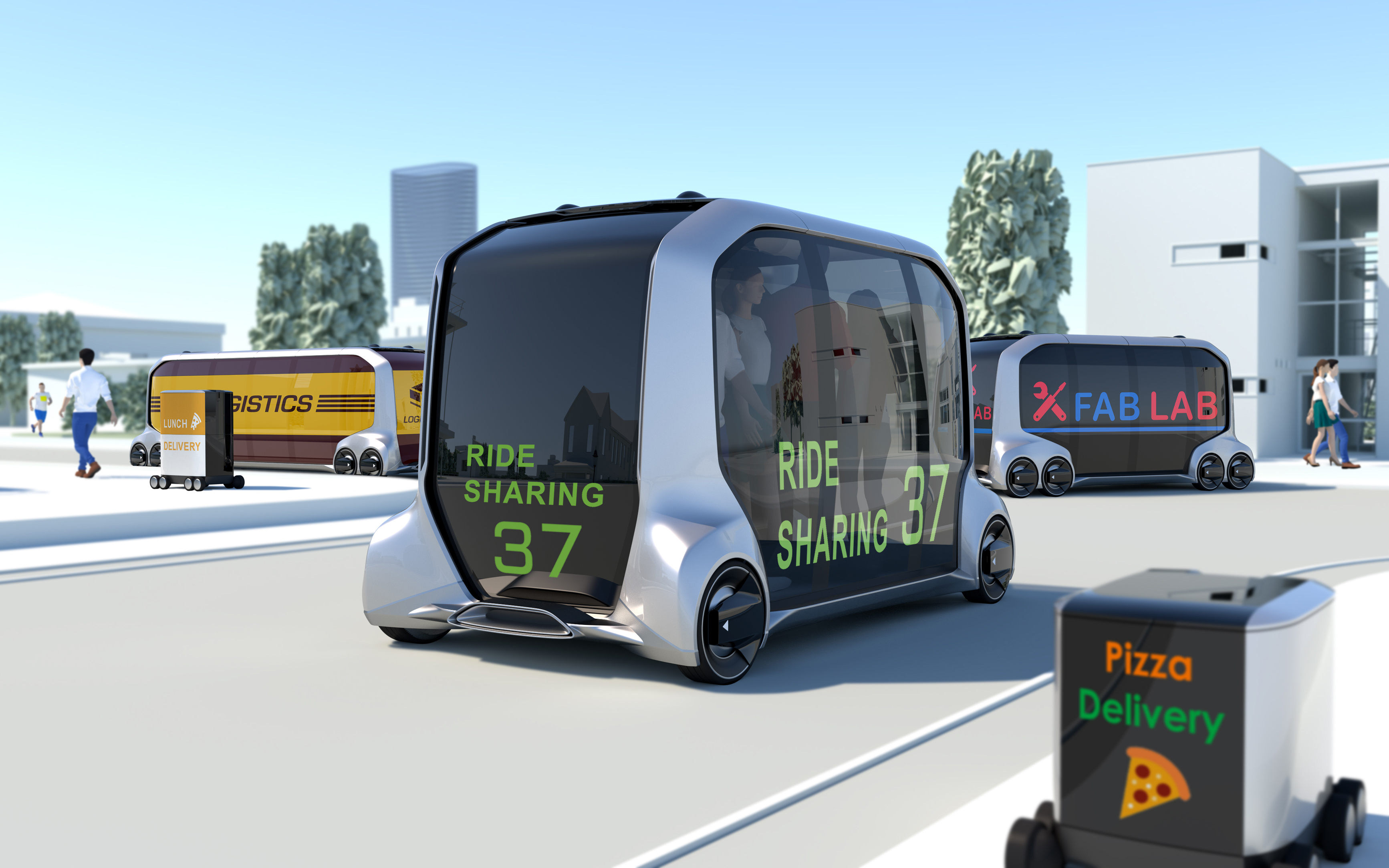 VR glasses:
"I think the omni-channel becomes way more ubiquitous—you see things like shop-at-home through your VR glasses. You might want to go and feel that product in the store, but if you can have the same visual experience at home, for me that makes me much more inclined to buy things." -Glassman
IoT: "
I think payments are going to play a huge role in IoT. We always think of payments as mobile wallets, but really we should think of payments as a seamless experience across devices." -Murugesan
Rains pour down on CES attendees
It's been raining in Las Vegas for two days. It's the city's first rain in 116 days, according to the Las Vegas Review Journal, and it's become clear that hotels, attendees and exhibitors alike were not prepared to get soaked.
People are slipping as they walk up the stairs to the Las Vegas monorail. The wifi at The Flamingo Hotel on the Strip is out. Flights have been delayed—including that of our very own financial writer Dana Olsen. Rain is leaking through the roof of the Las Vegas Convention Center, where a large portion of CES events are taking place. Garbage cans are protecting attendees from stepping in puddles (at least indoors).
Google came through with umbrellas for everyone, luckily, handing them out as attendees exited LVCC. Thanks, Google!
Here's hoping the sun decides to come out at some point and we can all keep the umbrellas as a CES souvenir.
Related content: The future of VR, live from CES: 'We are creating superhumans'