Investor Spotlight: Audax Group's hunt for add-ons nearly unmatched in PE
August 17, 2016
Every buyout firm has its own unique strategy. Some are constantly on the chase for the next billion-dollar deal, some live in the middle market, some invest exclusively in one sector, and some try to diversify their portfolios as much as possible.
And then there's Audax Group, which pursues add-on investments with a frequency nearly unmatched in the world of private equity.
Since the start of 2012, 78% of Audax's deals have been add-ons to platform companies, according to the PitchBook Platform. Compare that to a cross-section of other major players in the industry and it's clear Audax is in the upper tier when it comes to add-on frequency: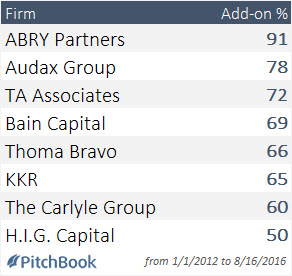 That buy-and-build strategy is central to the Audax identity and has been a driver of the firm's standing as one of the most active PE investors in the world so far in 2016. The company may lack some of the high-profile portfolio companies of its competition, but as any financier worth his salt could tell you, 10 dimes are worth the exact same amount as a dollar bill.
Firm History
Founded in 1999, Audax Group is still a teenager—a relatively new figure on the private equity landscape compared to previous Investor Spotlight foci ABRY Partners and Providence Equity Partners. The firm was formed when Geoffrey Rehnert and Marc Wolpow left their previous positions at Bain Capital to start their own shop. They didn't move too far, though—Audax's and Bain's current headquarters are located less than half a mile apart in downtown Boston, near Copley Square.
Like many of its peers, Audax has a history that can be broken into two halves: pre-2008 and post-2008. Both those halves tell much the same story. From 1999 to 2008, the firm saw its deal count effectively rise every year, building up from one deal in the year of its founding to 39 during the year of the financial crisis. The next year, though, activity cratered, dropping to nine deals. That set the stage for a resurgence, with the number of completed transactions skyrocketing nearly every year, climbing all the way to 80 in 2014 before a rare decline in 2015, down to 68 deals.
By just about every metric, Audax has presented its investors with a steady progression, gradually raising more and more money and using that money to consummate more and more deals. Here's a look at the firm's year-by-year deal count: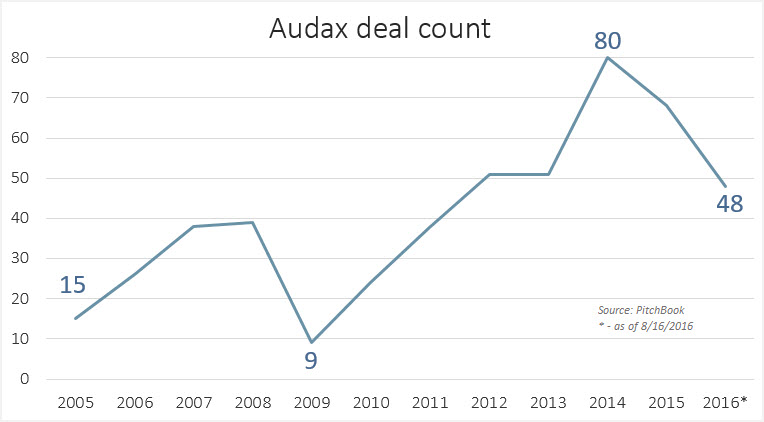 Investment Strategy
The overarching Audax idea is to pursue add-on investments in the middle market, but the firm's strategy can be parsed more closely than that. Its stated sectors of interest are business & consumer services, energy, industrials, healthcare, and technology, media & telecom. It pursues companies with distribution-, manufacturing- or services-based business models. And Audax has fairly specific preferences when it comes to balance sheets: The firm targets platform companies with EBITDA between $5 million and $35 million, an enterprise value between $50 million and $300 million, and management planning to stick around for the long haul.
Notable Dealmakers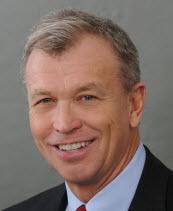 Geoffrey Rehnert, Co-CEO and Co-Founder
As an early team member at Bain Capital in 1984 and a co-founder of Audax Group 15 years later, Rehnert is as close as they come to private equity royalty. At Bain, he served on the boards of more than 25 portfolio companies and helped initiate the firm's leveraged acquisition operations; now, with Audax, he co-chairs the investment committee and manages the firm's activities from a big-picture perspective.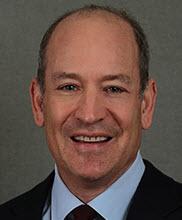 Marc Wolpow, Co-CEO and Co-Founder
Joining Bain in 1990, Wolpow spent six fewer years at the firm than Rehnert before the pair departed to hang up their own shingle. While at Bain, Wolpow focused on middle-market private equity but also played an active role in the firm's mezzanine fund and was a co-founder of its structured debt business—experience that comes in handy with regard to Audax Mezzanine and Audax Senior Debt, his current firm's non-PE arms. Before that, Wolpow worked in leveraged finance at Drexel Burnham Lambert and Donaldson Lufkin & Jenrette.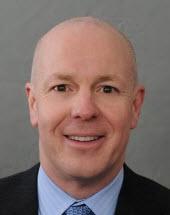 Donald Bramley, Managing Director
Bramley offers a diverse industry background, with previous stints with advisory firm The Parthenon Group, investment manager Meredith, Martin & Kaye, in the corporate development department at FMC, and on the corporate finance team at Saloman Brothers. He's been at Audax since 2001, just two years after the firm's founding.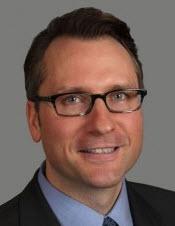 Oliver Ewald, Managing Director
Ewald has worked for Audax on a number of deals in the electrical equipment sector, including the acquisitions of TDI Power in 2014 and Radius Power in 2013. He's been with the firm since 2000, joining after two years in the LBO group at Bain & Company, where he advised clients on strategic due diligence, and five years as a manager on the corporate audit staff at GE.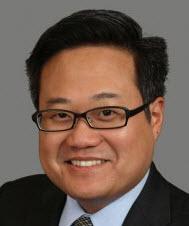 Young Lee, Managing Director
Before joining Audax, Lee worked in merchant banking and leveraged finance at Donaldson, Lufkin & Jenrette and in M&A at J.P. Morgan. In recent years, he's represented Audax in an add-on of consumer electronics business Armour Automotive in 2014 and acquisitions of distributors Midwest Sales in 2013 and IDC in 2012.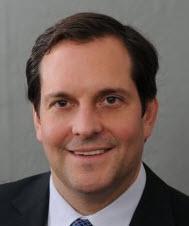 Keith Palumbo, Managing Director
Like Lee, Palumbo worked at Donaldson, Lufkin & Jenrette in his pre-Audax caeer, focusing on LBOs and portfolio company management. He's also a former employee of Chemical Banking. Palumbo was involved in an Audax deal earlier this year when Advanced Dermatology & Cosmetic Surgery was recapitalized, with Harvest Partners taking a majority stake in the company and Audax retaining a minority interest.
Industry/Geography
Audax is a firm of extremes: Just as the firm invests in add-ons more than most, it also concentrates its investments within the US to an almost unequaled degree. Until 2015, when a mere 76% of the firm's deals took place within American borders, that figure had been 84% or higher in just about every year of Audax's existence. That includes many years—most recently 2009—in which every one of the firm's new investments was in the US.
Only recently has Audax begun to venture more into Europe. It completed seven deals there in 2014, 10 in 2015 and has already executed four this year. And the firm has been spreading its money around the continent, sponsoring the purchase of companies located in the UK, Switzerland, the Netherlands and Germany within the past 18 months.
Still, though, the bulk of its activity is within the US, and in the past two-plus years, the bulk of that activity has been in the Great Lakes region—33% so far this year and 35% during 2015. The Southeast has been another popular location, hosting 23% of 2016's deals to date and 17% during 2015.
Audax has maintained a steady presence in the B2B sector for most of its history, with such transactions accounting for between 40% and 60% of the firm's activity during eight of the past 10 years. One notable change in sector has been an increased reliance on healthcare in the post-crisis period. After the space was home to more than 10% of the firm's deals just once between 2000 and 2007, that rate has topped 15% in every year since, including 32% during 2015 and 33% so far this year.
Each of the past three years, those two industries—B2B and healthcare—were home to at least 70% of Audax's deals, with energy, IT and B2C making up the bulk of the remainder. Here's a full look at the year-by-year changes: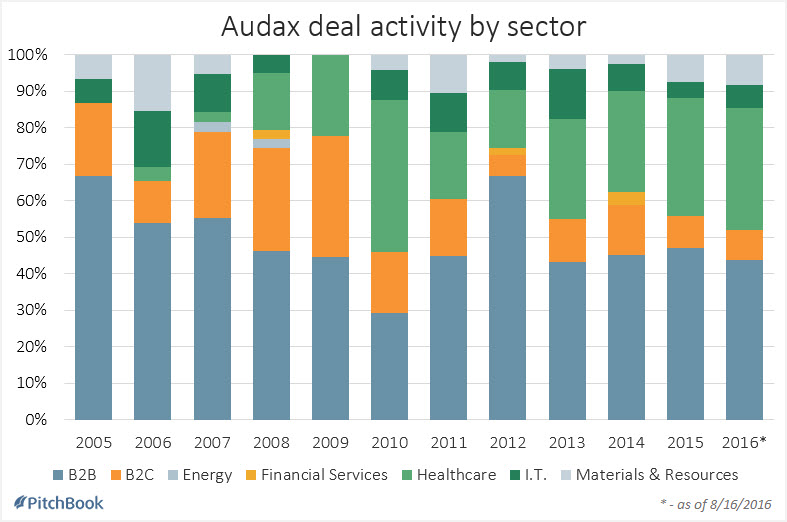 Fund Performance
Audax is active in raising funds for mezzanine and debt investments—and even ventured into the VC world for one fund in 2000—but, as always, we'll focus in this space on the firm's buyout vehicles.
It's been mainly a story of bigger and better for Audax when it comes to both fundraising and performance. All four of the firm's previous buyout vehicles rank in the top halves of their respective benchmarks, with Fund III residing in the upper quartile. Rather than an increase in capital at the firm's disposal leading to the pursuit of suboptimal assets and lesser returns, instead IRR has been climbing consistently upward as Audax's funds grow.

Audax has raised a fifth fund, as well, a $2.25 billion vehicle closed in 2015, which the firm has just begun to invest. The fund was oversubscribed and beat its original target by almost 30%.;
Key Investments
As might be expected for a firm that so emphasizes the add-on, Audax's portfolio isn't exactly peppered with big-money acquisitions. It has still been on the prowl for larger platforms, and one recent target was Lifemark Health and Viewpoint Medical Assessments, which had previously made up the physiotherapy, rehabilitation and medical assessment divisions of Centric Health; Audax agreed to buy the business for roughly C$250 million last November and closed the deal in January.

But when looking at Audax, it might be most relevant to look at the gradual buildup of add-ons as opposed to any particular headline-grabbing deals. On that front, the firm's most relevant portfolio company is Advanced Dermatology & Cosmetic Surgery, a Florida-based practice management company that Audax has backed since 2012.
In the intervening years, ADCS has conducted 37 add-ons, including 31 since the start of 2014. That's enough to rank as one of the 10 most active PE-backed acquirers in that timeframe. Those deals have gradually consolidated US dermatology businesses under the ADCS banner, including businesses located as far apart as Florida, Arizona, Wyoming and Pennsylvania.
Key Exits
The typical Audax investment seems to go something like this: invest, immediately proceed with add-on acquisitions and other supportive measures to foster rapid growth, and divest within five years or less.
Take, for instance, LewisGoetz, a US distributor of fabricated rubber products that Audax first backed in 2007, just before the financial crisis. During about four years of ownership, Audax helped the company complete nine add-ons—gobbling up complementary businesses such as International Gasket & Supply and Rubber Belting and Hose—and grow to have 86 locations across North America. Before long, the firm was ready to flip its investment, selling the business to Netherlands-based ERIKS in 2011.
Another representative case is Nivel, an aftermarket distributor of golf car parts and accessories. Audax initially invested in the company in October 2007 and quickly got to work, consolidating nine competitors in add-on deals in less than five years to increase the company's market share by a reported 200%. In January 2012, Audax completed the sale of Nivel to Kelso & Company.
One of Audax's recent major divestments was the sale of Quest Specialty Chemicals, a co-investment alongside Moelis Capital Partners, to Valspar in June 2015. Audax first backed the manufacturer of specialty coating products in 2011, and in the intervening four years repositioned the company with a series of acquisitions and a shuffling of strategic units before exiting. Audax mirrored that four-year turnaround time in another recent sale, last month's exit of interconnect solutions provider Winchester Electronics to Snow Phipps.
Some of the firm's other notable exits so far in 2016 include filtration business Neptune-Benson, sold to Evoqua, a portfolio company of AEA Investors, and Integrated Supply Network, a distributor of automotive tools and equipment offloaded to Freeman Spogli & Co.
Check out our previous Investor Spotlights on ABRY Partners and Providence Equity Partners.
Note: All of the data for this article was sourced from The PitchBook Platform. Contact us today to learn how our core product can help your business.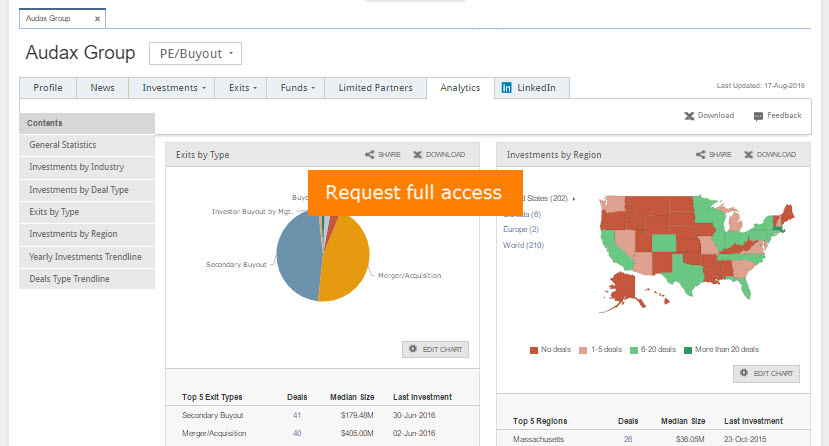 Join the more than 1.5 million industry professionals who get our daily newsletter!