Earnings
KKR stock surges after first earnings as a corporation
October 25, 2018
KKR
's conversion to a corporation is paying off for stockholders.
The New York-based buyout shop announced its 3Q earnings on Thursday, including after-tax distributable earnings of $496.7 million, or 60 cents per share, a YoY increase of 21.3% and about in line with analyst predictions. The firm also reported $640.2 million in profit attributable to shareholders, up more than 300% YoY. KKR's stock responded positively, closing Thursday up more than 6% on a day the market rebounded from a recent sell-off, thanks in part to several strong earnings reports across the corporate spectrum.
KKR changed its tax structure from a partnership to a corporation on July 1 in hopes of making its shares more accessible on indices. As a result, the firm has stopped reporting its economic net income, an opaque metric that publicly traded peers such as
Blackstone
,
The Carlyle Group
and
Apollo Global Management
use to grade performance.
So far, KKR management likes the results.
"We're encouraged by the earnings we are having," said Craig Larson, the firm's head of investor relations. "We feel like we're seeing an increase in the breadth of our shareholders."
Co-COO and co-president Scott Nuttall took away positives both from KKR's results and the wider market downturn, saying the firm will be able to grow at a faster pace if valuations drop.
"We saw this coming out of the financial crisis a decade ago," Nuttall said. "We can also buy back our stock at lower prices. From our seat, our stock is worth even more today and our firm has even more opportunities and better prospects than a month ago."
Straight from
KKR's earnings report
, here's a look at how the firm's flagship funds have fared: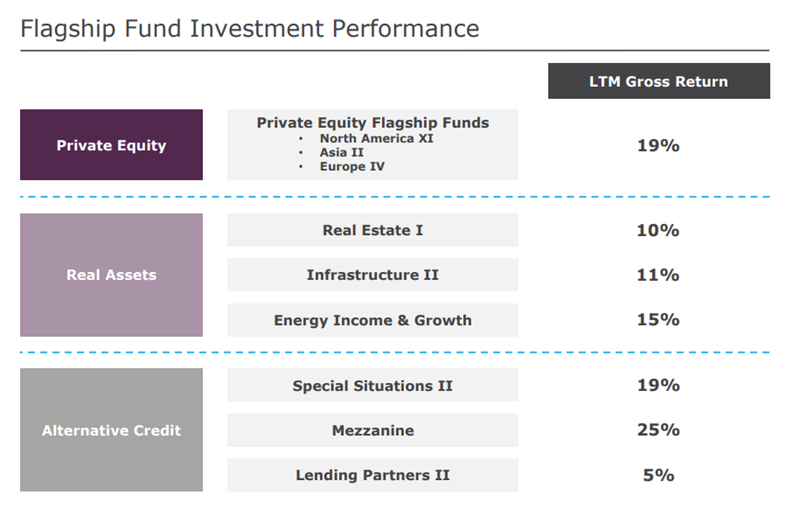 KKR reported several other positive performance metrics from 3Q, including AUM of $194.6 billion (an increase of 27% YoY) and management fees totaling $276.6 million (an 18.7% YoY bump). Nuttall, meanwhile, said the firm has nearly $60 billion in dry powder.
KKR put some of that cash to work earlier this week, when portfolio company
Calsonic Kansei
agreed to buy fellow auto parts manufacturer Magneti Marelli from
Fiat Chrysler Automobiles
in a deal valued at €6.2 billion (about $7.1 billion). The deal marked KKR's
largest add-on acquisition so far this decade
, continuing a trend of pricier add-ons backed by PE.
Related read: Public PE firms and C-Corp Conversions: An analysis of Ares and KKR
Join the more than 1.5 million industry professionals who get our daily newsletter!