Healthtech
Lance Armstrong sets his sights on 'human optimization' with new firm
July 12, 2019
Raising a new venture fund is no mean feat. No matter who you are, it can be a long slog. For Lance Armstrong, raising $75 million for a debut fund in the up-and-coming sports, fitness, nutrition and wellness space has taken a good bit of grit. And the race isn't over yet.
"The Tour de France required endurance," Armstrong told PitchBook. "Raising this fund, that's been like riding around France with one leg—I mean, it's just so difficult. I'm a product guy. I don't like flying all over the world asking for money."
And yet, not only is Armstrong well on his way to raising that capital, he's forming a solid squad of advisors, including US Postal Service cycling teammate Dylan Casey and NHL great Mark Messier, to help add to a growing portfolio. Their firm,
Next Ventures
, has already closed on some $25 million for its inaugural fund and cut several checks to startups, including a recent seed round for
Amp Human
, the creators of a lotion used by athletes to neutralize lactic acid buildup.
There are these smaller buckets in this space, which are things like health, fitness, wellness, nutrition and endurance, outdoor and performance. But they really make up one big bucket, which is 'human optimization.' And I know that sounds like a real sexy buzz phrase, but the only thing that bugs me about it is that it sounds like it's geared toward the person who wants to win the marathon—it's not. It's about every athlete, every ability level.

—Lance Armstrong
The funding will serve the usual role in early-stage venture of helping Amp Human to roll out its flagship product, PR Lotion, to new markets and a far wider audience—thanks in no small measure to a potent brand ambassador in Armstrong. But the fresh funds will also help Amp Human establish a scientific advisory committee and expand its R&D efforts.
And for good reason: Amp Human plans to grow its line of products, all of which would rely on research and sports science for development. The company's electrolyte lotion uses a proprietary skin absorption technology to reduce lactic acid buildup in muscles during exercise in order to improve performance and reduce recovery times between sessions.
"It is the technology behind PR Lotion that allows us to get things into the body in a manner that had never been done before," Amp Human's co-founder, Jeff Byers, a former NFL center, told PitchBook. "With PR Lotion we are building the moat around our technology to launch future products that address different physiological limitations in the body. PR Lotion is just the tip of the iceberg."
The challenges are far from straightforward, though.
"Your worst enemy in endurance exercise is lactic acid," Armstrong said. "That's what ultimately slows you down and makes you stop. If you have the ability through a lotion, for example, which is what Jeff and his team have created, to buffer lactic acid, you can improve people's experiences along with their performance. And it's groundbreaking."
PR Lotion changes the delivery method of a key electrolyte to address a problem that every athlete—from the weekend warrior to the seasoned professional—must contend with, and the older alternatives are, frankly, awful.
"It's really, really simple. We give the body more bicarbonate, a naturally occurring electrolyte," Byers said. "The problem is that it has been nearly impossible to take because it causes GI distress. Lance can probably tell stories of [him and his cycling teammates] drinking bicarbonate, which is baking soda. And if you mess up the timing or you get the dosage wrong it literally blows up. It creates a gut bomb."
The product and its pricing model, which includes a subscription option, appealed to Armstrong, but its utility to any person in training put Amp Human squarely in his wheelhouse.
"If you consider a marathon, you have the winner and then you have the person who finishes last," Armstrong said. "In our view, 'human optimization' is about all of those people, every single one who wants to go faster, make it easier to recover and better—to achieve better clarity, not only to be a better athlete, but also a better parent, a better employee, a better partner—from the tip of the spear all the way to the back of the bus."
Of pelotons and portfolios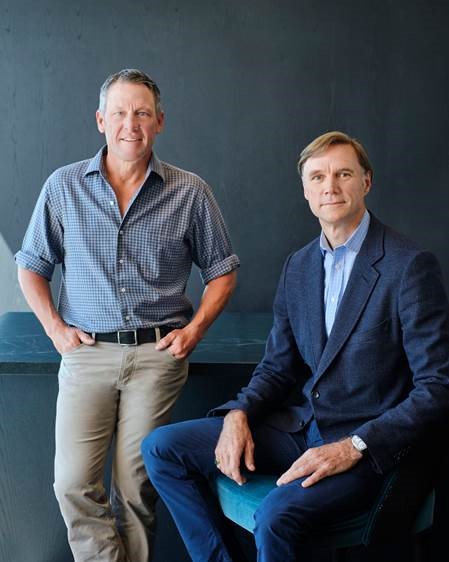 The seed round for Amp Human brings the Next Ventures portfolio to five investments, following the announcement of its first bet earlier this year on
PowerDot
. Like Amp Human, PowerDot targets the billion-dollar market for exercise recovery products. The firm's other investments include
Oura
, the maker of a ring that syncs with an app to track sleep to improve the recovery process.
Armstrong has teamed with investment industry veteran Lionel Conacher (pictured, right, with Armstrong), a former senior advisor and operating partner at private equity firm
Altamont Capital Partners
and a multi-sport athlete in his own right, to put Next Ventures in a position to target the value chain represented by the human body in training—and in a manner that's hardly about elite performers alone.
The sports, fitness, nutrition and wellness market has received plenty of attention from VC firms interested in backing the next
Peloton
. But the wider space remains difficult to define, and it's also still full of products that over-promise and under-deliver. That can make vetting investment targets intense, especially for Armstrong, who has received countless product pitches over more than 30 years as an endurance athlete. A rigorous focus on direct results for "human optimization" does help, however buzzy that phrase has become among insiders.
"We use a three-step process," Armstrong explained. "The first step, very simply, is the product. And with that there's not a lot of dancing and flirting beforehand. If any product or service fails that step, then we're done with the process. The second step is the team: their history, their record and the impression that we get from them. Once you know that the product actually works, then it's all about the people. After that point, then the third and final step of the process is story. So, the marketing, the branding, the messaging. Thus far, it's worked for us."
Looking forward
Of course, Armstrong is famous for a few things. Of late, though, that's come to include his investment into
Uber
via Chris Sacca's
Lowercase Capital
. After losing countless sponsors and paying out millions to settle lawsuits over his doping scandal, Armstrong told reporters late last year that his 2009 investment of $100,000 into Sacca's firm "saved" his family, even though he admitted that he didn't quite understand the ridehailing behemoth back when it just commanded a $3.7 million valuation.
Today, he's settled into an industry that he and an increasingly savvy set of consumers understand to offer athletes, regardless of ability level, ways to improve over past PRs or, better yet in the opinion of both Armstrong and Byers, the chance to improve focus on the experience at hand, whether in the gym or on the mountain.
"It is really about driving experiences, and we as a society are learning that there's so much more that we can do for our bodies to optimize that experience," Byers said.
And he feels like he's found a team in Next Ventures that shares this vision.
"Lance's investment thesis and philosophy are really unique. And it took somebody really unique to understand us right, to understand this opportunity," Byers said.
Featured image courtesy of Next Ventures