Late-stage valuations have increased nearly 20% in 2018
May 8, 2018
Given the increase in mega-deals, it's not surprising that valuations for venture capital-backed companies have continued to soar to record heights. According to PitchBook's recent
VC Valuations Report
, median pre-money valuations for late-stage companies in the US hit $75 million in 1Q, a 19% increase YoY.
And that trend extends to all stages. During 1Q, the median valuation for US-based angel and seed-stage companies climbed to $6.5 million. At the early-stage (Series A and Series B), it rose to $27.5 million.
---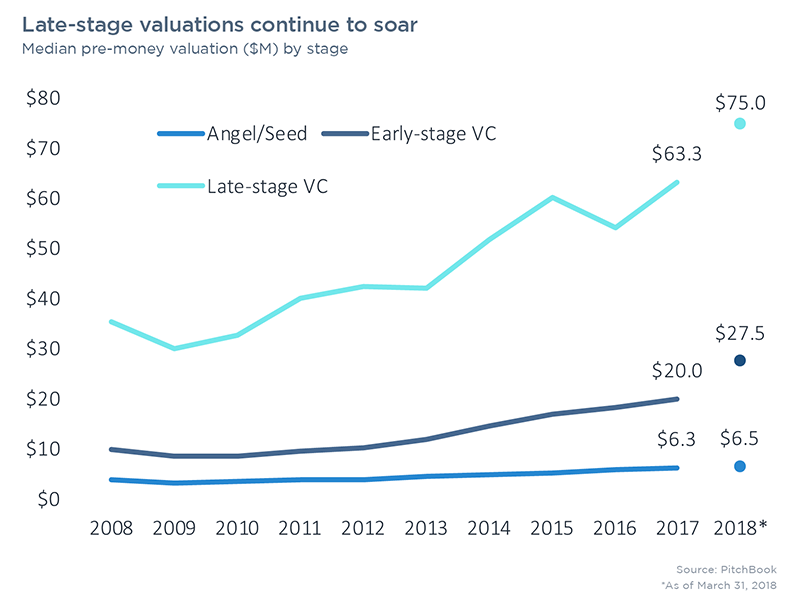 Why the uptick in mega-deals and valuations? The buildup of dry powder and the overall amount of capital available to late-stage companies have given startups pricing power in negotiations with investors,
according to PitchBook analysts. Late-stage companies that would normally turn to the public markets for capital are pulling in massive private financings and delaying exits.
WeWork
and
Uber
, for example, opted to raise billion-dollar rounds over the last year, rather than debut on the stock market. Both companies have been around for nearly 10 years, and should—per traditional venture lifecycle standards—be prepping IPOs rather than seeking private capital.
But as enticing as sky-high valuations may be, negative consequences are also possible. Late-stage companies with inflated valuations have a much larger risk of exiting at a lower valuation—a disappointment to parties on both sides of the investing table. The rise in valuations has also lengthened average hold times for venture investments, a source of added pressure for investors as companies sit in their portfolios for longer periods. Furthermore, soaring valuations have led to the
rise of the "zombiecorn,"
a term we use to refer to those companies opting to remain private for extended periods.
Increased hold times have undoubtedly caused some apprehension in the venture capital community. Nonetheless, VCs continue to inject capital into companies for prolonged periods, and zombiecorns remain where they're most comfortable: far from the public markets.
Related read: Why unicorns are overvalued (and the industry knows it)