Silicon Valley-based IVP is nearing a deal to invest in online international payments specialist TransferWise, which would see the company's valuation hit almost $1.5 billion, per Sky News. The deal, which reportedly could total around $60 million, may see the VC investor claim a seat on the company's board.
A transaction of this magnitude would round off an already landmark year for the London company. In May, TransferWise announced that it had reached profitability at the start of 2017 and is generating £8 million in revenue per month.
Any investment by IVP would once again highlight the frenzied activity in the payments space. Earlier this month, Vantiv clinched an
£8 billion takeover of Worldpay
amid a flurry of M&A deals in the sector, including Ingenico's €1.5 billion takeover of Bambora shortly before. Private equity investors have also been getting in on the act, as seen in deals like
the £2.9 billion buyout of Paysafe
by CVC Capital Partners and Blackstone.
VC investment in Europe's financial software sector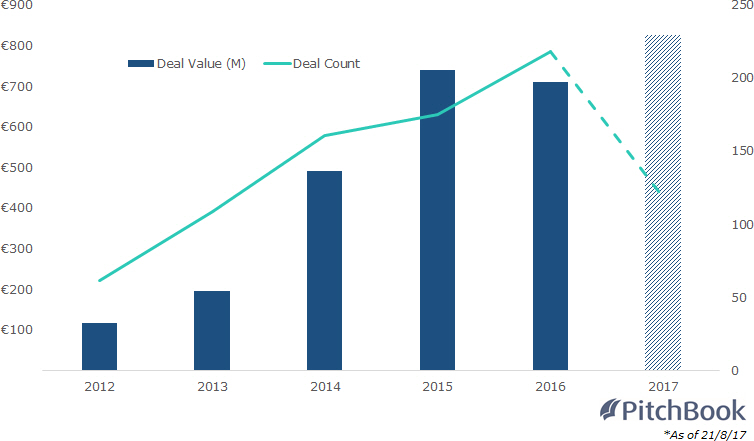 In the VC space, a TransferWise deal would round off a stellar year for industry investment. Sweden's Klarna for example, as well as claiming a banking licence, has received backing from investors including Visa and Permira, while TransferWise rival Currencycloud closed a £20 million Series D round in March from investors including GV.
Want to know more about TransferWise? Check out its free PitchBook profile.

Keep track of this year's new $1 billion-plus companies by reading our unicorn class of 2017 list.