Profits plunge for KKR during 3Q
October 26, 2017
KKR has announced economic net income of $308.4 million for 3Q, a notable decline from the $598.2 million figure the buyout giant logged in 3Q 2016. The latest results equate to profits of about 36 cents per share, below reported analyst estimates of 42 cents per share.
Here's a fuller look at how the firm's 3Q earnings compare to the numbers from a year ago: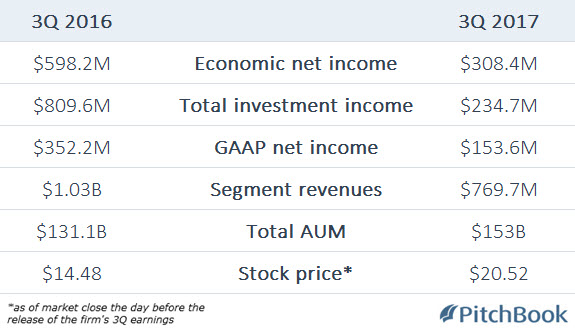 It's worth noting, though, that this is all a matter of perspective. KKR's private equity portfolio still appreciated in value by 3.9% during 3Q 2017. That's a healthy number—just not quite as impressive as the 5.8% growth rate displayed in 3Q 2016.
The firm certainly stayed busy during the past three months. KKR completed
23 private equity investments
between July 1 and September 30, per the PitchBook Platform, a spate of deals spanning nine countries and four continents. Those transactions show real diversity in terms of sector, as well: Five of KKR's 3Q investments occurred in both the healthcare and B2B sectors, plus four more in financial services, three each in IT and B2C, two in energy and one in materials & resources.
It might make sense, then, that the firm still didn't take the week off from dealmaking. Separate from its earnings report, KKR has announced the acquisition of a 12.6% stake in PT Nippon Indosari Corpindo, a bread business that's publicly traded in Indonesia. KKR's backing came from the firm's third flagship Asia fund, which closed on $9.3 billion earlier this year.
Want more KKR coverage? The firm is also plotting a €5 billion Europe fund.