Sports
Pursuit of Kaepernick, Tebow shows AAF may have larger ambitions
February 15, 2019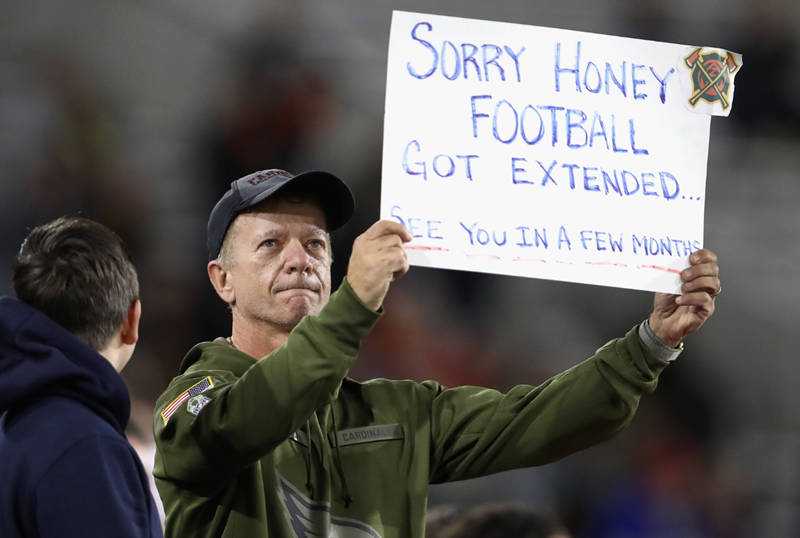 The
Alliance of American Football
is barely a week old, and the new VC-backed professional football league is already making headlines.
On Valentine's Day, that was in the form of two separate media reports: Lindsay Jones of
The Athletic
(which is also VC-backed, for what it's worth) spoke to league co-founder Bill Polian, who said the AAF had spoken to Colin Kaepernick and Tim Tebow about playing in the league. And the AP reported that Kaepernick's response to that pursuit was to ask for $20 million or more to join up—a bit more than the AAF's standard three-year, $250,000 contract.
All along, the AAF has presented itself as a feeder league that wants to give players a chance to show NFL talent evaluators their mettle. That may very well be the case, and much of the league's strategy seems geared toward achieving that aim. But the AAF's desire to bring names like Kaepernick and Tebow aboard could be the latest sign that the league also secretly harbors some higher hopes.
Say Tebow agreed to walk away from his current job as an outfielder in the New York Mets minor league system. Say Kaepernick agreed to make a return to the gridiron, in what would surely be one of the most media-saturated sporting events in recent memory. Say both players regained their old magic and became the AAF's brightest stars. Would the league then be happy to send them off to the NFL with a pat on the back? Thanks for the memories?
It's certainly possible. Perhaps it would have been one big media stunt, and you could certainly make a case that the massive boost in press during the league's critical first year would have been worth it. But it seems more likely that, if the AAF were pursuing Tebow and Kaepernick, it was with the goal of getting them to stick around for a while. In a multitude of ways, they might've been ideal cornerstones for a football league trying to get up and running.
I mentioned another reason to think the AAF perhaps wants to be more than a pseudo minor league for the NFL back in the very first sentence: It's backed by VC. Apologies for mixing sports with the metaphor here, but have you ever known Peter Thiel to search for singles and doubles with his investments?
His
Founders Fund
is reportedly one of the AAF's investors, and Keith Rabois of
Khosla Ventures
is on the AAF's board of directors. Those two's paths previously crossed at PayPal, where Thiel was of course a co-founder and Rabois was an early executive. As a matter of fact, the two were featured together
in a 2007 story
(and glorious accompanying photograph) in Fortune magazine under the headline "The PayPal Mafia."
If you're unfamiliar, the PayPal Mafia is a group of founders and early employees at the company that went on to create a number of other iconic tech companies, ranging from
Tesla
to
LinkedIn
to
YouTube
to
Yelp
. One thing those companies all have in common: They attempted to (and in some cases have succeeded in) achieving near-total dominance in their respective spheres. At this point, that's become a baseline belief in much of Silicon Valley: You don't play the game if you're not trying to win, and running up the score is encouraged.
Will Founders Fund, Rabois,
The Chernin Group
and the rest of the AAF's investors be happy with middling crowds, with the league's games being broadcast on second-tier channels, with lukewarm returns on their investment? Again, quite possibly. But it seems more likely that all those very smart businessmen are thinking of ways to take their business to the very top.
It might not be possible. Over the decades, the NFL has proven itself an awfully tough nut to crack. But it sure would be fun to watch the AAF try.
Related read: A PE analyst stars in VC-backed pro football's opening week