Roku's early success magnifies Blue Apron, Snap failures
September 28, 2017
View comment

(1)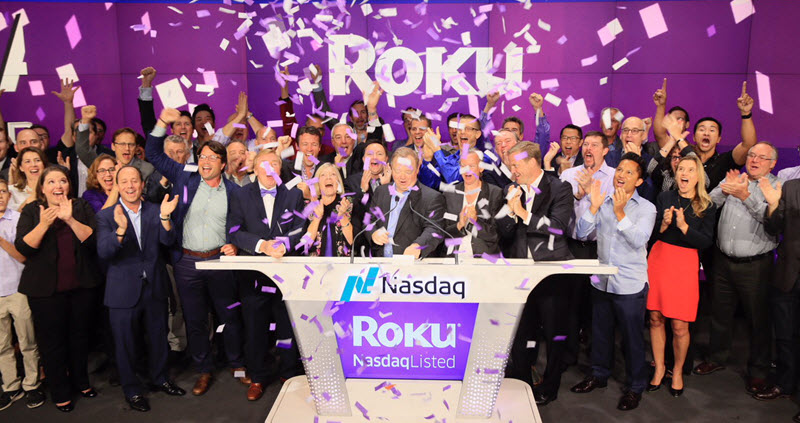 Roku
(NASDAQ: ROKU) debuted on the public markets Thursday with a roaring 68% first-day gain, having priced its IPO at $14, the higher end of expectations.
Investors are still apparently eager for more as the company
continues to pivot toward a services-based model
from its current focus making boxes for streaming television—a focus that, so far, has been quite successful. Despite competition from industry behemoths like Amazon and Google, Roku enjoys a dominant 37% share of the US streaming device market, according to Parks Associates, up from 30% last year.
The result has been some impressive financial growth metrics. For the six months ending June 30, revenue increased 23% YoY to nearly $200 million. Gross profit margin increased to 38% from 31%, helping the operating loss shrink to $21.2 million compared to $32.6 million in the year-ago period.
Roku has raised a little more than $208 million in VC funding since its 2002 founding, according to the PitchBook Platform, with its most recent funding round in November totaling $45.5 million at a $992 million valuation with participation from Viacom. Other investors include Menlo Ventures (35.3% pre-IPO stake) and Fidelity (12.9%).
Reversing the big-name tech IPO trend?
Roku's pop is shaping up to be a far cry from the disappointing performance of other recent high-profile IPOs. These include Blue Apron (NYSE: APRN) and Snap (NYSE: SNAP), both down about 50% from their post-IPO intra-day highs earlier this year. (It's worth noting that Snap closed up 44% on its first day of trading.)
Perhaps, it's no surprise then that tech IPO volume hasn't been impressive of late:
Just 28 tech companies
have listed their shares in the US so far this year, per PitchBook data, compared to 42 last year and 57 in 2015.
But Roku's early success could open the door to more activity as it becomes clear the troubles with Blue Apron and Snap are more about idiosyncrasies—operational snafus, messy strategic outlook, etc.—than broad market pressures. After all, public market sentiment has
rarely been higher
, with S&P 500 valuations at heights only exceeded in the run-up to the dot-com bubble peak.
To that end, Reuters reported Thursday that
Lyft
is preparing for a possible IPO and close to securing an advisor to help with the selection of underwriters and plan the offering, which could come as early as 2018.
What next for Blue Apron, Snap?
The best-case scenario for investors would be an operational turnaround and share price rebound.
Yet that looks unlikely. Snap has been hammered with downgrades from analysts at JPMorgan and Deutsche Bank, while Wedbush initiated with a neutral rating on concerns user growth peaked in the summer of 2016 amid rising competition—particularly from Facebook's Instagram and WhatsApp services. Blue Apron is struggling amid a bid to boost profitability by cutting marketing expense, which, in turn, is ceding ground to competitors including Amazon and Plated, which was
just acquired by private-backed Albertsons
.
Failure in the public eye could presage a return to the private markets, as has been seen in the VC-to-IPO-to-M&A roadmap followed by several troubled companies this year, including Violin Memory, Rocket Fuel, RetailMeNot, Jive Software and Tangoe. On average, this group suffered a 55% decline in valuation from its initial market cap to M&A, per PitchBook data.
Read more of our featured IPO content here.