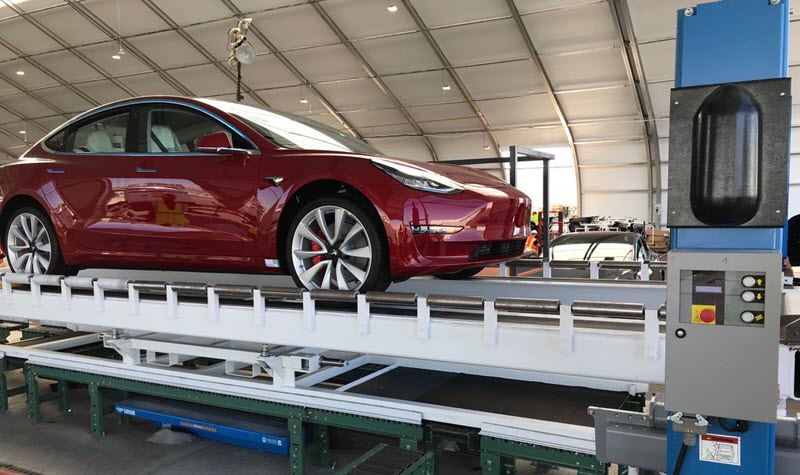 Just when you thought the situation couldn't get any more bizarre for
Tesla
and CEO Elon Musk, it did. Add allegations of sabotage to the company's
ongoing workforce woes
and its struggle to raise Model 3 production and boost profitability to avoid what looks like an unavoidable capital raise later this year to fund a voracious spending pace.
Along with another
inexplicable battery fire
. The creation of the
GA4
, or General Assembly 4 line, in a giant tent. And Musk's obsession with the bears that have bet against Tesla's share price performance to the tune of roughly $12 billion at last count.
Never mind all the other drama seen in recent months. The bizarre and confrontational post-earnings call. The Twitter tirade against Warren Buffett and the threat to get into the candy business. The ongoing concerns about the safety and efficacy of Tesla's semi-autonomous Autopilot system and its tendency to crash into parked firetrucks and police vehicles.
The latest is that the automaker has sued Martin Tripp, a former process technician at its Gigafactory in Nevada, for hacking its "confidential and trade secret information." The suit goes on to accuse Tripp of "transferring several gigabytes of Tesla data to outside entities" along with capturing a number of confidential photos and a video of the secretive manufacturer's production line.
Honestly, it all sounds like something out of a made-for-TV drama.
Earlier this week, Tesla's CEO Elon Musk cribbed
a bizarre email
to employees about a mysterious fire at its factory in Fremont, California. Musk followed up the note with another email to employees identifying an "extensive and damaging sabotage" campaign from within the company. Paranoid? Apparently not.
According to
the lawsuit
, Tripp admitted to writing software that hacked Tesla's manufacturing operating system and transferring several gigabytes of data to outside parties. On top of this, the company alleges he wrote "computer code to periodically export Tesla's data off its network and into the hands of third parties." Whether that means other suits could follow remains an open question, as Tripp also purportedly set a trap: His hack routed material to three unidentified entities within the company to ensure that "the data would be exported even after he left the company and so that those individuals would be falsely implicated as guilty parties."
The suit inadvertently sheds some light on a mystery surrounding the automaker's GA4 tents, which have set Musk's followers on Twitter into speculation overdrive over why the anchors of the equipment aren't bolted down properly or connected electronically.
Specifically, the suit alleges that, through interviews conducted with Tripp on June 14 and 15, Tesla learned just how far the corporate espionage had gone. Among the leaked data was video of Tesla's manufacturing systems, the robotic assembly line used to build its cars. Tripp also allegedly tried to recruit fellow employees at the Gigafactory to share data outside of Tesla.
The video may well be the footage shown below, tweeted from a new Twitter account launched this week and focusing exclusively on photos and video "outside of the factory that is supposed to be manufacturing 5,000 Model 3's per week":
European Lunch Break* pic.twitter.com/7H4BYilGB2

— IspyTSLA (@IspyTsla) June 19, 2018
Worth $0?
The ongoing dramatics and lack of clear success in boosting Model 3 output have made Musk's company a favorite among short sellers on Wall Street.
While Elon Musk was able to engineer a big short squeeze against his skeptics–buying another $25 million worth of TSLA stock earlier this month boosting shares to a trough-to-peak gain of more than 36% from its May low—he continues to taunt them on Twitter, warning they have "about three weeks before their short position explodes."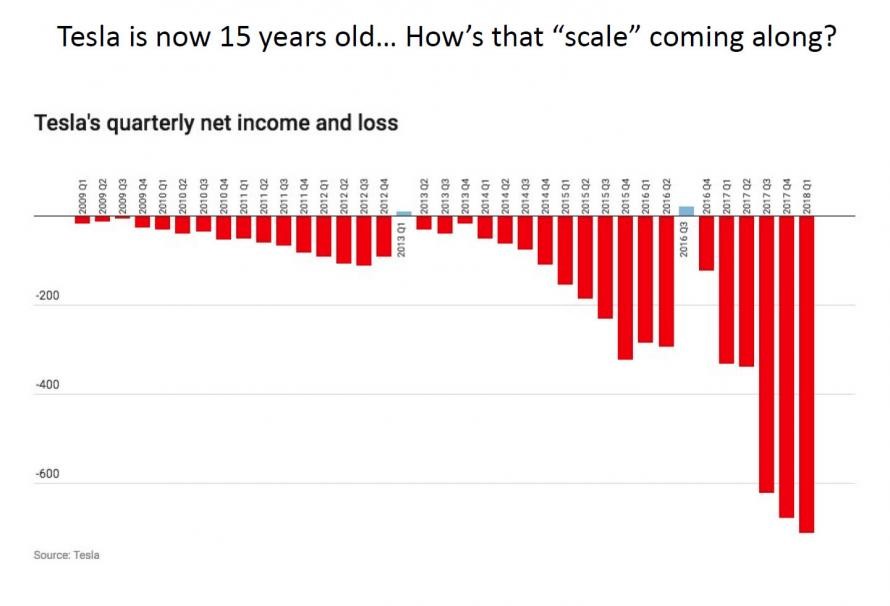 Bears like Mark Spiegel of Stanphyl Capital Management seem undeterred. In a 156-page slideshow back in May, he outlined why the company will be "a zero" when the dust settles. Summarized in three broad points:
*Tesla's financials are horrible and are worsening before massive competition from traditional automakers like Porsche's Mission-E arrive.
*The company has no economic "moat," and its technology is trailing in all facets of its business. Such as a lack of LIDAR sensors for its Autopilot system and the Fisker's push to bring a luxury electric vehicle powered by solid-state batteries to market in 2020.
*Musk's long track record of "making hugely misleading statements" on everything from the timing of the rollout of full-autonomous driving capability to the need for capital raises and Model 3 production targets.
It seems like the pressure is getting to Musk, who instead of spending 24/7 at the factory, as promised, seems distracted by his Twitter feed lately and rambling discussions on the appropriate level of taxation and why he self-identifies
as a socialist
.
Related reads: Tesla's hype and ambition crash into reality