Save money for your startup: The top public schools for fostering unicorns
September 15, 2017
View comment

(1)
Harvard and Stanford are—perhaps predictably—the institutions that cultivate the most billion-dollar companies, according to data from the most recent
PitchBook Universities Report
. But jump a bit further down the rankings and you'll find several schools that are more accessible to the average student in terms of tuition cost and acceptance rate.
Our annual universities report ranks schools that foster founders of VC-backed companies from several different perspectives, including a look at colleges and universities that have enrolled an outsized number of founders of unicorn companies.
Here's a close look at the top 13 undergraduate programs for founders of billion-dollar companies: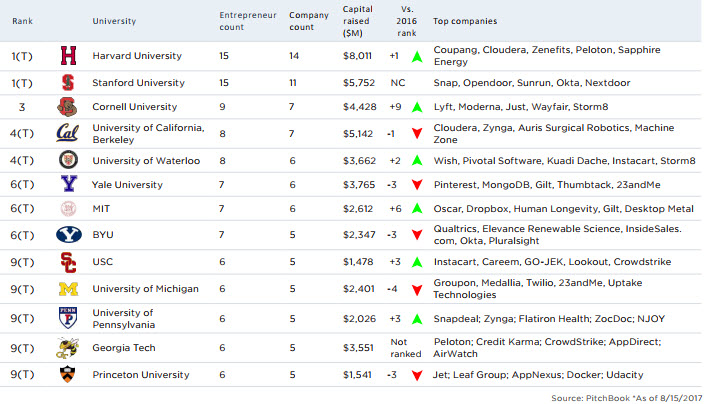 The Ivy League schools on the list are safe bets when it comes to receiving a quality education and developing the tools to launch a valuable startup. But what if you have eyes on founding a unicorn company without shelling out hundreds of thousands for tuition?
We've taken a dive into the tuition and acceptance numbers for the schools on the unicorn list based on figures from the National Center for Education Statistics. For the sake of comparison, tuition costs at Harvard and Stanford ran $43,230 and $47,331, respectively, for the 2016-17 academic year. And the acceptance rate at each school hovered around 5% for the same period.
Below are three undergraduate programs selected from the list of the top unicorn-producing schools that won't break the bank:
University of California, Berkeley

Annual in-state tuition: $11,220 | Acceptance rate: 16.9% | Undergraduate enrollment: 27,496
Since 2006, eight entrepreneurs that have been enrolled at Berkeley have founded unicorn companies—and a few have gone on to experience successful exits. Steve Shoettler attended Berkeley before co-founding Zynga, the gaming startup that reached a $12 billion valuation before hitting the public markets in 2011. Another Berkeley success story is Mike Olson, who earned both a bachelor's and master's degree from the Bay Area school before co-founding Cloudera. The Big Data company went public earlier this year with a $1.7 billion market cap.
University of Michigan

Annual in-state tuition: $14,982 | Acceptance rate: 26.3% | Undergraduate enrollment: 28,312
The list of billion-dollar startups founded by University of Michigan attendees includes several well-known companies. Brad Keywell, a Michigan graduate, co-founded daily deals startup Groupon (IPO'd in 2011 at an estimated valuation of nearly $13 billion)—then he went on to co-found Uptake Technologies, a predictive analytics platform provider that's now worth more than $2 billion. Paul Cusenza received a degree in mechanical engineering from the school before co-founding genetics startup 23andMe, which is now worth an estimated $1.8 billion. And Jeff Lawson, another Michigan alum, co-founded business communications platform Twilio, which went public last year at a valuation of around $1.2 billion.
Georgia Tech

Annual in-state tuition: $9,812 | Acceptance rate: 32.2% | Undergraduate enrollment: 15,142
John Foley graduated from Georgia Tech in 1994. In 2012, he founded Peloton, a startup that's developed one of the trendiest pieces of exercise equipment around: in-home cycles connected to live feeds of spinning classes. Peloton was worth $1.4 billion as of May. Cybersecurity startup CrowdStrike, valued at north of $1 billion earlier this year, represents another success story for the school. Dmitri Alperovitch, one of the company's founders, has a bachelor's in computer science and a master's in information security from Georgia Tech.
Check out our recent look at the schools that foster the most female founders, and download the full Universities Report right here.