SEC bias? Not in PitchBook's VC college conference power rankings
November 5, 2014
At PitchBook, we're constantly striving to improve how users interact with our data, and in light of it being football season, we've decided to break down venture capital financings by college conference: ACC, Big Ten, Big 12, Pac-12, SEC and Ivy League. Below is a datagraphic that summarizes our key findings and displays the VC power rankings by conference and individual schools (click to dig into the data behind the numbers).
To dig into the data behind the numbers, click here (or on the image below). Our interactive chart will enable you to filter and compare the VC financing metrics by conference, school, industry vertical and location.
NOTE: It is recommended that you use a desktop PC, laptop or tablet when viewing the interactive chart.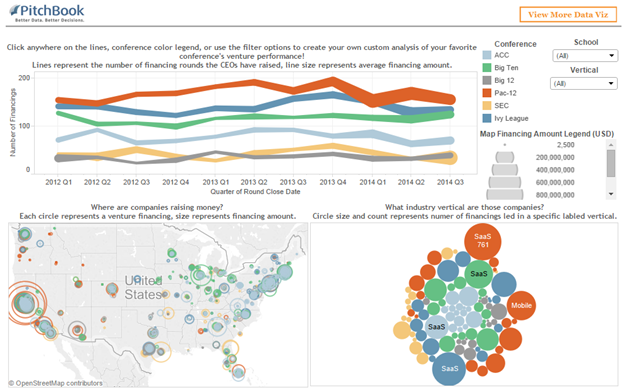 Example: Pac-12 Reigning Supreme
The Pac-12 has been the top conference in terms of completed financings with 155 in 3Q 2014.

Stanford and Cal make up the majority of completed financings in the Pac-12 over the past two years.

How much of a majority? Let's remove the Bay Area schools from the list and see how that impacts the Pac-12.

Customize the data to your liking and discover interesting insights. Does the Ivy League rely on Harvard as much as the Pac-12 relies on Stanford and Cal? Which Big Ten school has found the most venture success? How does your alma mater stack up against your rival? Find out now.
Curious to see what else the PitchBook Platform can do? Click here to request a live demo.
Join the more than 1.5 million industry professionals who get our daily newsletter!