335 secondary buyouts have been closed in the US through the end of September, putting the year on pace to fall short of the past two years but still third-highest of the decade. Given the impact of outliers, this year's total SBO value may not impress as much as much as those of 2007 or 2015, but it's still quite considerable.
US SBO activity by year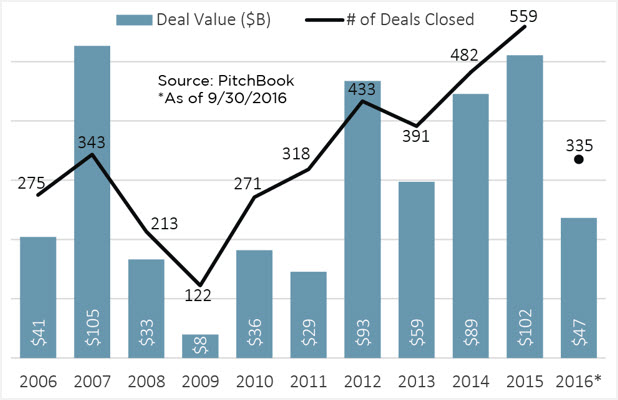 Private equity sellers utilizing fellow sponsors as an exit route to this extent only further underscores the ongoing debate as to whether they should be as frequent as they are. On the one hand, one could argue that limited partners may in some cases find themselves invested in both the selling and the buying funds, which could contribute to material impacts given fees and transaction costs. On top of that, concerns over just how much further value creation can occur after one round of PE backing persist.
The tropes around general partners being overly influenced by the incentive to burn capital near the end of a fund's lifecycle are certainly factors in this discussion, as well. However, there are arguments to be made that SBOs do not necessarily impact LP returns that much. Some smaller PE funds may well be able to make some operational improvements at a certain scale, but then larger PE firms could take things to the next level, without incurring too much additional debt. Beyond that aspect of scale, complementary and/or niche skill-sets come into play—generalist managers can add some kinds of value, other kinds take dedicated specialists.
The crux of the matter really comes down to whether both PE sponsors' skill sets are complementary and, thus, true value can be added to a degree sufficient to negate the impact of potentially paying fees twice over. Even if the likelihood of exposure to both PE funds may be fairly slim, such transactions are best dealt with by GPs by alerting their investors and laying out the rationales.
Even if they are motivated to burn unspent dry powder, PE fund managers are not going to throw good money after bad since they wish for their current LPs to recommit. They are going to work just as hard to tune up a company acquired through a secondary buyout as they would in an original platform buyout (which frankly is harder and harder to find these days).
So the risk proposition is mainly the same as in any other PE transaction, with only a few extra question marks such as a potential, slight hit to returns based on potentially longer hold periods and GPs' willingness to generate a lower multiple as long as it still clears overall fund thresholds.
Note: This column was previously published in The Lead Left.
Want more PE data and analysis? Download the latest edition of our flagship report, the 3Q US PE Breakdown, by clicking here.