The typical hold time for portfolio companies is five to seven years. As we've discussed with retail and other sectors, a lot can change these days in that amount of time. Investors often get caught flat-footed by rapid developments in consumer behavior, energy prices, new legislation and a host of other factors. IT (specifically software) seems to be the one sector largely immune to today's PE "earthquakes." Indeed, according to our
2017 Annual US PE Breakdown
, US sector counts fell last year in all but one industry: IT.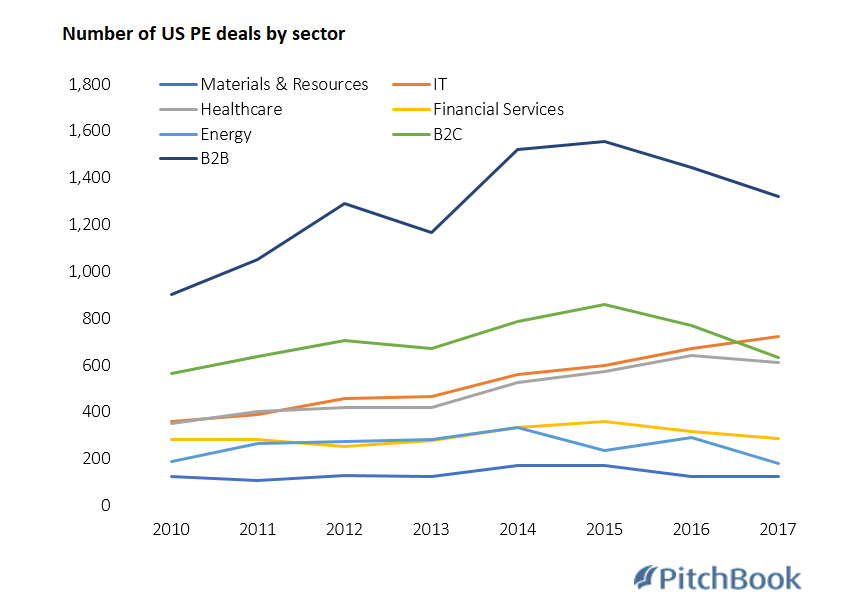 In what is the eighth consecutive yearly increase, IT volume rose 7% last year, and the sector's activity stands out among the many others that saw volume peak in either 2015 or 2016. For perspective, IT now makes up 19% of overall US PE volume, up from 16% in 2016 and 14% in 2015. Overall IT deal value in the US has also risen, with one outlier being 2016 when
Dell
rolled up EMC for $67 billion, skewing an otherwise mostly smooth chart line. In fact, add-ons are a significant factor in IT's rise overall, especially those related to software.
Our upcoming report with RSM's IT Practice found an 11% increase in US software add-ons last year, not to mention a 44% increase in just the past three years. PE's thinking is straightforward here: Add-ons allow software platforms to quickly pick up new products and revenue streams in case customer demand suddenly pivots. That subtle benefit for software isn't easy to replicate in other sectors; it takes much longer to adjust physical assets like inventories or stores when conditions change in retail, for example. Software companies can pivot in a year's time or less, which can make a significant difference in ROI.
Software is a key PE sector to keep an eye on. Generalists are getting more comfortable in the space, so PE interest should keep rising even if other sectors begin to stagnate. Moreover, it seems like new sub-markets within software are being created every year by venture-backed startups—which, by the way, are getting more comfortable selling to buyout firms instead of going public. And then there's what may be the biggest factor: Every sector from retail to manufacturing to finance is integrating technology into its business plans before it's too late, creating even more deal flow potential and perhaps a wide M&A exit ramp as well. Pencil in a ninth consecutive increase in IT activity for this year.
This column originally appeared in
The Lead Left
.