At the end of 2016, there were 7,168 companies backed by private equity firms in the US, representing a 46% increase over the 4,923 recorded in 2009.

Even though the majority of those businesses are on the younger side in terms of when they were backed, there's still a significant portion that's been held for over six years. Part of that is due to slowing exit activity throughout last year, but it also raises questions about portfolio company quality.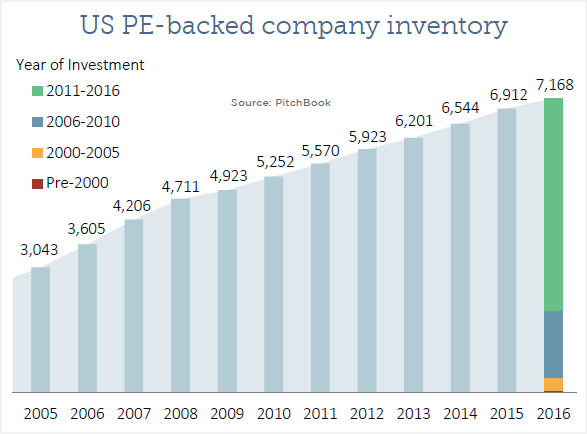 It's highly likely that PE firms simply needed more time to cultivate their holdings, as many businesses acquired during that timeframe were impacted by the recession. Structural changes in certain sectors should also not be discounted, as consumer tastes evolve toward the experiential and increasing automation transforms back-end processes, requiring investment and adaptation.

All that noted, the weight of such aging companies on PE portfolios will only increase going forward. PE firms will be looking to offload these companies with greater eagerness over the next couple of years, potentially at more reasonable multiples than what's currently in the marketplace, so exit volume could consequently rise. If that does indeed occur, it will still take some time, likely unrolling over the next couple of years.

Note: This column was previously published in The Lead Left.

For more information on the landscape, be sure to download our 2016 Annual US PE Breakdown!