AI
'The promise is real': Inside the burgeoning AI-healthcare ecosystem
March 8, 2018
Depending on who you ask, the mention of artificial intelligence may conjure up an image of an android, a drone or perhaps an autonomous vehicle.
But overall one thing is clear: AI casts a wide net in tech, with startups in the cybersecurity, consumer, lending, sensors, robotics, drones, cars, natural-language and image-processing sectors—all leveraging the technology to disrupt their respective industries. Only in the last few years, however, have venture capitalists begun to focus on AI's prowess within the $3 trillion healthcare market:
US VC investment in AI-enabled healthcare startups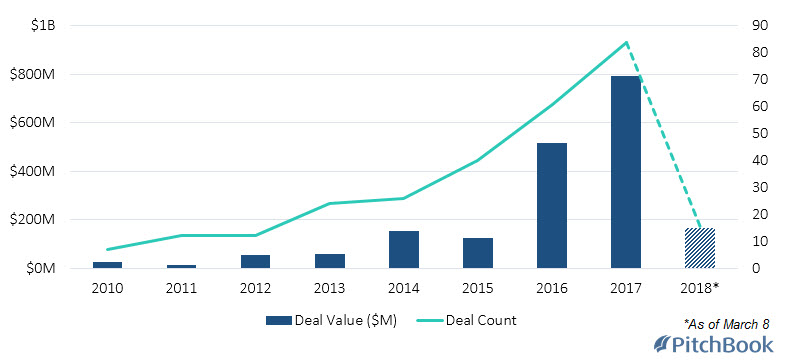 In 2017, US-based VCs spent nearly $800 million across 84 deals for startups at the intersection of healthcare and AI/machine learning, representing 54% growth YoY in deal value and 38% in deal count, according to PitchBook data. And with $166.2 million invested through the first two months of 2018, this year is on pace to surpass last year for total capital invested.
Arterys
, an AI-enabled medical imaging analytics platform that describes itself as the AI assistant for radiologists, is one of those companies to raise capital in the last year. The startup closed a $30 million round last November at an $82 million valuation, with backing from Emergence Medical Partners and GE Ventures, among other institutional investors. The round solidified Arterys' position as one of the most valuable AI-healthcare startups in the US: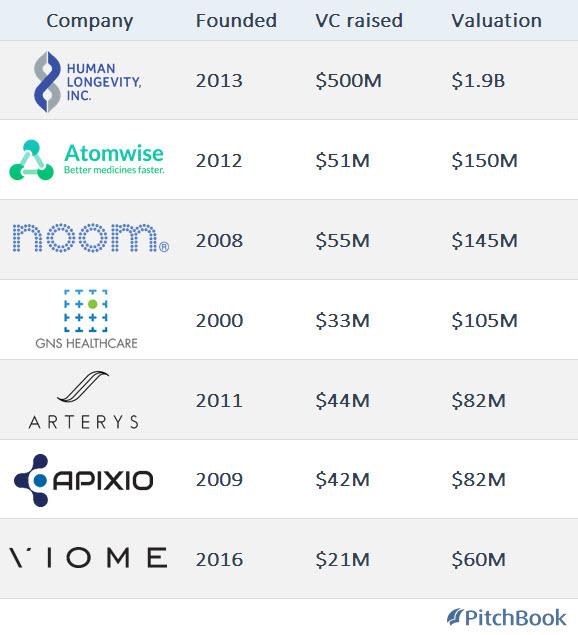 The company's head of strategy and marketing, Carla Leibowitz, told PitchBook that when it comes to AI, it's not all hype: "The technology is mature enough that success has been seen in many other industries," she said. "The promise is real."
"The reality is, there's so much healthcare data, and we are generating more and more data every day," Leibowitz said. "Just in medical imaging, the number of pixels in a health scan has grown exponentially. Doctors need more ways to process information."
AI can also make diagnoses more accurate, Leibowitz explained. Arterys' radiologist assistant, for example, can measure the volume of a liver or lung tumor with one click. Across the board, deep learning algorithms that leverage image recognition are already more accurate than panels of specialists in detecting and diagnosing pneumonia, tuberculosis, certain early-stage cancers and other diseases, according to a recent PitchBook analyst note titled
AI's Health Exam
.
"It's definitely about enabling physicians to do things they could never do before … like measuring the volume of a tumor with a single click."
But for those who work in the medical field, don't worry: AI isn't replacing physicians or other specialists—it's augmenting their skills. Along with providing initial possible diagnoses to various ailments, AI-healthcare startups provide tools like personal AI assistants for physicians or nurses that can recall relevant medical research on-demand, compile patient data or optimize workflow.
"I really do think you need to marry this data-driven medicine with evidence-based medicine," Leibowitz said. "One should not replace the other."
Because of its size and the depth of data involved, the healthcare industry is a huge market opportunity for AI/ML. Over the next several years, as more companies come out of the proof-of-concept phase and VC enthusiasm persists, the adoption and total market penetration of AI in healthcare will likely increase at a rapid clip. After all, the prospect of improved, more efficient and cheaper healthcare is an enticing outcome that can't be ignored.
"[It's] a huge part of making healthcare better and less expensive," Leibowitz said. "I've fully bought into the potential of AI and healthcare."
PitchBook subscribers can access the full analyst note, AI's Health Exam, as well as the AI and Machine Learning Market Map.