Corporate acquirers of emerging tech companies know the space pretty well. After all, many of them were the hot new kids on the block once upon a time. In fact, corporate acquirers in IT have completed 49% of all emerging tech acquisitions since 2010.
For the purposes of this article, emerging tech represents: 3D printing, adtech, agtech, AI & machine learning, autonomous cars, cybersecurity, edtech, fintech, healthtech, IoT, robotics & drones, and VR/AR (each a separate vertical tracked in the
PitchBook Platform
).
The 6 most active corporate acquirers of emerging tech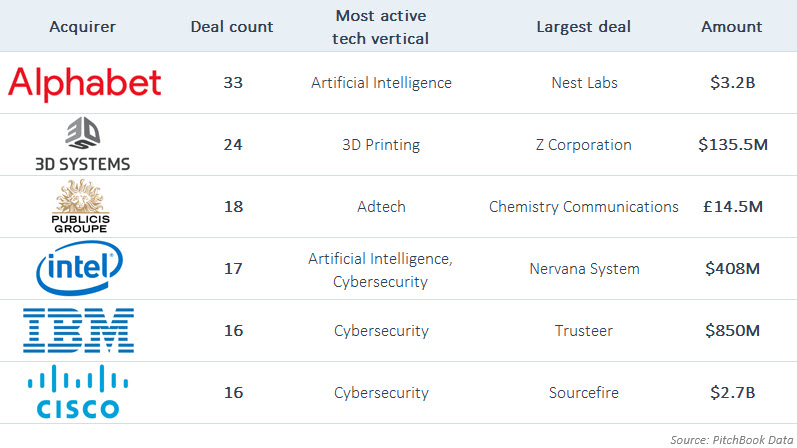 While Alphabet, Intel, IBM and Cisco have maintained their acquisitive appetites—completing at least one deal a year through 2016 and often many more—3D Systems and Publicis Groupe have largely lost theirs. For its part, 3D Systems made no moves last year and has completed just one deal this year. Meanwhile, Publicis ponied up for a single company in 2015 and hasn't bought another since then.
Cumulative M&A deal count in emerging tech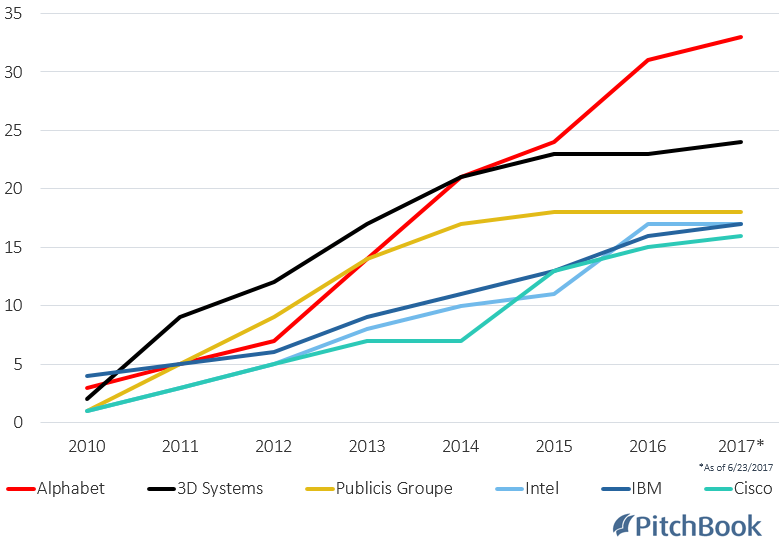 Overall, corporate acquirers have completed
5,498 deals for emerging tech companies
, spending about $116 billion last year alone—the most this decade—per the PitchBook Platform. At 1,160 completed deals in emerging tech, 2015 represents the most active year for corporate acquirers in the space.
The top corporate acquirers of emerging tech come from IT