The trillion-dollar question: What does record dry powder mean for PE & VC fund managers?
March 15, 2018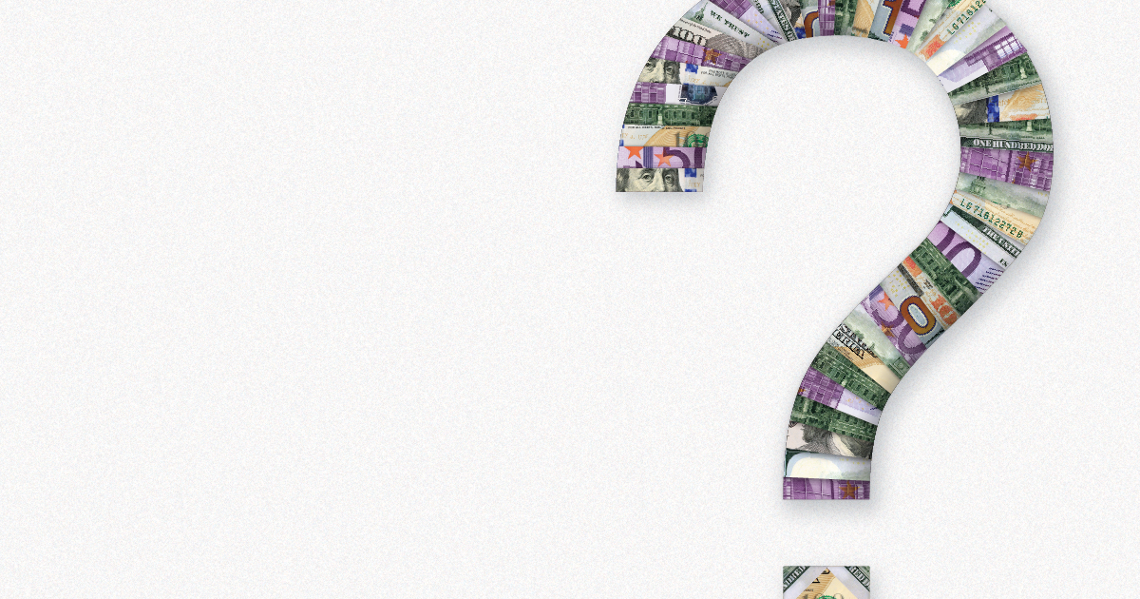 This story was included in the 1Q 2018 edition of PitchBook's

Private Market PlayBook

, a collection of our most popular reports and feature articles covering the key trends in VC, PE and M&A.
Well over $1,000,000,000,000 in committed capital sits in the coffers of private equity and venture capital funds worldwide. To be precise, as of the end of June 2017, nearly $1.107 trillion in commitments were available for drawdown by fund managers—$145.4 billion allotted to VC, $961.5 billion to PE.
These are unprecedented sums. High levels of dry powder have been a persistent worry for both PE and VC, with old trope of "too much cash chasing too few deals" being replayed every few years. But now, uncharted territory is being entered. For some time now, it has been clear that as fundraising volume stayed strong, records would be set by the hundreds of PE and VC general partners treading the capital-raising trail. But to get to a trillion dollars, many factors had to align concurrently. And with many of those drivers still in play, they will continue to shape how PE and VC firms will deploy their hoards of capital. To explore how this level of dry powder will affect PE and VC fund managers and their strategies, we must start with the origins of today's record tally.
The visible hand: How central banks' monetary policies encouraged the rise of alternative assets
The ramifications of the global financial crisis are still unspooling. Perhaps the most impactful result of them all was central banks unleashing quantitative easing in an effort to ameliorate the effects of the financial crisis. In tandem with the decades-long trend of lowering interest rates culminating in record lows, the intensity and global scope of quantitative easing finally wrought a truly paradigm-shifting array of consequences.
As fixed-income assets became more and more inflated in price, financial institutions found it necessary to begin adjusting their portfolios, shifting risk levels and allocation to equities in a search for yield. Asset prices began to rise across the board in response to the massive stimulus. And as the rise in prices continued unabated for years, one underappreciated historical driver of increasing allocations to PE and VC came into play: the reverse denominator effect.
The reverse denominator effect
As fortunes wax and wane within public equities, the allocation to private asset classes on the part of large entities also responds in kind, encouraging either an increase or decrease in commitments. In the wake of the financial crisis, PE and VC allocations actually soared higher than official targets as their public equity portfolios shrank while managers were generally slow to mark down portfolio companies in a phenomenon known as the denominator effect. This turned out well for some institutions that held on to their PE holdings as private market returns have rebounded. Many institutions, however, were forced to succumb to the denominator effect and sold their private market holdings on the secondary market at firesale prices in order to rebalance their allocations. Such mathematical shifts are par for the course when it comes to portfolio composition, but shouldn't be forgotten when it comes to encouraging longer-term trends.
The prolonged bull run in public equities has led to a reverse denominator effect, however, whereby institutions need to commit to private market funds at a rapid clip to ensure they maintain their target alternative asset allocations. Accordingly, dry powder levels continued to rise.
It is also worth noting that alternative investments in general can become more popular in some investors' eyes based on their intrinsic merits. Though illiquid and often pricey due to fees, demonstrated historical outperformance and associated long-term stability could justify increasing allocations at least marginally. That said, the more important driver of increased allocations to PE and VC has been the reverse denominator effect.
New-ish kids on the block
Nontraditional fund investors also played a role. High-net-worth individuals by volume, for example, have increased significantly in the past couple decades. And as family offices among other, similar entities targeting wealth preservation, tend to maintain high allocations to alternative investments, PE and VC fund managers benefited once more. Sovereign wealth funds also remained active in their search for high-performing alternative assets, some discussing increasing allocations to established fund managers. This budding population of investors is likely to become increasingly important in the private fund universe.
More for more: Increasing institutionalization and sophistication
It's fitting to conclude our tracing of historical origins with the most recent development within PE and VC. As streams of money kept flowing into the space post-crisis, traditional investment strategies began to evolve out of necessity. Fledgling PE and VC fund managers raised new vehicles targeting more specific segments of the capital stack, or dynamic, fragmented sectors such as healthcare technology. Increased variety of investment strategies entailed a greater array of opportunities for LPs to gain exposure to specific niches, incentivizing institutions to either consider or increase their participation in select PE and VC funds. And those firms that were successful in their initial efforts only kept fundraising, necessarily, raising larger and larger funds. Of course, such success only kept on contributing to the slowly swelling mound of dry powder.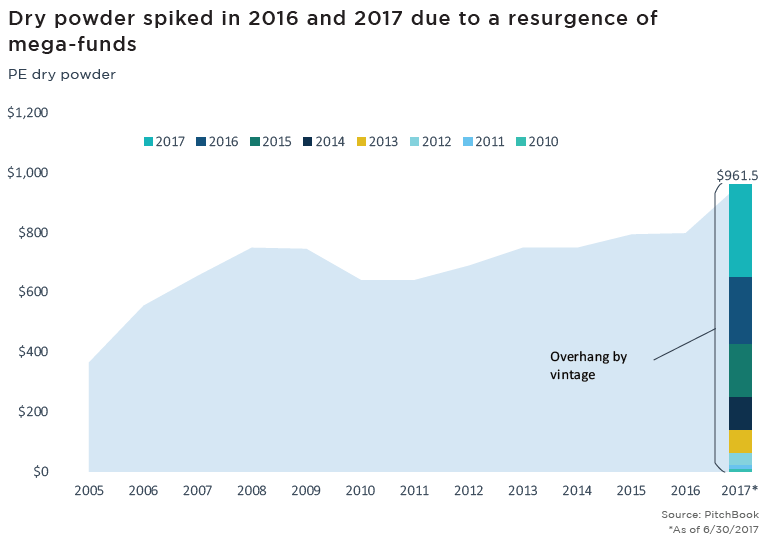 The dry powder is in the details
Let's now analyze the current composition of dry powder in detail, starting with PE. There is a considerable amount of dry powder in PE vintages predating 2014—$139.5 billion or 14.5% of the current total. In short, there is a significant overhang of aging capital that remains to be deployed in the later stages of a typical PE fund's investment cycle.
When analyzing PE dry powder by size, additional intriguing trends emerge. Hinting at the growing institutionalization of private markets and PE in particular, the concentration of capital committed to larger vehicles has intensified. 2015 was a clear turning point, with last year in particular standing out due to a resurgence of mega-funds. Apollo Global Management raised a record $24.7 billion for its latest flagship vehicle in 2017, while CVC Capital Partners closed upon ¤16 billion in commitments the same year for its latest buyout fund, to cite two examples.
Why? Though PE is a relatively youthful field all said and done, tracing its true institutional development to the 1960s, larger funds have consistently represented a disproportionate share of capital raised, on a relative basis. But PE in general is simply becoming more institutionalized and widespread, especially on a geographic basis—the inventory of PE-backed companies is only growing larger and larger, exceeding 12,000 as of the end of 2017. The natural evolution of the field has resulted in multiple large firms being able to successfully raise billion-dollar-plus vehicles, particularly for PE. The market has been traditionally dominated by the earliest succeeding firms within the space—flagship buyout funds such as Blackstone, KKR and Apollo—but slowly, more and more firms were able to emerge throughout the late 1990s and early 2000s to begin carving out their own profitable niches. It's also worth pointing out that as limited partners have only grown larger and larger in size, they have had to commit larger and larger sums to maintain allocations. Consequently, committing to large fund managers has only tended to intensify over time.
Dry powder in the venture industry may be expected to exhibit somewhat similar traits to PE, but it is actually quite different, subject to more significant skew and quicker changes in composition. First of all, it must be emphasized that VC is still a small proportion of overall private equity allocations, as limited access to top-performing managers and the necessary attributes of the industry persist as constraints. Furthermore, the power distribution of returns in VC resembles a hockey stick much more than in nearly any other asset class. True home runs are often achieved by the earliest-stage investors, yet few can preserve outperformance for long. Those that can raise larger, late-stage funds benefit from the advantages of scale, as such vehicles tend to exhibit more stable performance. What this entails is an environment predisposed to experience outsized concentration. Only a small coterie of venture firms has successfully raised multiple vehicles over many years, with accompanying increases in size, which has led to VC fundraising trending larger and larger in aggregate especially as of late, resulting in a plurality of venture capital overhang being concentrated in relatively youthful fund vintages.
What increasing concentration entails is a necessary diversification of investing strategies across the entire capital stack in VC as firms look to stand out. A bigger fund means bigger checks typically have to be written by late-stage managers, while firms aiming at the early stage have had to more clearly delineate specific focus and advantages. Essentially, with more capital at the disposal of multiple fund managers, competition has been intensifying when it comes to the evolution of strategies, as GPs vie to identify any edge.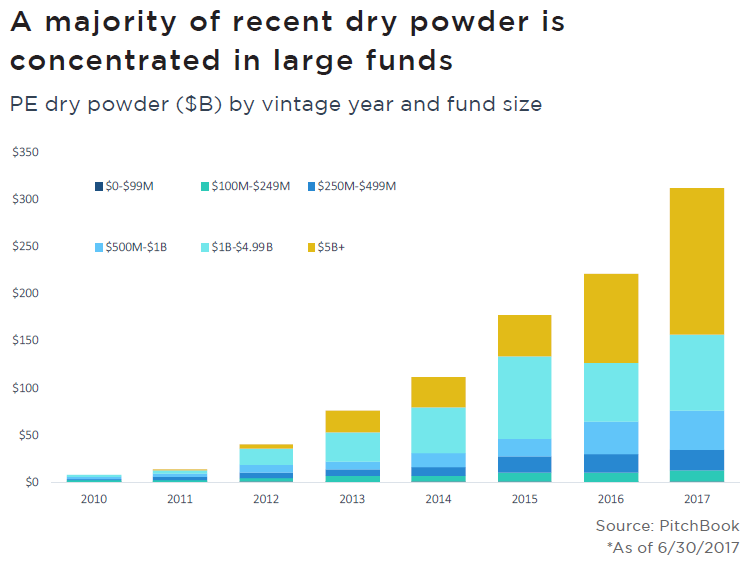 How investors are answering the trillion-dollar question
Any given investment firm is necessarily unique, as unique individuals carry out its operations and formulate its investment thesis. However, several clear trends are emerging among evolving strategies as investors seek to deploy a ponderous arsenal of dry powder efficiently. Let's analyze PE first.
Growing exposure to technology companies
PE fund managers have been significantly increasing their activity within the technology sector—about 20% of all 2017 US PE activity was within IT. This is hardly surprising; as technology matures and proliferates into multiple other sectors, blurring traditional industry demarcations, more technology enterprises have come under the investing purviews of PE firms. Especially as early players in the space have begun demonstrating strong returns, tech has become even more alluring.
Doubling down on unification amid fragmented sectors
Perhaps the second-most popular investing thesis, multiple PE firms have continued to engage in add-ons across multiple fragmented sectors, particularly healthcare clinics & outpatient services. Although within PE's typical operational wheelhouse, such an add-on-centric play has rarely accounted for as high a proportion of overall PE buyout activity as ever before, persistently eclipsing 50%.
Increasing utilization of diverse investment approaches
Secondary buyouts continue to account for a growing share of liquidity for PE fund managers, as well as a major source of deal flow. As complex as the implications of sponsor-to-sponsor transactions may be for LPs, their growing incidence testifies to increasing specialization and sophistication on the part of PE buyout shops. More and more, larger firms are picking off assets in the portfolios of fellow yet smaller PE funds that lack the resources to take certain companies to higher expansion rates. Fund managers with dedicated, sole-sector focuses can also make compelling cases for their ability to extract additional value beyond the abilities of more generalist firms.
Although never as predominant as control acquisitions, growth investments have remained more stable amid slowly diminishing PE activity over the past several quarters. Their appeal in a high-priced environment is obvious— what's more difficult is finding truly worthwhile situations in which acquiring a minority stake is justifiable. As of late, such opportunities have often arisen when it comes to rapidly growing, mature technology companies that have opted to stay private for longer than traditional norms. Often venture-backed, these businesses still conduct late-stage capital raises via private means rather than going public, and those PE firms that decide to participate in such financings often find themselves joined by late-stage venture funds. With that, then, it is time to assess how VC firms are navigating an environment characterized by significant amounts of capital.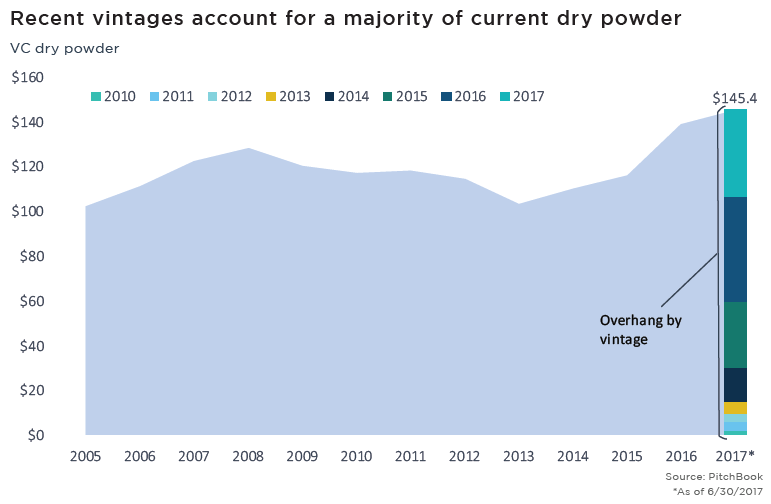 Playing for high stakes
In 2017, nearly half of all VC invested was concentrated in rounds of $50 million or more. Late-stage venture has become an expensive game indeed. So how are VCs armed with massive funds still dispensing capital efficiently? In short, they are still willing to pay fairly high prices because growth potential of some companies remains remarkable. It's important to remember there are plenty of highly capitalized companies that are likely to achieve good liquidity events.
In addition, late-stage VCs are not solely underwriting these high-priced late-stage rounds themselves. Other deep-pocketed firms are joining in, and, moreover, many of these late-stage VCs are engaging in increasing diversification.
Greater geographic and sector diversification
As lower-hanging fruit in consumer software plays is either gobbled up by incumbent tech giants or faster-moving startups, there is more and more focus on enterprise use cases. For example, agtech posted its most lucrative year yet in 2017, while other sectors that once were overhyped yet now appear to be finally gaining greater steam are becoming more attractive.
Beyond sectors, greater geographic diversification both internationally and across the US is slowly transitioning from mostly talk to at least some action. Firms such as Elsewhere Partners have launched funds dedicated to exploring opportunities explicitly located outside current hotspots. Such specialist strategies have tended to outperform in the past.
Explicit intertwining of sector & size strategies, along with segmentation of the capital stack
Let's illustrate these twin concepts by analyzing the seed stage. Nowadays, to raise a seed-stage fund, you need not only a dedicated check size focus but also a strategy explicitly geared toward a particular niche sector. Operating experience is, of course, an immensely helpful attribute consequently. Although smaller funds are not nearly as consequential in terms of percentages of overall volume as they once were, they are hardly dying out, so there is competition for LP dollars. For smaller fund managers looking to raise, being able to exhibit a highly specific thesis around particular parts of the capital stack, accordingly, can be alluring to LPs and thereby has led to greater segmentation among many smaller fund managers.
The consequences of record capital overhang: How will this transform the PE & VC industries?
Is record dry powder a good or bad thing? Will too much capital chasing relatively the same number of opportunities lead to prices high enough that they engender compression of returns? Worst of all, could that return compression lead to the allure of PE and VC consequently dimming, as they are increasingly unable to demonstrate significant outperformance of other asset classes? Or could private fund managers find new niches to target as well as new models of owning and managing assets that could lead to inroads in new sectors? Won't innovation cycles in key sectors such as automation lead to newer opportunities that could prove prime for not only early-stage-focused firms but also long-term holders such as buyout funds?
It is easy to see how some of those questions could result in fairly bearish takes, ultimately. However, a bearish take would be rather myopic, as it is overly predicated on PE and VC approaches staying static. As we have already seen, fund managers are constantly adapting to an ever-shifting environment—and one of the principal factors of that change has been the driver of an ever-increasing dry powder level. But increasing dry powder is in and of itself a consequence of global macrofinancial and macroeconomic forces, as well as growing sophistication and institutionalization of private markets. For example, much has been made of the gradually shrinking universe of publicly listed companies. However, much of that decline has occurred amid small-cap companies. In a not-so-coincidental simultaneous shift, during that gradual decrease over the past 20 years, the global inventory of PE-backed companies in particular has been rising. On the venture side, the unicorn phenomenon signifies how mature tech companies that traditionally would have already listed are electing to stay active in private markets, raising capital to continue fueling growth. Private markets evolved into absorbing smaller-cap companies, in short, and they will continue to evolve and demand new approaches by fund managers. Record dry powder is, once again, a result of the evolution of private markets and also an accelerating factor in that evolution.
Neither a problem nor a pure positive, a trillion dollars doesn't get invested swiftly. The consequences of that tally of committed capital will continue to reverberate. One conclusion is clear: The fact that dry powder has exceeded $1 trillion is a testament to how much PE and VC have evolved as asset classes, and how much further they have to go.
Check out more from the PlayBook:

Data-driven investing: Why 'gut feel' may no longer be good enough

Private equity firms bring creative financing to an untapped sector—private equity
Join the more than 1.5 million industry professionals who get our daily newsletter!