More than halfway through 2018, it's clear that private equity is changing, perhaps more now than ever.
Congress' decision in December to drop the corporate tax rate to 21% has forced buyout shops to rethink how they construct deals, how long they hold on to investments and where to deploy capital, among other tactics. The overall push to invest more in software and other tech-focused industries has many PE firms operating more like VCs. Meanwhile, the dealmaking environment continues to be competitive, driving up multiples and making it harder to get a good return on an investment.
Oh, and that fundraising boom that everyone talked about last year?
That's slowed considerably
, as firms keep scrambling to spend the massive amount of dry powder currently sitting dormant.
Without further ado, here are 11 charts that help sum up the US private equity industry, courtesy of the
2Q 2018 US PE Breakdown
.
Deal flow on pace for another strong year
In 1H 2018, PE investors completed 2,247 deals that totaled a combined $263.9 billion in value. That marked a 2% increase in volume and 6% decrease in value compared to 1H 2017.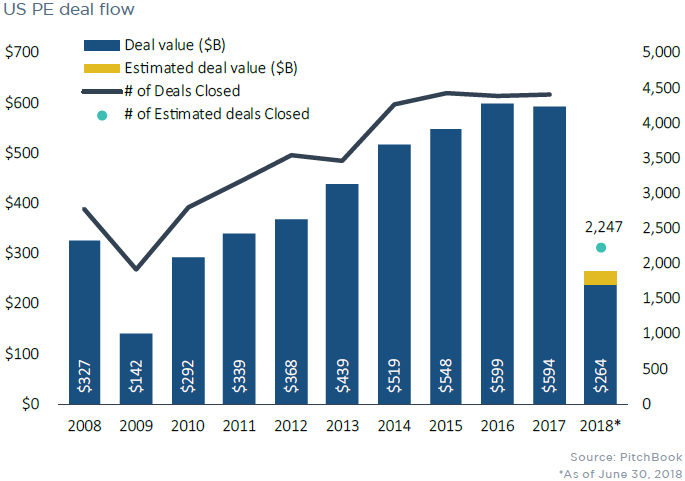 Growth equity has seen substantial growth in the last decade
It's good to be a PE growth firm right now. In 1H, 23% of all PE deals were growth equity rounds, above the 10-year trailing average of 22%.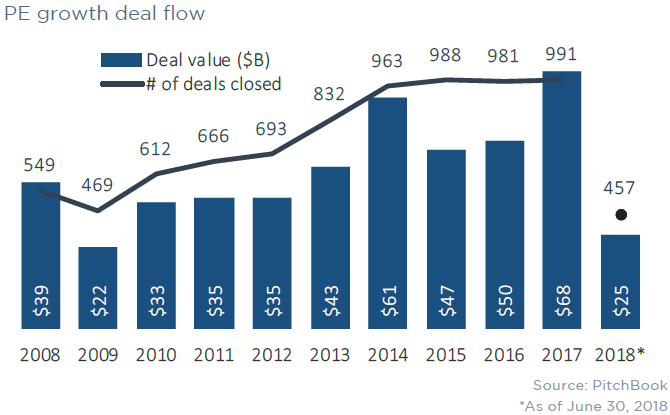 Buyout sizes continue to balloon
The median buyout size in 1H amounted to $197.1 million, a 31% increase compared to 2017's full-year figure. Interestingly, the average buyout size is on pace to drop slightly, thanks in part to a lack of completed mega-buyouts through the first six months of 2018.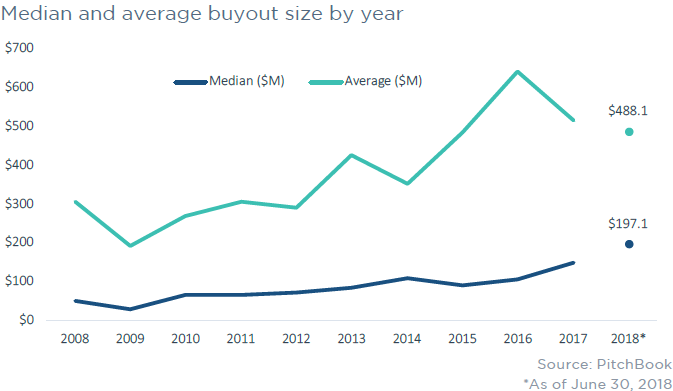 Few mega-deals closing in 2018, which weighs on capital invested
Yes, there was a lack of completed mega-buyouts in 2018, but expect that to change soon. Blackstone's $20 billion deal for the Thomson Reuters financial and risk business is expected to close in 2H, along with a couple of separate mega-buyouts led by
KKR
for
Envision Healthcare
(valued at $9.9 billion) and
BMC Software
(valued at $8.5 billion), respectively.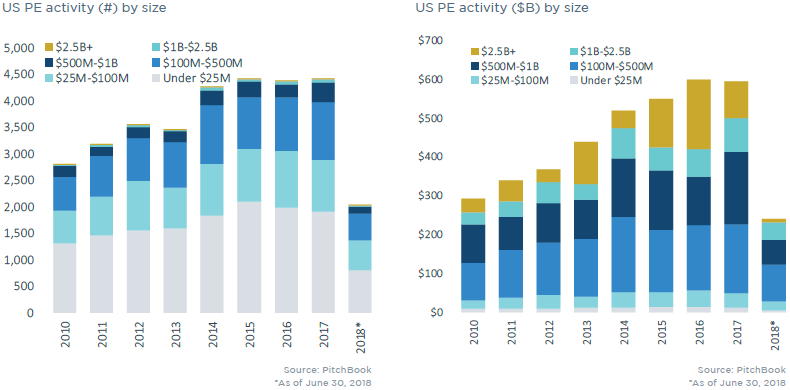 Exit activity slows through the first half of 2018
For further proof that it's getting harder to net a nice return on an investment, look no further than PE exit data. Through 1H, the total number of PE-backed exits is on pace to drop for the third consecutive year.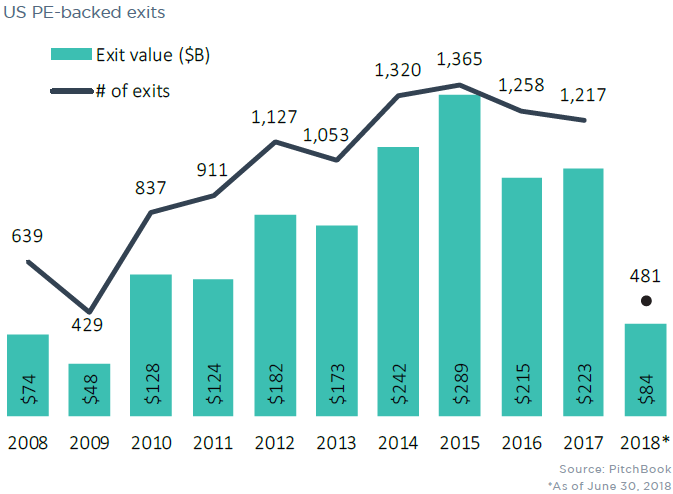 Despite lower volume, another all-time high for exit sizes
Look on the bright side: At least the median exit value is up.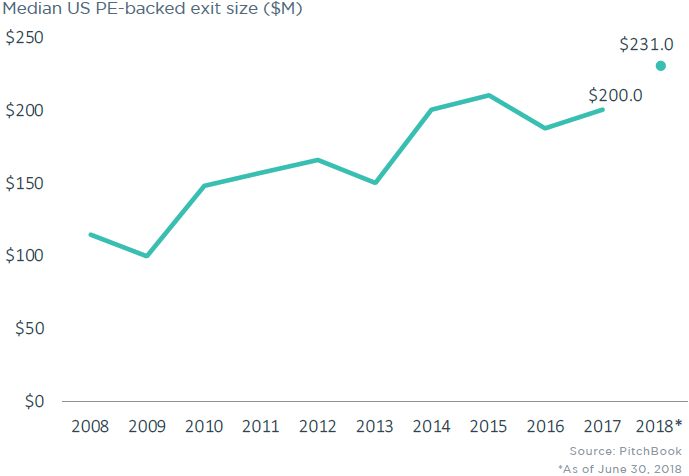 SBOs account for over 50% of exits through 1H 2018
With fewer viable targets, PE firms looking to invest are looking to their own industry. In other words, firms have steadily been selling more portfolio companies to one another. And in a few years, that company might get sold to another PE firm. So the cycle goes.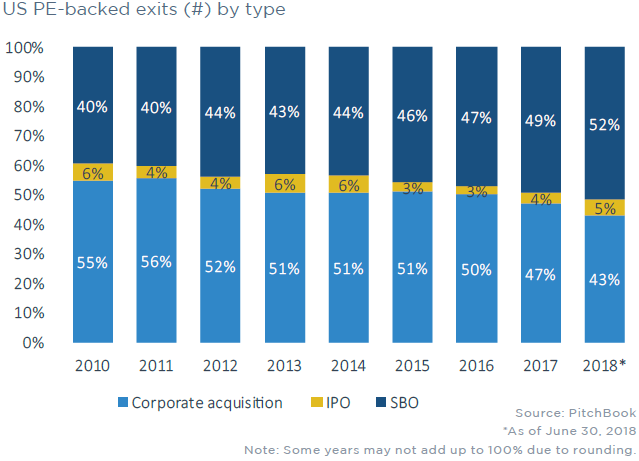 Mega-funds see a pullback, but small funds show relatively strong activity
Mega-funds had a slow start to the year. But that seems to be more a function of a simple lull in the fundraising cycle than in a lack of LP capital to go around. On Monday,
The Carlyle Group
officially closed its seventh global buyout fund on $18.5 billion, exceeding a $15 billion hard cap to become the largest vehicle in the firm's history. Meanwhile,
Blackstone
plans to start raising as much as $20 billion for its next buyout fund later this year. Don't expect the lull to last too long.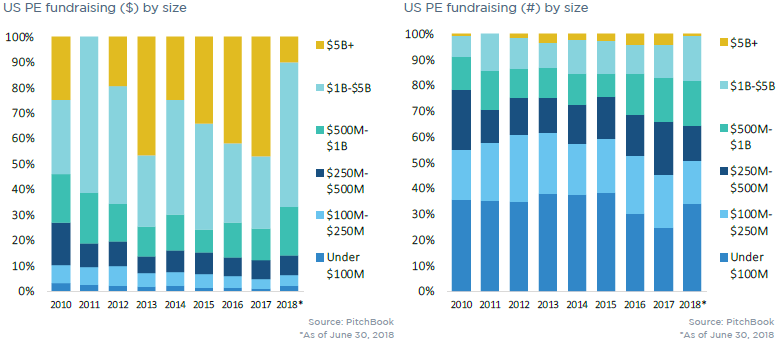 Average PE funds holding final closes in record time
If you're a PE firm ready to start raising capital, get ready to move quickly. Through 1H, it took 12 months on average to close a buyout fund and nearly 13 months on average to close any type of PE fund. Both are on pace to be the fastest average in at least a decade, thanks in large part to fewer funds in the market and more LP available capital.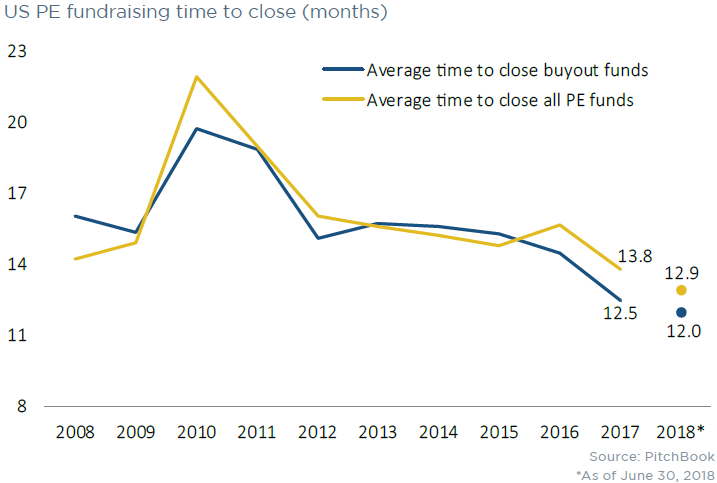 Related read: 2Q 2018 US PE Middle Market Report