Unicorns
The US unicorn boom is reaching new heights in 2018
August 24, 2018
In the first seven months of the year, unicorns in the US raised $19.2 billion in venture capital funding, according to
PitchBook's 2018 Unicorn Report
. If that sounds like a staggering sum, you're not wrong. Barely halfway through the year, it's already more cash than billion-dollar companies had raised in the US in any full year since at least 2006, and almost surely more than in any year ever: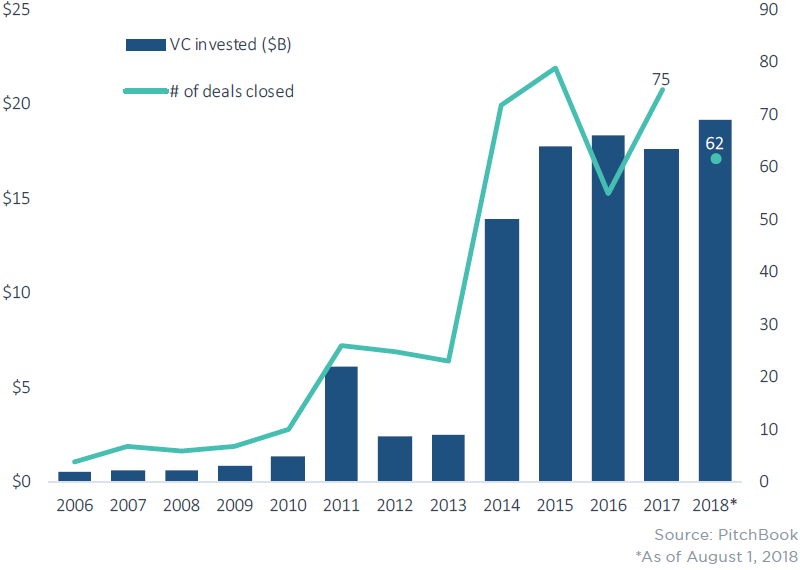 We're on pace to reach nearly $33 billion by year-end. As you can see, 2018's influx of unicorn fundings in the US comes after activity in such deals seemed to have plateaued last year after a massive leap between 2013 and 2016. But instead, VCs seem more interested in companies with billion-dollar valuations than ever before. Why?
One reason is that there are simply more of these companies to choose from. There were 138 unicorns headquartered in the US as of August 1, per PitchBook data, almost twice the number that existed just four years ago and more than five times the unicorn population in 2011. In fact, the number of companies with billion-dollar valuations in the US has increased each of the past 11 full years. It only makes sense that the herd would raise more cash as it continues to grow.
Another reason is that the size of these investments is growing. During the first seven months of this year, companies raising their first unicorn round had an average funding size of $287.7 million and a median of $150 million. Those numbers both represent serious upticks from recent years, including 2017 figures of $202.5 million and $140 million, respectively. While 2018 already holds the record for the amount of VC dollars funneled to US unicorns, the quantity of such investments is still the fourth-lowest of the past five years.
With down rounds for US unicorns still few and far between, it's logical that a huge jump in the amount of cash invested in these startups has been mirrored by a huge jump in their collective worth. Here's a closer look: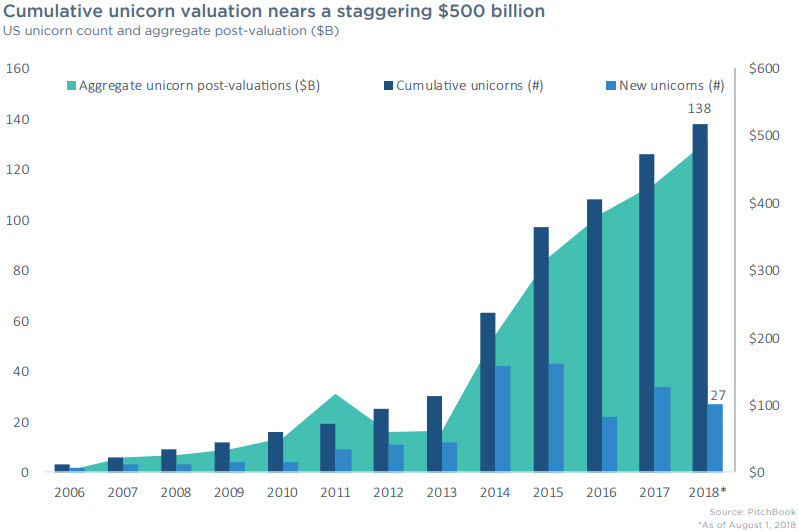 The firms making the most investments in these US unicorns are exactly the names you'd expect. Five firms have at least 20 current unicorns in their portfolios, per PitchBook data, and all five are industry heavyweights:
Kleiner Perkins
,
GV
,
SV Angel
,
Sequoia
and
Andreessen Horowitz
.
Want more on the top investors in unicorns? Check out our 2018 Unicorn Report.
*An earlier version of this story incorrectly stated the number of US-based unicorns in the US as of August 1; there were 138, not 153.