Shares of
Eventbrite
skyrocketed nearly 60% in the first day of trading on the public markets, giving the event ticketing company a market cap of $2.78 billion.
The San Francisco-based business, which debuted on the NYSE under the ticker symbol EB on Thursday, priced its public offering at $23 per share, the high end of its upwardly revised range, raising $230 million in the process.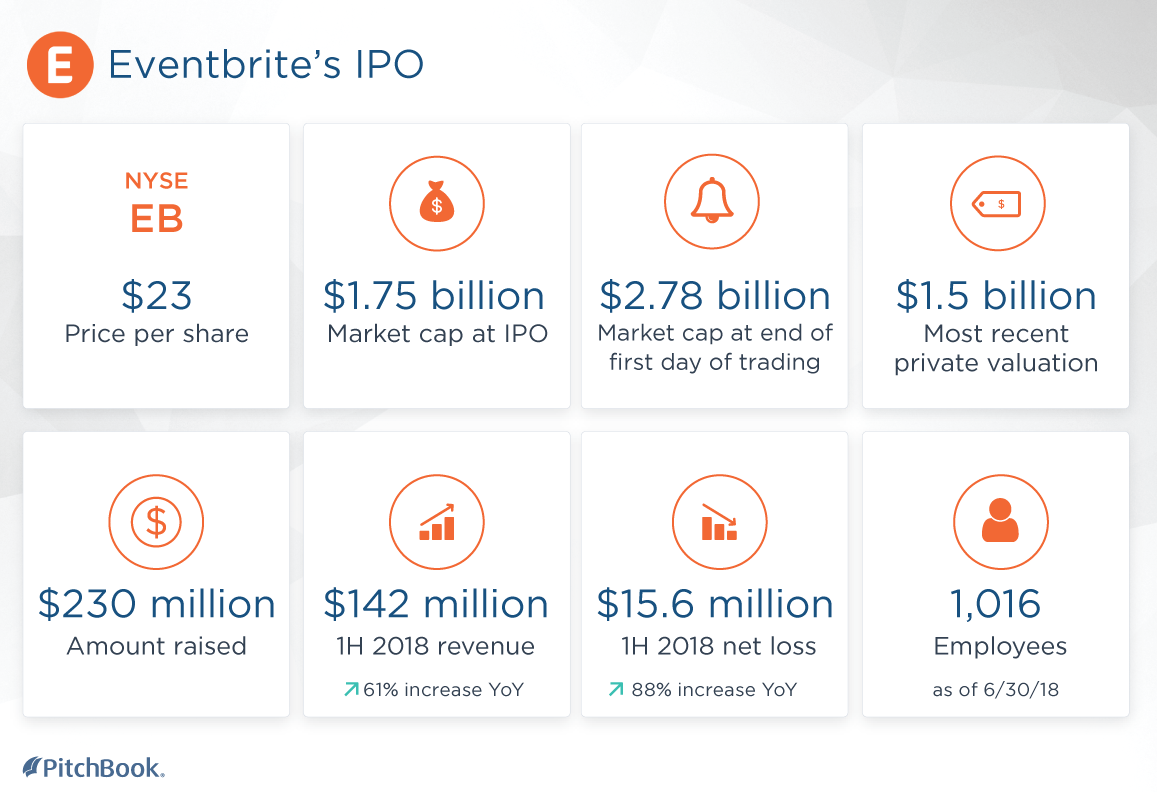 Since it was founded in 2006, Eventbrite has raised a total of $373 million in equity funding. That includes several venture capital rounds from a variety of institutional investors, plus a $25 million strategic investment from payment processing company
Square
.
With Eventbrite's impressive debut, its biggest shareholders are sitting on stakes worth hundreds of millions of dollars. Here's a look at the company's largest stockholders and how much their stakes are worth, based on the market cap at the end of its first day of trading:
Tiger Global: 21.4% pre-IPO stake | 18.5% post-IPO stake | Worth $513.9 million
Sequoia: 20.5% pre-IPO stake | 17.7% post-IPO stake | Worth $491.7 million
Julia & Kevin Hartz: 16.9% pre-IPO stake | 16.6% post-IPO stake | Worth $461.1 million
T. Rowe Price: 6.8% pre-IPO stake | 6.8% post-IPO stake | Worth $188.9 million
Eventbrite was founded by married couple Julia and Kevin Hartz. For 10 years, from the company's formation until 2016, Kevin was the CEO and Julia served as its president. In April 2016, Julia took over as chief executive and Kevin went to
Founders Fund
, where he was a partner and entrepreneur in residence. Last month, he became chairman of Eventbrite's board.
During her first full year as CEO, Julia Hartz took home a $335,000 salary. The SEC filing also lists total compensation for two other executive officers. Omer Cohen, Eventbrite's chief people officer, earned a total of $1.9 million last year, including base salary and option awards. Matthew Rosenberg, who was chief revenue officer until he left the company in March 2018, earned roughly $944,000, including base salary, option awards and a non-equity incentive plan.
The company has a technology platform through which it sells tickets to live events and provides resources to the people putting them on. It makes money by taking a cut of every ticket sold by event creators through the platform. Last year, Eventbrite was involved in selling tickets for approximately 3 million events, including music festivals, seminars and political rallies, across 170 countries.
Join the more than 1.5 million industry professionals who get our daily newsletter!