The amount of venture capital invested in the US this year has already surpassed the 2017 total, and that's largely thanks to a record amount of mega-deals.
As of the end of 3Q 2018, the total VC deal value for the year was $84.3 billion, already the most invested in a single year since the dot-com boom. A major reason for that inflated figure is the growing number of mega-deals. US companies closed 143 deals worth at least $100 million during the first three quarters of the year, according to the latest
PitchBook-NVCA Venture Monitor
. That's more than any other year's total, marking a 39% increase over 2017 with an entire quarter left to go. The number of rounds worth at least $50 million—378—has already surpassed the 2017 total, as well.
The surge in mega-deals is fueled partly by the rise of billion-dollar startups and how much more frequently unicorns are raising additional capital. During 3Q, unicorn companies closed 39 deals worth a total of nearly $8 billion. For the year, billion-dollar companies in the US have already raised a record amount of deals and a record amount of capital.
Here's a closer look at VC funding flowing into unicorns and the prevalence this year of super-sized deals: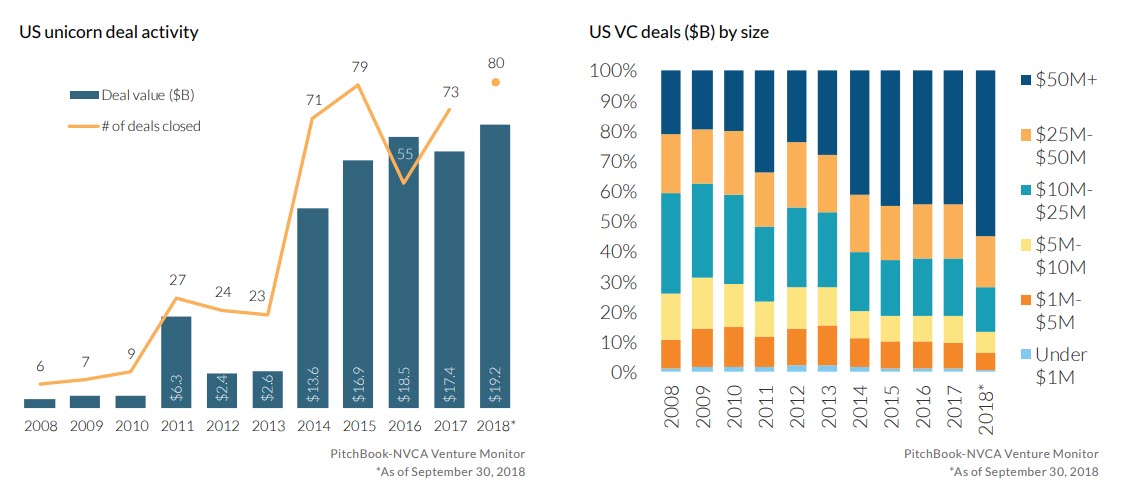 The largest US VC deal of 3Q was raised by
Peloton
, the at-home exercise bike company that
brought in $550 million
at a post-money valuation of $4.1 billion in early August. As a whole, consumer-focused companies took in about 22% of US mega-deal money in 3Q.
As the number of mega-deals grows, the median VC deal size across all stages is going up, with double-digit YoY growth. The size of seed deals has grown by nearly 18% over the last year, to $2 million. And the median deal size for all early-stage transactions was $7 million as of the end of 3Q, up 25% year-over-year:
For much more on venture capital trends for the years, and particularly in the third quarter, check out the 3Q 2018 edition of the
PitchBook-NVCA Venture Monitor
.