Thoma Bravo has made its name in the past two decades by investing in the rise of software. The firm kept it up on the last Monday of November, unveiling a pair of high-profile deals that further emphasize its growing focus on the space.
Software deals as a percentage of Thoma Bravo's overall investments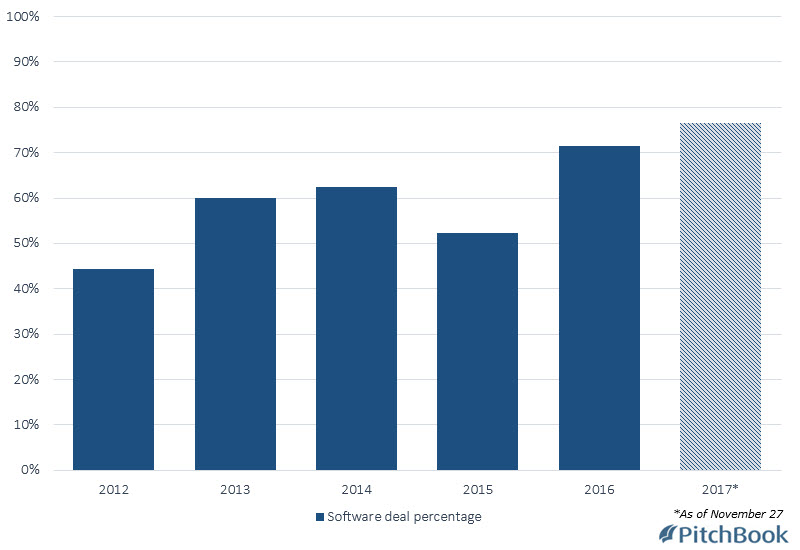 First, Thoma Bravo has agreed to purchase Barracuda Networks, a provider of cloud-enabled data security services, in a take-private buyout valued at $1.6 billion. The firm will pay $27.55 per share in cash, representing a 22.5% premium to the company's average stock price on the NYSE in the preceding 10 days. Barracuda had been publicly traded since 2013, when the company raised $75 million in an IPO.
In a separate move, Thoma Bravo portfolio company McAfee has agreed to acquire Skyhigh Networks, a fellow provider of cybersecurity services. While terms of the deal weren't announced, Skyhigh was valued at an estimated $400 million a little more than a year ago with a $40 million financing; overall, the business has raised more than $100 million in venture capital funding. Thoma Bravo backed McAfee as a minority investor earlier this year as part of a larger $4.2 billion buyout of the company conducted by TPG Capital. Together, TPG and Thoma Bravo own a 51% stake in the pioneering security business.
So far this year, Thoma Bravo has completed 13 private equity transactions in the software sector, according to the PitchBook Platform, tied for the third-most of any PE firm in the world. Here's a full rundown of the top 10: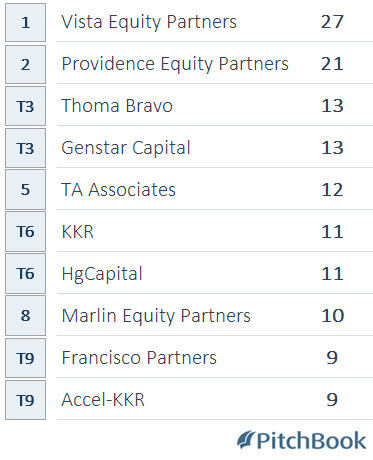 Of the 628 deals conducted by PE firms in the sector so far this year, more than 58% have taken place in the US, per PitchBook data. And nearly 20% of those US deals have occurred in California, by far the most of any state, a telltale sign of the region's prominence in the software scene.
Yet while most major VC firms are based in the Bay Area—using proximity as a key way to prospect for deals—the top private equity investors in the space are much more geographically diverse. Genstar Capital is the only one of the seven busiest firms this year with its primary office in the Golden State. Several others, though, maintain secondary operations in and around San Francisco, including the Austin-based Vista Equity Partners, the New York-based KKR and the Chicago-based Thoma Bravo.
Want more info on Thoma Bravo's rise to PE prominence? We told the firm's story in a recent Investor Spotlight.