Investor Spotlight: The rapid rise of Thoma Bravo
August 10, 2017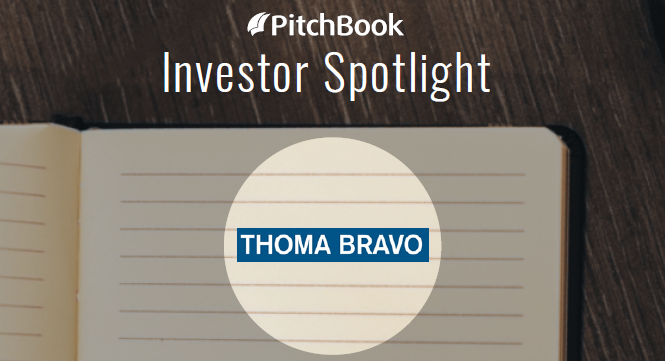 It's possible that the two firms most responsible for the rise of the LBO in the 1980s were KKR and Golder Thoma. While KKR famously pioneered the hostile mega-buyout, assuming the role of barbarian at the gate, Golder Thoma developed a different tactic: the buy-and-build strategy, using one company as a platform for add-ons as a way to drive growth.
But nothing lasts forever, particularly in an industry driven by five-year horizons. Both famous firms were bound for equally famous divorces. In 1987, Jerome Kohlberg left KKR to form Kohlberg & Co. and return to his roots in the middle market. A little more than a decade later, Golder Thoma underwent a split of its own. The result was the formation of the firms today known as GTCR and Thoma Bravo, two shops that retain significant presences on the private equity scene.
At the time of the separation, GTCR planned to raise larger funds and pursue bigger deals, while Thoma Cressey (as it was known at the time) would operate in smaller markets. But the rise of tech has caused the tables to turn. Investing almost entirely in the IT sector, Thoma Bravo has rocketed up the ranks of private equity fundraisers. Last year, the firm closed its latest flagship fund on $7.6 billion—nearly twice the size of GTCR's latest flagship vehicle.
Accompanying the rise in fund size is a gradual increase in Thoma Bravo's activity, as you can see here: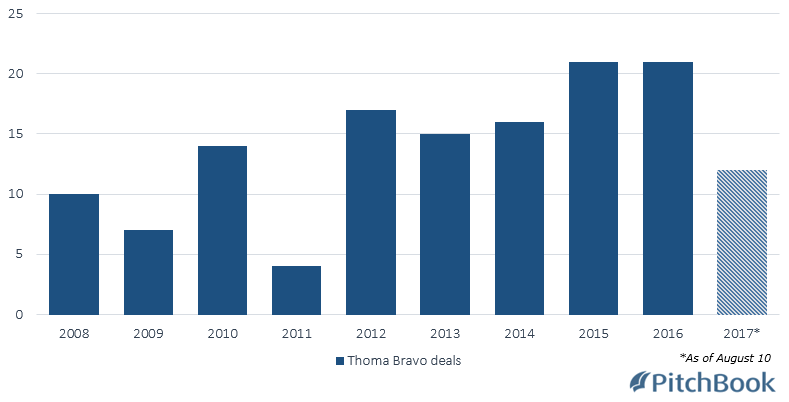 How were the roles reversed? It's a tale of massive deals, egos, a former tennis star and microprocessors—a case study in how the omnipresence of software is changing large swaths of the global economy.
Firm History
After making his name at First Chicago, Stanley Golder departed in 1980 to form his own buyout firm with Carl Thoma. In 1984, they added as partners Bryan Cressey, another veteran of First Chicago, and Bruce Rauner, who's today the governor of Illinois. A new name was bestowed: Golder, Thoma, Cressey, Rauner, or GTCR for short.
For the next 14 years, the firm built its status as one of the PE industry's most powerful players, using its buy-and-build strategy to deliver excellent returns to LPs. But it was not to last. In 1998, the firm's name partners split, with Golder and Rauner retaining the GTCR brand and Thoma and Cressey departing to open their own business. Both firms remained headquartered in Chicago.
One primary issue behind the separation: the handling of partnerships. While Rauner reportedly advocated a more liberal approach to naming new partners, Thoma and Cressey preferred to keep numbers small in order to maintain autonomy. That approach had already led to something of a talent drain from GTCR, with multiple investors deciding to strike out on their own rather than wait around for an elusive partnership that may never have come.
Another difference of opinion was size. Upon the split, GTCR planned to target bigger funds and bigger deals, moving into a more expensive class of companies, while Thoma Bravo aimed to continue its founders' traditional buy-and-build approach. GTCR's first fund without Thoma and Cressey raised $870 million, for instance, while Thoma Cressey's debut closed on $450 million in 1998.
Thoma Cressey eventually morphed into Thoma Cressey Bravo. In 2008, when Cressey left the firm to launch Cressey & Co., Thoma Bravo was born—and soon, the firm's transformation began in earnest. Its next three funds are a decent barometer of the growth: an $822.5 million fund in 2009, a $1.25 billion effort in 2012 and a $3.65 billion vehicle in 2014. With the close of a $7.6 billion fund last year, Thoma Bravo seems to have surpassed GTCR in the PE fundraising pecking order.

Investment Strategy
Thoma Bravo still applies the sorts of buy-and-build tactics that helped the firm's founders make their names. But the group has also begun to pursue larger deals more often. Of the five buyouts in Thoma Bravo's history that were larger than $2 billion, four occurred since December 2014, according to the PitchBook Platform—and all four were in the software industry.
In general, the firm eyes investments of at least $100 million and doesn't shy away from deals reaching 10 figures, pursuing buyouts, carveouts, recapitalizations and growth rounds. It focuses on the enterprise, infrastructure and security branches of the software sector and on tech-enabled business services. Investing primarily in the US, Thoma Bravo's targets also tend to have at least $20 million in EBITDA and established management teams.
One notable difference from GTCR is the frequency of new investments. While Thoma Bravo has never sealed more than 21 transactions in any single year, GTCR has topped that mark every year since 2011.
Notable Dealmakers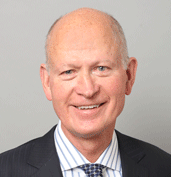 Carl Thoma, Managing Partner
Between Golder Thoma, GTCR, Thoma Cressey and Thoma Bravo, the elder statesman of the firm has worked at a buyout shop that bore his name for nearly four decades. His only other previous stop was at First Chicago, where Thoma initially crossed paths with Stanley Golder. Thoma is also a former president and chairman of the NVCA. He serves on the boards of companies including analytics software provider Infogix and Internet Pipeline, a developer of SaaS solutions. Away from the office, Thoma is a prolific art collector and the owner of a vineyard in Oregon.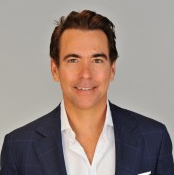 Orlando Bravo, Managing Partner
Bravo possesses one of the most unusual résumés of any private equity executive. Born in Puerto Rico in 1970, he moved to the US as a teen to attend the legendary Nick Bollettieri Tennis Academy; Bollettieri's other former students include Andre Agassi and Maria Sharapova. Instead of pursuing a pro career, Bravo went to Brown and then grad school at Stanford. He joined Thoma Cressey upon its formation in 1998 and quickly rocketed up the firm's ranks before becoming a name partner. Bravo manages the firm's San Francisco office, while Thoma is based in Chicago.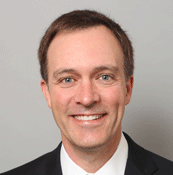 Scott Crabill, Managing Partner
Based in San Francisco, Crabill has been with Thoma Bravo since before it adopted its present name, joining the firm in 2002 after previous stints at Summit Partners and J.H. Whitney & Co., plus some other outfits. He represents the firm on the board of software providers PowerPlan, SRS Software and Mediware Systems, among other companies, and has helped lead investments in cybersecurity providers Tripwire, Entrust and Vision Solutions.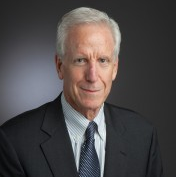 Lee Mitchell, Managing Partner
After participating in the formation of Thoma Cressey in 1998, Mitchell has been with the firm ever since, serving on the boards of technical school operator Porter & Chester Institute and Local Media of America, a San Diego-area owner of radio stations. He brings serious media expertise: Before making the jump to private equity, Mitchell was the president and CEO of Field Enterprises, which at the time was the owner of the Chicago Sun. He's still based in Thoma Bravo's Chicago office.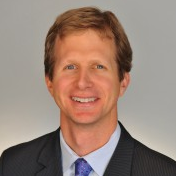 Holden Spaht, Managing Partner
Spaht has worked at Thoma Bravo since 2005 and was promoted to managing partner in the firm's San Francisco office in 2013. He previously spent time at Morgan Stanley and Thomas H. Lee Partners. Named one of 40 emerging leaders under the age of 40 by the San Francisco Business Times in 2014, Spaht's significant investments for Thoma Bravo include video software provider Telestream and enterprise software business Deltek.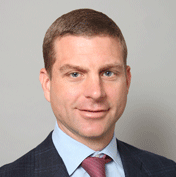 Seth Boro, Managing Partner
Like Spaht, Boro joined Thoma Bravo's San Francisco operations in 2005 and was promoted to managing partner eight years later. A native of Canada, he formerly worked at Summit Partners and Credit Suisse. He's been involved in some of Thoma Bravo's largest deals of recent memory, including the acquisition of cybersecurity provider Blue Coat Systems and the firm's takeover of systems-lifecycle company LANDesk Software from Emerson.
Industry/Geography
Dating back to 1998, nearly 60% of Thoma Bravo's deals have been in the software sector, while the IT space as a whole accounts for more than 74% of activity. And those figures seem to be growing more pronounced. A hefty 95% of the firm's completed deals in 2016 were with IT companies, and that figure is sitting above 83% so far during 2017.
Over the same period of time, meanwhile, GTCR has pursued a much more general approach. The financial services space accounts for 27% of GTCR's deals since the start of 1998, and B2B companies are responsible for another 24%. The IT field, meanwhile, holds a share of less than 20%.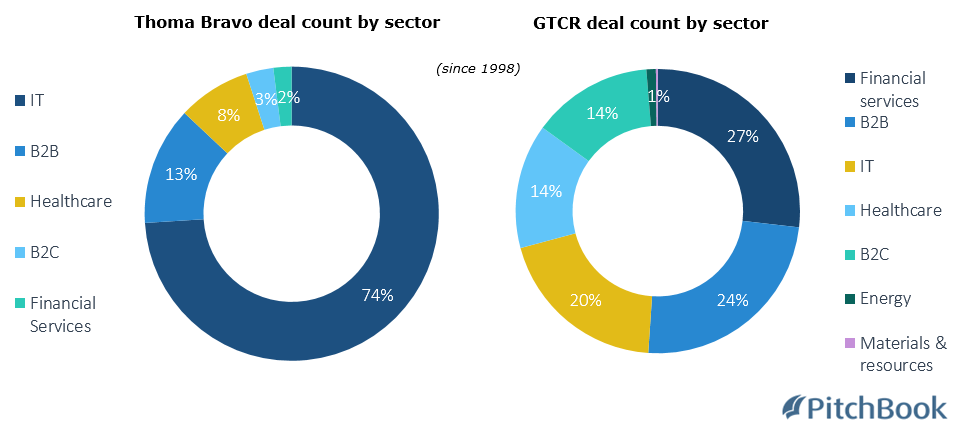 Using PitchBook data, we can drill a little deeper into the specifics of Thoma Bravo's software interest. About 21% of its total investments over the past two decades have taken place in the application software sub-sector, with business & productivity software accounting for another 11%. Software for managing networks, systems and information combines for a 14% share.
The rest of the firm's deals are split up between the B2B, healthcare, B2C and financial services sectors. Thoma Bravo abstains entirely from investing in hard assets like energy and materials & resources.
The firm states a preference for investing in the US, and that's certainly reflected in the numbers. Nearly 88% of the companies Thoma Bravo targets are stateside, per PitchBook data, with another 7% based in Europe and 4% in Canada. Within the US, its activity is fairly evenly split, with the West Coast (22%), Mid Atlantic (19%) and Great Lakes (16%) regions each representing a healthy share of all deals.
Considering Thoma Bravo's penchant for software, it's no surprise that the firm does more deals in California than in any other state: 28 of them over the past 20 years, per PitchBook data, with Texas (17 deals) and Pennsylvania (13) ranking second and third.
Fund Performance
Upon thorough examination, two things stand out about Thoma Bravo's recent fundraising history: The increasing size of the firm's buyout vehicles, and the stellar returns those funds continue to post. Here's guessing those are related.
The firm closed its 12
th
flagship fund on $7.6 billion last year, but that vehicle is still too immature to judge too closely. In fact, the firm's previous namesake fund is still in its adolescence as well, so its multiples are apt to change significantly in the future.
For now, though, here are the metrics for the firm's past four flagship vehicles (data as of 1Q 2017 for Fund XI and Fund VIII, as of 4Q 2016 for Fund X and Fund IX):

As you can see, the firm's ninth and 10
th
flagship funds both posted jaw-dropping returns that rank at the very top of their respective peer benchmarks. Thoma Bravo Fund IX, for instance, has an IRR of 44.7%; no other US buyout fund from 2008 that was between $500 million and $1 billion in size has even managed to top 30%.
In recent years, Thoma Bravo has branched out from its primary buyout funds with new vehicles focused on special opportunities and the lower middle market. The firm closed Thoma Bravo Special Opportunities Fund II on $1.065 billion in 2015 and the Thoma Bravo Discover Fund on $1.074 billion in 2016. Neither vehicle has recorded enough exits to take their current returns data all too seriously.
Key Buyouts
Thoma Bravo completed a major software acquisition last September, sealing a takeover of TRADER, which had previously been backed by Apax Partners, for about C$1.575 billion (around $1.2 billion). TRADER is the operator of a digital automotive marketplace in Canada that boasts listings for more than 450,000 vehicles.

Not long before that deal, in August, Thoma Bravo finalized the purchase of Qlik, a provider of data visualization services, in a take-private buyout valued at about $3 billion. The firm paid a pretty penny, shelling out a premium of 40% to Qlik's 10-day average stock price prior to the transaction. To help finance the deal, Thoma Bravo employed a $1.1 billion credit facility led by Ares Capital.
The firm has closed several other billion-dollar software buyouts in the past two years. In February 2016, Thoma Bravo teamed with Silver Lake to complete a take-private buyout of SolarWinds valued at about $4.5 billion; the company is a provider of IT management software. In April 2015, meanwhile, the firm purchased application infrastructure provider Riverbed Technology in a $3.5 billion transaction.
Earlier this month, Thoma Bravo backed an add-on in which portfolio company DigiCert agreed to buy Symantec's website security business for about $950 million in cash and a 30% stake in the combined company. As more and more software companies have reached the stage of maturity where their finances appeal to the PE model, Thoma Bravo has been eager to take advantage.
Key Exits
Just like its buyouts, the majority of Thoma Bravo's billion-dollar exits have occurred in the very recent past. The biggest such deal was the sale of Deltek, a provider of enterprise software for project-based businesses, to Roper Technologies for $2.8 billion last December. Thoma Bravo had backed the business since buying it for $1.1 billion in 2012.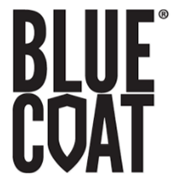 In May 2015, meanwhile, Thoma Bravo offloaded Blue Coat Systems to Bain Capital in a deal valued at about $2.4 billion, a nice return from a $1.3 billion acquisition completed three years prior. Blue Coat is a provider of enterprise security that counts a healthy chunk of the Fortune 500 among its customer base; Bain Capital has already flipped the business for a healthy profit of its own, agreeing to sell Blue Coat to Symantec for $4.65 billion last summer.
More recently, in mid-July, Thoma Bravo completed the sale of Global Healthcare Exchange—a provider of supply-chain services for the healthcare field—to Temasek for a reported $1.8 billion. Earlier in the year, Thoma Bravo exited cybersecurity company LANDesk to Clearlake Capital in a deal believed to be worth more than $1.1 billion.
Check out our previous Investor Spotlights on
ABRY Partners
,
Providence Equity Partners
,
Audax Group
,
Vista Equity Partners
and
Ardian
.
Note: All the data for this article was sourced from the PitchBook Platform. Contact us today to learn how our core product can help your business.