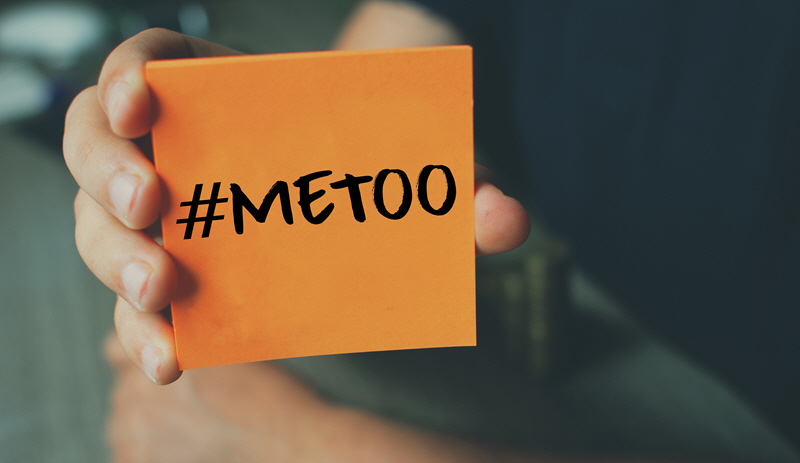 It's been more than a year since the #metoo movement swept across the globe, revealing the extent to which sexual harassment has infiltrated virtually every industry, as women and men have come forward to share their stories.
Despite the global outcry—and the naming and shaming of some of the culprits, which has resulted in public scandals and resignations reaching the very top of billion-dollar corporations—there is still little evidence of systemic change from companies themselves. In most cases, it appears that, for now, the movement has had consequences for individuals, rather than altering the corporate culture that has made sexual harassment permissible—or at least allowed some employees to get away with it.
When trying to understand just how prevalent this behavior is in the workplace, numbers help. According to a 2017 BBC survey, more than half of women and a fifth of men have been subjected to workplace sexual harassment in the UK. Across the pond, statistics from Statista reveal that 42% of women and 11% of men have experienced it. However, it is also crucial to note that the US Equal Employment Opportunity Commission estimates that around 75% of all workplace harassment goes unreported, so as bad as these figures appear, the reality is probably much worse.
Most businesses have a set of human resources rules to deal with not only these issues, but all forms of discrimination, alongside the more mundane tasks of day-to-day working life. However, normalized HR practices to tackle sexual harassment are more often than not based on antiquated laws that are in need of an update to deal with the problems that appear in the modern workplace as society evolves.
As with any industry nowadays, when there's a need for disruption, a good place to turn for innovative solutions is the startup world. Over the past couple of years, a rash of new companies have cropped up to not only help those who have been affected by sexual harassment, but also to try to prevent it in the first place.
Restoring the balance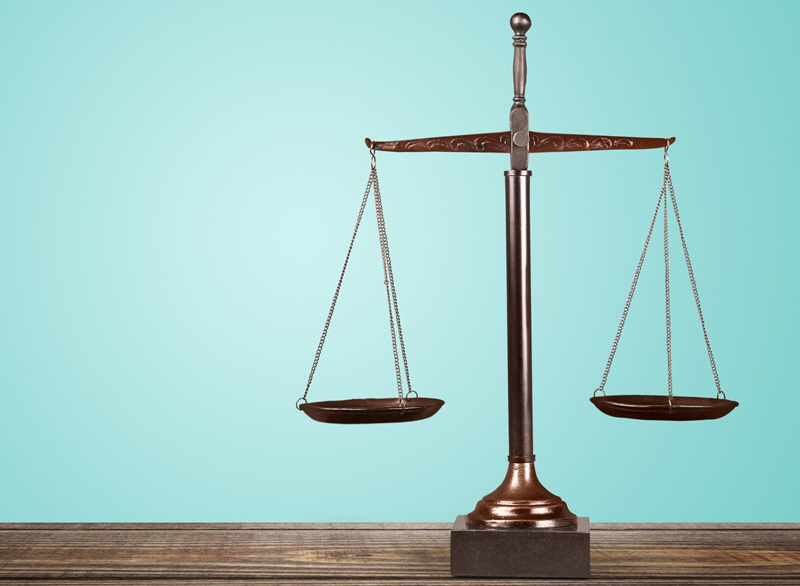 A key element in stopping sexual harassment is understanding it. "Sexual harassment mostly happens where there is an explicit or implicit power imbalance," according to Julia Shaw, founder of
Spot
, a provider of an AI chatbot for reporting harassment and discrimination. "From our research, managers and directors are named in the vast majority of sexual harassment complaints. Those in the high-power position may prey on those they know they can control. Many victims choose not to speak up at the time—or to HR later—out of fear of losing their job, getting bad shifts or facing toxic treatment at work. This also fits with broader research showing that those in low-power jobs, low-paid industries face among the highest levels of harassment."
For Morgan Mercer, CEO of sexual harassment prevention training platform
Vantage Point
and a two-time survivor of sexual violence, this form of discrimination may not even occur deliberately but instead arises from a lack of awareness. "A lot of people are oblivious about [sexual harassment] and about the impact it has," said Mercer. "Some don't even realize that what they're saying is inappropriate. Issues such as gender-based violence and systematic repression have always existed, but, unless you have been personally affected by it, we don't feel connected to the problem, so we don't feel the need to learn about it or try to solve it."
Indeed, a 2018 poll from research group Ipsos MORI revealed that of the 37 countries surveyed, all underestimate levels of sexual harassment. The poll found that for every 100 women, 60 have experienced sexual harassment, but the average guess from participants was much lower: just 39.
HR, obsolete?
Although these startups have the aim of disrupting the sector, they are not intended to replace HR. Despite the apparent issues and obstacles that face traditional departments, these new companies insist that human resources still has its place in the modern workplace.
For Toby Hervey, co-founder and CEO of employee benefit startup
Bravely
, the problem with HR isn't necessarily the department itself, but our perception of it.
"What we try to tackle is that regardless of how good [an] HR department might be, they might be a difficult starting point if you don't know what's going to happen when you go forward; you might not have complete clarity of thought yourself; you might have had a bad experience in the past," explained Hervey. "When you step forward on the record, sometimes actions will have to be taken beyond your control. It's a really intimidating step even if you have the best HR department in the world."
Indeed, while technology can be a useful tool, Mercer pointed out that even the most sophisticated software can't detect feelings: "When you actually look at the laws around sexual harassment, there's a core function of HR that is almost inherently written into the laws about how you need to report and escalate. A lot of it is based on perception, about protection against retaliation, or a thorough investigation … and things like that, especially when you're reporting something which on paper isn't what it is in reality, is something that is really hard to interpret.
"A lot of people look at HR as a function of the company and as an afterthought, but actually HR plays the most important function because they're the ones who are looking at people's well-being. So, bringing in external HR that is a third party can potentially help to create a more equable level, being vested in the interests of humans rather than the company. In order for HR to be effective, we need to see it as a partner in solving some of these problems."
Here's a closer look at some of the startups that have set out to fight sexual harassment.
Vantage point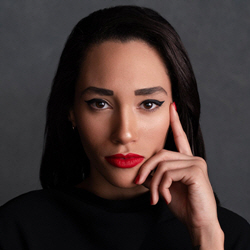 Sexual harassment training has long been in existence, but if the #metoo movement has proven anything, it's that the training doesn't appear to be particularly effective. According to Mercer (pictured), the problem lies with its format, which still sets out to tick boxes and has a theoretical approach:
"When you look at traditional training, you have an in-person instructor talking at you for two hours discussing quid pro quo, hostile work environment, pervasive behavior … but most of the time people are mentally gone or the material isn't relatable because it doesn't create any situational relevance for the audience. And [with] a 2D video that comes up on your computer screen, you're probably talking to your colleagues and even if you're engaged with it, it's not truly effective because you're watching it happen and it doesn't feel real. To me, I think that the current training is very dated. I think that this is a really good use case of where technology can come in and disrupt the sector in a way that has a truly positive impact."
To produce that impact, Vantage Point leverages virtual reality to create different scenarios, devised through a combination of case studies and law, to train employees to identify specific behaviors and determine the best way to respond.
"We look at your ability to analyze and find the information throughout the entirety of the program, and the way it works is that we use a branching narrative story structure, so as you go through, if you speak up sooner, things will get better [and] vice-versa," Mercer explained. "We're leveraging gamification in the sense of using negative and positive reinforcement to show users how their actions influence the environment around them."
And according to the company, VR can increase learning retention rates by up to 75%. "You have to create situational relevancy to a problem," said Mercer. "I can tell somebody that a problem exists as many times as I want to, but you have to make them feel that they're impacted by it. That is something that is only truly possible by either simulating a scenario or through living it out yourself."
The startup, which is backed by investors including
MVentures
and
The Venture Reality Fund
, also provides analytics that help companies understand how employees are engaging with training material—from patterns in behavior, to detected empathy levels and displayed levels of confidence—to give the businesses better knowledge of their corporate landscape.
Spot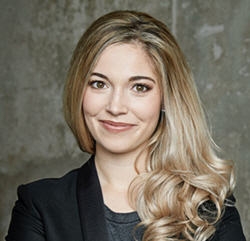 Unfortunately, no matter how good the training, sexual harassment still happens. In which case, accurate and unbiased reporting methods are crucial. As a psychological scientist, Shaw (pictured) co-founded Spot using the principles of memory sciences combined with natural language processing. The company, which came out of AI startup studio
All Turtles
, provides a chatbot-style platform that allows users to remain anonymous.
"Replacing humans with technology was intentional because human beings are, based on my research and experiences, really bad at memory interviews," stated Shaw. "When it comes to making sure that people ask the right questions about emotional events, when they aren't leading or suggestive or judgmental, even trained human beings really struggle with that task.
"It can lead people to not disclose as much as they want to in the first instance, or shut down completely, or disclose things that are slightly different than what happened. They can lead people and generate subpar evidence, and so effectively you're left with problematic statements. Using a bot gets around that and makes sure that it's always the same interview that is scripted in line with cognitive interview techniques. We're finding that people using Spot are remembering 40% more details than if they were talking to a human. It really does seem to make a difference from a memory standpoint and all the other barriers that break down reporting."
Bravely
In a similar vein, Bravely's platform connects employees with professional coaches for a whole range of workplace issues.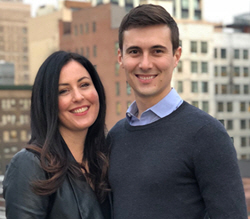 According to co-founder Sarah Sheehan (pictured with co-founder Hervey), having an effective reporting mechanism has an impact beyond morale. "In my previous job, what I found was that, most often, dips in revenue and performance were correlated to relationship issues on my team or people's willingness to come forward and talk about problems," Sheehan said. "Our natural instinct is to go to people in our personal lives about these things, which doesn't necessarily mean the issue gets resolved."
Bravely, which describes itself as "HR urgent care" acts as a precursor to HR itself. The platform connects employees with certified coaches, seasoned HR business partners and corporate ombuds who guide them through their experience in order to identify a game plan in resolving conflict. This involves exploring all the different actions the employee can take, role-playing what they will say if they go forward and funneling information back to the company anonymously.
"It's about getting people to take action," said Hervey. "We've tried to build something to help people get the clarity they need to go forward to HR or their manager and have a productive conversation. We have these trained experts who can get to the root of the issue and can give companies enough information to open an investigation without violating confidentiality. At this point, it's hard for pure technology to do that. Getting on the phone and having someone to walk through all the different outcomes is vital."
Bravely has raised funds from investors including
Primary Venture Partners
,
Trail Mix Ventures
,
Brooklyn Bridge Ventures
and
Correlation Ventures
.
Safe & the City
Of course, sexual harassment isn't limited to companies. Safe & the City provides an app to create personalized walking routes around London, so users can safely navigate the city based on the risk of crime and incidents of sexual harassment, as well as how others rate the walk. This is done with the help of crime data gathered from the Metropolitan Police and a number of businesses acting as so-called Safe Sites (companies that are partnered with Safe & the City), plus individual reports through the app.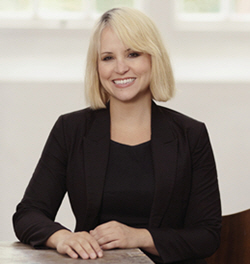 Founder and CEO Jillian Kowalchuk (pictured) designed the startup to empower people with information. "[The idea] stems from a series of personal experiences. I found the navigation apps I was using were all based on the fastest route, which could go through parks at night, or estates or garages. It made me feel unsafe and there was no way to feed back information," she explained. "Safe & the City is about using data and geomarkers on a street level, to look at trends and patterns and not only just crimes but other things that make people feel unsafe and how we can try to change the environment as we walk through them."
While, unlike the previous startups mentioned, the app isn't targeted toward companies exclusively, it can have a big impact. Businesses acting as Safe Sites receive training, so users can find assistance and care in emergencies or uncomfortable situations. "We work in collaboration with businesses which want to be involved in addressing how people feel and are treated as they walk through their communities," Kowalchuk said. "With this information, we can provide analysis that is not only important for businesses to better understand their customers and staff, but the larger community and the impact a collective effort can make."
Related read: Why women investing in women matters