Some numbers just pop.
In the sports world, for example, Alex Rodriguez has long been a detestable figure due in part to gaudy salary figures that once equated to nearly $60,000 per at bat (not to mention the performance enhancing drugs, of course). But the VC world has some heavy hitters of its own, so we used the PitchBook Platform to look up some head-spinning valuation increases from the industry's biggest players.
Take Uber. Did you know the ridesharing giant effectively increased its value by $120 million per day between financing rounds in June and December last year?
$120 million. Per. Day.
Take a look.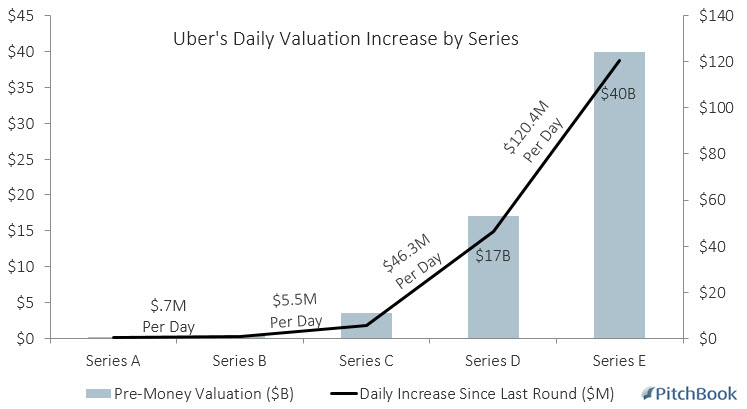 Say what you will about the justifiability of soaring valuations, but Uber isn't alone. Several other tech companies have seen historic rates of increasing value, and you'll notice in the table of select companies below that many of the financings have been raised within the past year or so.
It's worth noting that the graphics above only take into account absolute value increase and not relative value increase. When measuring the rate of the company's growth against its previous post-valuation, the numbers look much different. The best example is Twitter, which saw roughly 32,000% annualized growth between its Series A ($127,500 valuation) and Series B ($22.75 million valuation) in just a matter of months.
To see how our 20,000+ VC valuations can help uncover findings valuable to you, contact us here.