US electric scooter startups go global
June 25, 2018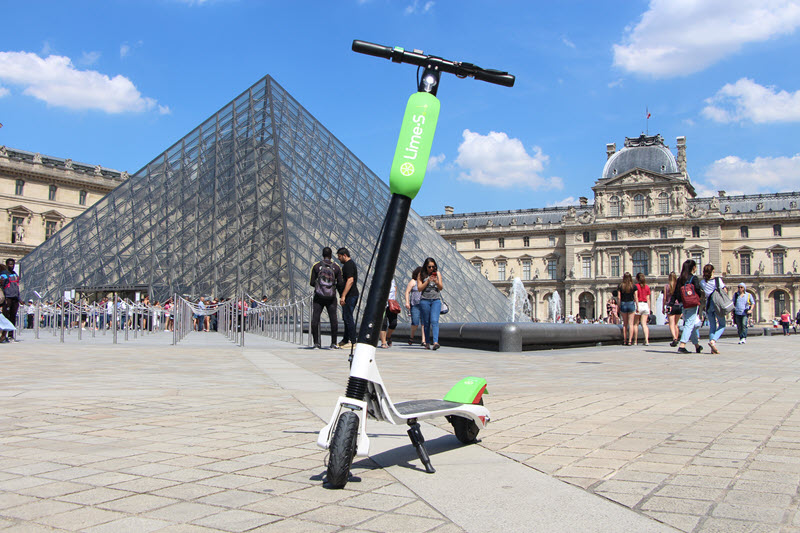 Ever been vacationing in Paris and found yourself wishing you could ride an electric scooter down the Champs-Élysées?
Well, now your dream can become a reality: Dockless bike and scooter startup
Lime
has launched a fleet of e-scooters in Paris, the first move in a much larger international expansion that will see the company enter at least 25 new markets by year's end.
"Paris invited us with open arms," Caen Contee, co-founder and head of international expansion at Lime, said in an email to PitchBook. "We are also coming to Paris just as other local mobility options are closing down as they have struggled to build viable, long-term programs. We believe we can offer a sustainable and eco-friendly program that Parisians will come to trust, love and count on as part of their daily lives."
Paris doesn't have a scooter permitting process—at least not yet—but Lime has an agreement with the city to operate its pilot program. Contee told PitchBook the company has been working with Paris officials, including the vice mayor, to ensure a smooth launch.
Lime's bicycles have been available in Europe since the end of last year. The startup launched about 500 bikes in Frankfurt and Zurich in December and has since expanded to Berlin and Bremen, Germany. In the US, the bikes are available in more than 15 states including Texas, North Carolina, California and Washington. Since it was founded in 2017, the San Mateo, CA-based company has raised more than $130 million in equity funding and was valued at $260 million at the beginning of this year.
Reports emerged earlier this month that Lime is raising $250 million at a unicorn valuation, though the company declined to comment on the potential fundraising.
Lime wouldn't be the first bikeshare unicorn.
Ofo
and
Mobike
, two separate bikesharing companies that are based in Beijing, both entered the unicorn club last year. Nor would Lime be the first scooter unicorn: Rival
Bird
secured $150 million at a $1 billion valuation in late May, and the company is reportedly in the process of raising another $150 million at a $2 billion valuation.
According to a recent report from The Information, sales at Lime increased more than tenfold from January to April of this year, with the jump attributed to its expansion from bikes into scooters in February.
Spin
, another company that was founded as a bikeshare business, announced its foray into scooters that same month. Their scooter add-ons came after Bird kicked off scooter mania with its initial launch in Santa Monica, CA in the fall of 2017. And Ofo recently confirmed that it's
releasing its first batch of scooters
this summer.
At least one other US-based scooter company is looking beyond its home country. Bird is likely to make either China or Europe its next stop. The Information reported earlier this month that Bird is setting up shop in China, though a spokesperson for the company would neither confirm or deny the rumors.
Meanwhile, job listings on Bird's website suggest a European office is in the works, as well. There are openings for an executive assistant position based in Amsterdam and a general manager of Europe operations. The management post says the person will be "responsible for the successful launch of Bird in your home country in Europe."
Since Bird initially launched in Santa Monica, it has expanded into several US cities, including Atlanta, Austin, Denver, Nashville, San Antonio and San Diego.
While bikesharing gained popularity overseas, mostly via Ofo and Mobike in China, scooter sharing has thus far been mainly a US phenomenon. There are, however, a number of moped-sharing companies based outside the US, including Spanish startup Muving.
Whether Parisians will take to the scooter sharing concept remains to be seen. After all, there's been
no shortage of controversy
as startups have attempted to make scooters a mainstream form of transportation.
Read more of our coverage on the dockless bike and scooter space.