Reflecting the decline in private equity-backed exits across the whole market in the first quarter, exits in the U.S. middle market were also quite low, with only 170 sales for nearly $13 billion recorded.
After the banner run PE sellers enjoyed for the past couple years, it makes sense that the amount of quality inventory has declined, with firms looking to exit their best prospects at elevated valuations. Judging by median hold times, the inventory firms have left on their books from the buyout boom era (or at least preceding 2010) is only going to become more problematic as time rolls on.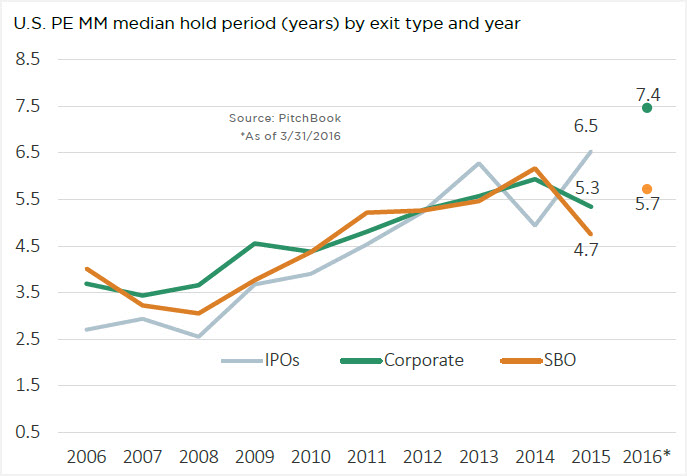 There are a variety of increasingly popular methods for LPs and GPs to achieve liquidity beyond the three primary exit routes listed above, such as the secondary market. Fund managers have doubtless also been negotiating with their backers regarding their aging holdings, looking to extend fund lifetimes and adjust expectations around prospective liquidity timelines.
It's virtually certain at this point that some fund vintages will see a dampening when it comes to overall returns, even if they do clear most of that aged inventory. With continued anecdotal evidence of sellers and buyers having mismatched expectations around valuations, it'll take more time for sellers to adjust their viewpoint around what's more reasonable. Some may well take a lower return in order to finally achieve liquidity, although it's likelier that fund managers will simply extend out vehicle lifetimes.
All in all, PE firms will find a way to grapple with the liquidity problem, but it remains quite pressing.
Note: This column was previously published in The Lead Left. PitchBook defines middle-market transactions as those between $25 million and $1 billion, and this data includes both full and partial exits of companies via corporate acquisition, secondary buyout and IPO. We use a multidimensional substitution and estimation matrix to estimate transaction sizes where the deal amount is unknown.
For more related insights, be sure to download our free 1Q U.S. PE Middle Market Report by clicking here.