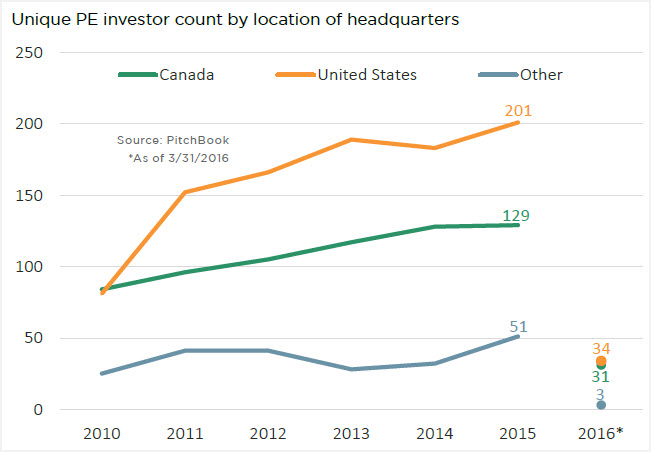 Last year saw a decade-high 201 U.S.-headquartered PE firms invest in Canada, far outstripping the 129 domestic firms active in the same timeframe. Through the end of 1Q 2016, however, U.S. and Canadian firms were nearly even.
This equalizing occurred as 1Q PE activity in Canada fell by nearly 33% quarter-over-quarter and 40% year-over-year, though the severity of the decrease should be taken with a grain of salt as the size of Canada's overall PE market means that investment levels are highly skewed by timing. Yet the diminishing deal count and the slack in U.S. interest are related.
Traditional areas of Canadian PE activity such as energy and manufacturing are seeing slumps since investors have yet to make plays for distressed oil assets; manufacturing may have seen its heyday last year, when it accounted for a significant portion of PE investment. Consequently, many of the best manufacturing targets may have already been bought, leading to a lull in that sector.
Smaller Canadian businesses that sell to U.S. consumers remain attractive to PE buyers (as well as strategic acquirers) looking to expand platforms. Domestic IT companies that also capitalize on favorable currency arbitrages and relatively cheaper operational costs should also remain appealing to PE firms.
Going forward, the Canadian lower middle market will remain host to the majority of PE activity, with add-ons staying prevalent across the consumer and business products & services sectors.
Note: This column was previously published in The Lead Left.
Interested in more Canadian PE trends? Be sure to download our free 1Q Canada Breakdown: click here.