Earlier this year, we examined the
drop in VC interest in the US adtech industry
. At the time, the numbers showed 2017 was on pace for the smallest deal count and least amount of venture investment in the US since the beginning of the decade.
With the year coming to a close, we've pulled updated figures from the PitchBook Platform. Deal activity in the US is still set to decline, and while
capital invested has picked up slightly
in the second part of the year, it remains on track for a significant drop since investor interest peaked in 2014 and 2015.
Here's a closer look: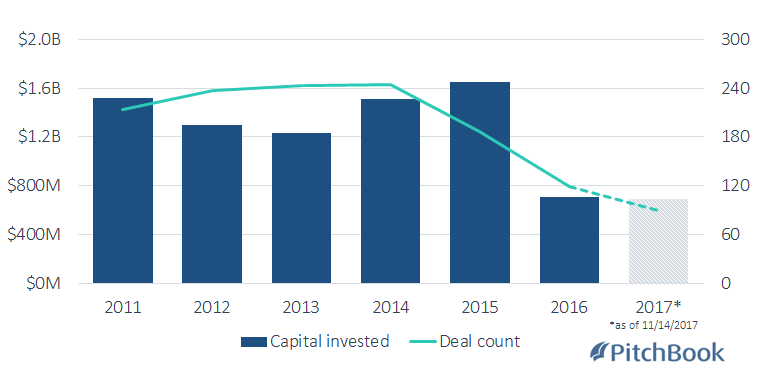 For an inside take on the space, we caught up with Andrew Fischer, co-founder and CEO of adtech startup
Choozle
, to discuss venture investment in the industry and his company's most recent fundraise.
"We've definitely seen a reduction in investment, which is a natural maturation of the adtech industry. It's now forcing weaker players out of the space, and also driving the rapid consolidation of scaled players," Fischer told PitchBook.
Choozle, the provider of an analytics and digital media buying platform for agency and brand clients, announced the close of a $6 million Series B this week. The financing comes less than a year after the company secured a prior round of funding, an example of timing that Fischer said is partly due to consolidation of the sector.
"Contrary to the negativity associated with the contraction, these forces have been positive for Choozle as it's actually reduced our overall competition, while providing marketers with fewer, higher quality platform options," Fischer said. "Thus we view it as an excellent time to invest and grow as an independent player."
Market consolidation in adtech is supported by the numbers, as a string of adtech companies have been acquired. In fact, adtech M&A this year is on pace for the
highest deal value in a decade
, a data point that includes several big-name deals. A few notable examples: Oracle bought digital ad-tracking company Moat for a reported $850 million in April, and Snap picked up consumer location tracker Placed for $135 million in July, per reports.
Check out the datagraphic we published in May for more on the adtech space.