VCs take on Wall Street with new credit card offerings
October 31, 2017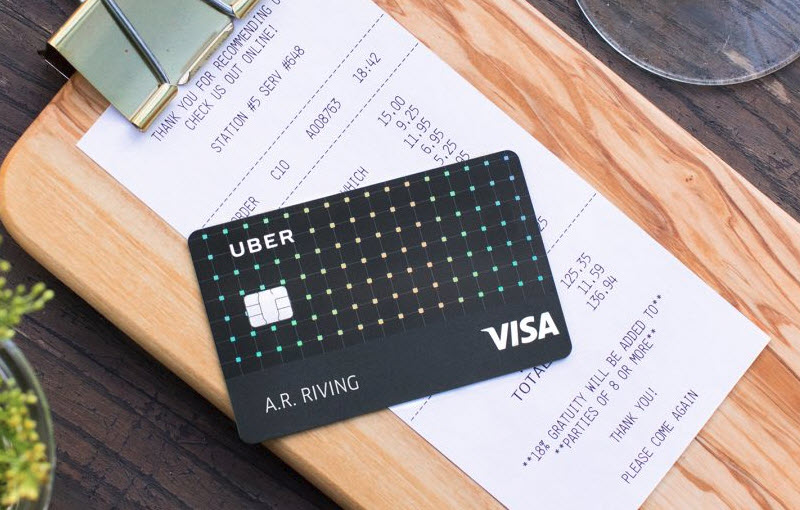 The consequences of the recession and bank crisis are still being felt as we approach the 10-year anniversary of everything going sideways
—p
articularly at ground zero: the financial services industry.
For years, innovation stagnated as tighter regulation has stifled entrepreneurialism in the space. The number of commercial banks has steadily declined amid industry consolidation and limited profitability from loans (amid a flat yield curve and tepid net interest margins). Consumers haven't been that interested in obtaining credit either, with revolving debt—i.e., credit card debt—yet to retake the highs of the last economic cycle.
But that's well on its way to changing now, with momentum picking up and competition intensifying. We've seen point-of-sale innovation with Square,
which just unveiled a $999 register
. We've seen wallet-less, touch-less offerings from Apple Pay and others. And digital wallets from PayPal are becoming ubiquitous online, with the company reporting 8 million new users last quarter, representing 88% YoY growth.
Cryptocurrencies are
threatening to supplant cash
, while 30 US banks and both Visa and Mastercard are teaming up on Zelle, a digital money transfer app.
Now, a number of VC-backed startups are moving into the space as new players fight for a share of the payments game. Old standbys are on the field too, with JPMorgan Chase recently launching Finn, an all-mobile banking app.
Uber and an army of credit card startups
The second half of 2017 has seen a flurry of payments startups gain funding.
On top of that, Uber recently announced that it was trying its hand at being a fintech—after all, its expansion into the food delivery sector has worked out pretty well. In partnership with Barclays and Visa, the ridehailing giant launched its own credit card last week. Applications for the card open on Thursday. Amenities include 4% cash back on dining—yes, that includes UberEATS—and 2% cash back on online purchases—yes, that includes Uber rides.
But Uber isn't the only VC-backed company dabbling in payments hardware. There are a whole lot of nascent credit card startups that have caught the attention of some of Silicon Valley's most prominent venture capitalists—Social Capital, NEA and Kleiner Perkins Caufield & Byers included.
In October alone, Current, Jiko, Deserve and Zero Financial all secured funding. Here is a look at a select group of VC-backed credit card startups, per PitchBook data: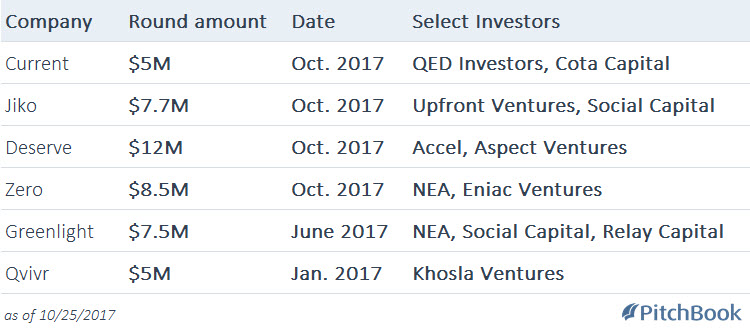 Each company's card offerings or customer base varies, at least slightly. Qvivr's 'Hoot,' Deserve, Current and Greenlight target specific age groups: Millennials, college students, teens, and kids, respectively. Jiko offers cash back on debit purchases and Zero, similarly, offers a debit card with all the same benefits of a credit card, like rewards and cash back. Another startup, Final, has raised $4 million to date from investors including Y Combinator and KPCB, according to TechCrunch. Its credit card was specifically designed to protect users from fraud and breaches by giving customers disposable credit card numbers for every merchant.
But can these companies succeed in convincing the everyday shopper to ditch their big-bank-backed cards? The lifecycles of startups are, admittedly, a little unpredictable
—
not exactly what one wants regarding their finances. Yet assuming the perks and advantages are great enough, some are likely to break through.
Be sure to check out the 11 most valuable fintech companies.