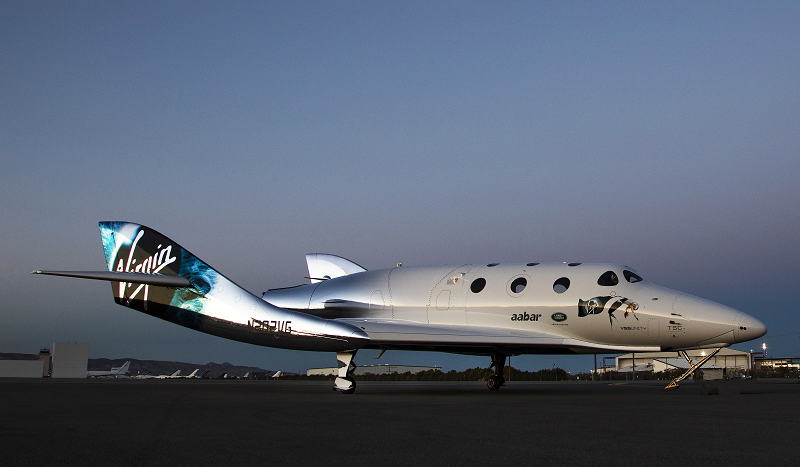 Space is hard.
And arguably no private market upstart understands that better than Richard Branson's
Virgin Galactic
. Founded in 2004 with the aim of launching tourists into suborbital space, the development process has been painful, lengthy and deadly.
Virgin's SpaceShipTwo VSS Unity completed
its first rocket-powered flight
through the sound barrier on Thursday, a return to form for the company after the fatal 2014 breakup of its sister ship, the VSS Enterprise, which crashed when its elegant tail-wing "feathering" system was deployed too early, killing one of the ship's pilots.
Unity reached an altitude of more than 46,000 feet, carried gently by the White Knight Two mothership Eve, before igniting its solid fuel booster to reach speeds in excess of 1,400 miles per hour and soar to more than 84,000 feet. Branson took to Twitter to celebrate the milestone and with eager expectation said, "Space feels tantalisingly close now."
It's been a long road, with SpaceShipTwo being unveiled back in 2009 and completing its first powered flight in 2013. VSS Unity rolled out in 2016. But the origins go all the way back to the winning of the Ansari X Prize by Scaled Composites' SpaceShipOne in 2004, becoming the first private-funded human spaceflight. (Scaled Composites and the Virgin Group are co-owners of The Spaceship Company, builders of SpaceShipTwo.)
Last October, Branson said he believed he would be able to hitch a ride into space by April (ostensibly, on the VSS Unity) or else be disappointed. It's just another let down in a long line of failed promises stretching back to 1999, when Virgin Atlantic spokesman Paul Moore said Virgin was looking offering space flights as soon as 2009.
In 2008, Branson believed Virgin Galactic's maiden space voyage would take place within 18 months. In 2009, he hoped flights would happen within two years. In 2011, Branson said it would happen within 18 months. In 2013, Branson said he would fly into space by the end of the year, maybe dressed as Father Christmas.
In 2014, Branson's mother, Eve (for whom the White Knight Two ship is named), told reporters that flights should happen by the end of the year but admitted after a pause that "it's always 'the end of the year.'"
In September of that year, just before the VSS Enterprise crash, The Sunday Times reported grumblings by those who had collectively deposited some $80 million in pre-booking fares (a down payment on the full ticket price of $250,000 apiece) to travel into space. But instead of achieving the dream of leaving the bonds of Earth, they felt the sharp pain of being "Virginauts" stranded in the dirt and wondering if they would be able to cross the Karman line—the threshold 60 miles above the ground that is internationally accepted as the boundary between the atmosphere and outer space.
Things are moving faster now, spurred on by competitive pressures, an influx of capital and growing interest in "new space" industries.
Elon Musk's
SpaceX
plans to send passengers around the moon, and Jeff Bezos'
Blue Origin
aims to get passengers into space by April 2019. Recently spun off from Virgin Galactic is a small-satellite launch initiative (Virgin Orbit) that will use an expendable two-stage rocket fired from a modified 747-400 jumbo jet.
It's not just the stars that are calling: The Federal Aviation Administration estimates that the space tourism business could be worth $1.6 billion over 10 years.
Funding looks good, too, with the Public Investment Fund of Saudi Arabia preparing to invest approximately $1 billion into the Virgin Group's US-based space companies (Virgin Galactic, The SpaceShip Company and Virgin Orbit). Virgin Galactic has also received a total of $380 million for Abu Dhabi-based Aabar Investments, which holds a 37.8% stake in the company.
What's next? At least a few more test flights, including a full-duration engine burn. Among the Virginauts that have plopped down cash to reserve a seat include Tom Hanks, Brad Pitt, Angelina Jolie, Lady Gaga and Katy Perry.
Stephen Hawking was on the list, too, after Branson offered him a seat, but he died before the dream of regular for-hire space travel could become a reality. For those of us left, let's hope the pace quickens.
Related read: Elon Musk, Jeff Bezos and the new race for space