Facebook just won't stop, but where is it going? The company announced late Tuesday an agreement to acquire virtual reality headset maker Oculus VR for a tidy $2 billion. The acquisition, not to mention the price tag, has left quite a few people scratching their heads.
After Facebook announced in late February its agreement to buy WhatsApp for a mind-numbing $16 billion (plus $3 billion in restricted stock options awarded to WhatsApp employees), many of us assumed the company would slow down its pace of billion-dollar acquisitions. Mark Zuckerberg was even quoted as saying that "after buying a company for $16 billion, you're probably done for a while."
Apparently when you're a billionaire, "a while" means "a month", because that's how long it took Facebook to cut another check with nine zeroes on it. Though some are less than thrilled with Facebook snatching up Oculus, including some of the investors in the company's $2.4 million Kickstarter campaign, a few venture capitalists (and their limited partners) are pretty excited about Facebook's recent spending spree.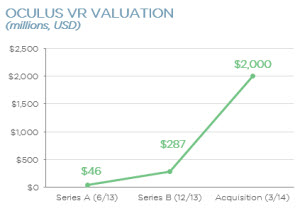 Oculus has raised approximately $93.4 million in funding since its founding in 2012. Its Kickstarter campaign in late 2012 netted the company $2.4 million, well over its original goal of $250,000. Last June, Matrix Partners and Spark Capital led a $15 million series A round for the company, which included support from Formation8 Partners and Founders Fund. A mere six months later, Andreessen Horowitz led a syndicate of existing investors that provided an additional $75 million in series B funding, according to PitchBook data.
A company raising nearly $100 million in funding is pretty impressive. Even more impressive is how quickly Oculus was able to do it—about 2 ½ years. Still more impressive is the rate at which the company's valuation has grown—$46 million at series A, $287 million at series B (remember, that's only 6 months later!), and finally $2 billion today (3 months later!).
Ultimately, all these ballooning numbers will translate into big dollar signs for the company's investors.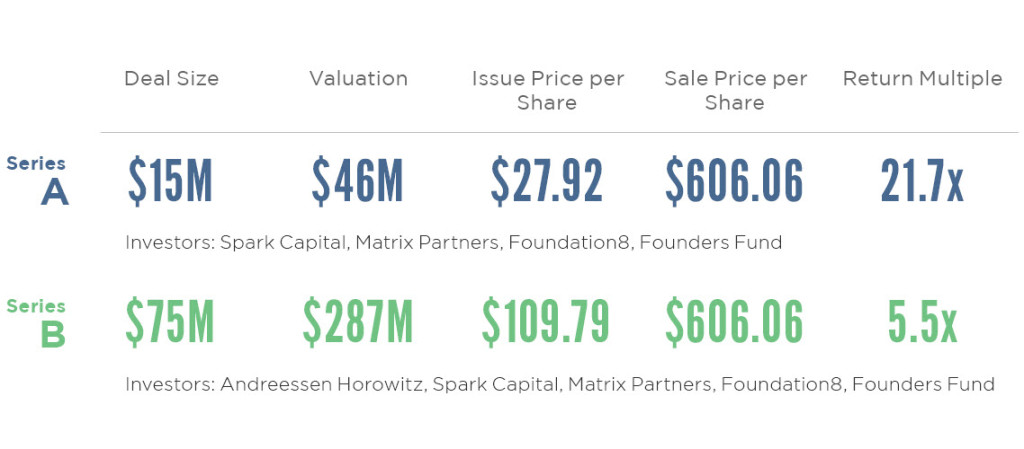 Not too shabby for investments that spanned less than a full year. Unfortunately for all of the loyal investors in the Kickstarter campaign, they didn't receive any equity in the company, so they'll have to subsist on the developer kit and various Oculus paraphernalia that was provided by the company, and hope the company continues to develop groundbreaking technology for them to use in the future.
Now that Facebook has a boatload of shiny, new and very expensive toys, what are they going to do with them? The WhatsApp acquisition seems like a bit of a deviation from what most of us have come to know as social media, but it's not hard to come up with plenty of ideas for how Facebook could leverage that technology. Oculus is a bit harder to figure out. Virtual reality doesn't seem like something that would lend itself to writing on someone's wall, but it could take the Facebook "poke" to a whole new level. Or maybe you'll have to pick up a virtual shovel to harvest all those Farmville crops. And there's another acquisition rumor that doesn't seem to add up—Facebook's apparent interest inTitan Aerospace, a manufacturer of solar-powered drones.
Whatever trajectory the higher-ups at Facebook are looking to take the company on, they're certainly broadening their options by acquiring a vast array of groundbreaking technologies. Along the way, they're making some VCs (and their investors) very, very happy.
Featured image courtesy Wikimedia user Skydeas.