What's next for public PE stocks?
By Anthony Mirhaydari
June 6, 2018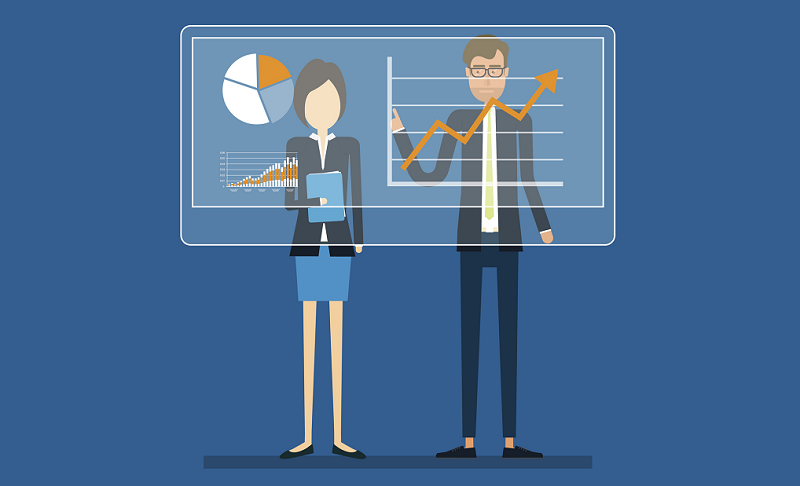 Private equity has a lot going for it. We're in the midst of one of the best times in history for private markets. Credit is cheap and plentiful. Deals are flowing. LPs are busily "reaching for yield" in a desperate attempt to close asset-liability mismatches. Dry powder is abundant.
And now, the industry is enjoying a tailwind from last year's corporate tax cut legislation, which is encouraging C-Corp conversions and thus widening the number of investors who can buy and hold their stocks—not to mention opening up the potential for inclusion in major public market indices.
And yet, the share price performance of publicly traded PE firms has been a disappointment. But that could be set to change.
Thanks to the legislation's lowering of the corporate income tax rate from a prohibitive 35% to 21%, the calculus has changed on public PE firms converting their structure. While the corporate conversion still has a negative impact on earnings versus a partnership structure, it's no longer so large as to offset the benefits of the change on price-to-earnings multiples, according to Credit Suisse analysts, lifting stock price values and thus market capitalizations by making shares accessible to a larger number of investors (including passive and index investors).
Especially for firms with a higher percentage of revenues from fees versus performance-related income because of the differences in the way the two are taxed. An issue PitchBook analyst
James Gelfer recently explored
.
So far, among the major players, only KKR has taken the plunge, announcing last month it would
convert its structure
effective July 1. Ares Management was the first public PE firm to make the change back in February.
Others are expected to follow, as being tied to market indices becomes increasingly important amid the rise of passive investing as opposed to active. Craig Larson, KKR's head of investor relations,
told Reuters
he expects the conversion will make the firm's stock eligible for indices that will result in at least 20 million shares of demand—representing about 5% of the number of shares floating.
A turnaround can't come soon enough for investors who have been waiting for a spark of excitement. As shown above, a price-weighted index of Blackstone, KKR, Carlyle and Apollo has badly lagged behind both the overall market (as represented by the S&P 500 SPDR ETF) and the broad financial sector (represented by the Financial Select SPDR ETF, which tracks the financial component of the S&P 500 index). The gap to other financial stocks has been particularly acute on a three-year basis, with the PE index adding just 16.3% vs. 88.6% for the XLF since June 2015.
Price performance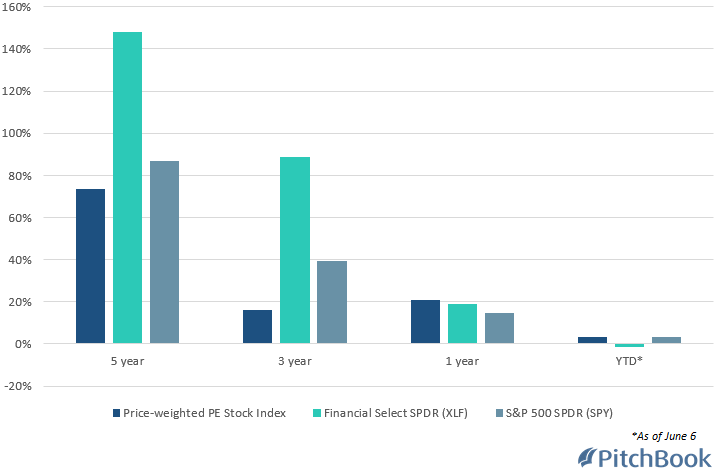 Recently reported results have also been solid. Blackstone beat ENI earnings estimates by 15 cents per share, reporting 65 cents per share despite a 7.6% decline in revenues on a 22% increase in AUM. KKR beat after-tax ENI estimates by 24 cents, reporting 42 cents per share on a 1.8% rise in revenues on a 28% rise in AUM.
What kind of upside could be in store?
Credit Suisse is looking for median 12-month total return forecast of between 30% and 40% for the alternative asset manager space. They recommend clients focus on KKR and Ares shares post-conversion, and expect Blackstone to follow with a conversion announcement in 2019 or 2020 if KKR is successful in boosting its valuation. For the C-Corps, Credit Suisse is penciling in multiple expansions of at least 50%.
Their top investment recommendations in the space are KKR, Carlyle, Ares and Blackstone. In addition to the expected lift to share multiples outlined above, they expect earnings growth to remain strong after both Blackstone and KKR enjoyed record fundraising in 2017, capital that is increasingly deployed overseas to avoid elevated US asset prices and tight credit spreads.
Related read: KKR becomes second PE firm to restructure after tax reform